Oklahoma State's season is inching closer and closer. With Big 12 media days upon us (and halfway over!), there's not a better time than the present to size up the Cowboys' prospects heading into the season.
OSU is down a few All-Big 12 performers from last season's squad. But even this Rudolph-less, Washington-less team has the talent to compete for the upper half of the conference. Because if it's one thing we know it's that when Gundy tabs Spencer Sanders as QB1 if Gundy has himself a QB, his team will be in the hunt. And there are plenty of appealing choices to replace No. 2.
We know about the big names returning for 2018 — Calvin McGregor Bundage, Justice Hill, Tyron Johnson, to name a few — but there are a ton of lesser-heralded, off-the-radar names who could make their presence felt on the gridiron, too.
So as fall camp fast approaches, let's take a look at five I'm eye-balling in particular to potentially lift themselves from unknowns to gameday contributors — and maybe more.
Tracin Wallace | 6-0, 185-pounds | Wide receiver
Tracin Wallace, the twin brother of promising receiver, Tylan, came to OSU as an intriguing dual-threat QB. But with the depth at the position being what it is, he's since joined his twin in the receivers group and worked himself into the discussion as a potential rotation player.
Wallace was a juke-and-jive QB in high school who was electric as a transformer after the catch. If the Pokes can keep him upright and healthy despite two gruesome knee injuries pre-OSU, they could have something special.
Tyrell Alexander | 6-1, 182-pounds | Cornerback
Like Tracin, Tyrell Alexander, too, switched positions since joining the OSU program. The former Lancaster standout signed on as a receiver, but depth at that position is like standing in line at the DMV. It might've taken him years to finally get his turn.
At cornerback, Alexander doesn't project to be a starter, but he could be a valuable backup to AJ Green and Rodarius Williams in 2018. His pre-cornerback position of receiver is helping him adjust to his new role with the Cowboys.
"It helps me because I'm able to read routes and read concepts, just knowing exactly what they're doing offensively," Alexander said in the spring. "It helps me out and gives me an advantage, I think. I was ready for the challenge. I was thrilled and ready to go whenever they asked me. Just to try it and see how I liked it. Everything's been going pretty good."
Amadou Fofana | 6-4, 280-pounds | Defensive tackle
With DeQuinton Osborne, Ben Hughes, Tralund Webber and Vili Leveni all departing from last season's defensive line, playing time is open for the taking. And incoming junior college prospect Amadou Fofana, a defensive tackle with the speed of an edge rusher, could be primed to make an immediate impact.
At 6-4, 280, Fofana is likely going to play on the inside to allow Cole Walterscheid, Jarrell Owens and Jordan Brailford room to attack from the edges. It could be a two-way street, though, because if that pass-rush threat from the corners is as lethal on the field as it is on paper, Fofana could feast on QB's having no choice but to try and tuck and run in fear.
Baron Odom | 6-5, 234-pounds | Cowboy Back
The Cowboy Back took a backseat in last season's run-and-fun offense that was at its best when No. 2 was hitting No. 28 on a fade route, but it could make a resurgence in 2018. Competing for playing time is junior college transfer Jake Ross, Britton Abbott, Sione Finefeuiaki, Jelani Woods, and, not to be forgotten, darkhorse candidate Baron Odom.
Odom may be the best pass-catcher of the bunch, but his time on the field may be dictated by how well he does the other things. Still yet, the 6-5 Oklahoma product has upside galore and athleticism to boot. He has the makings of becoming the next Blake Jarwin.
Mike Scott | 6-5, 240-pounds | Defensive End
Included in my daily prayer each morning is a special section begging that junior college transfer Mike Scott becomes a star at Oklahoma State, so I have reason to post this GIF multiple times per game.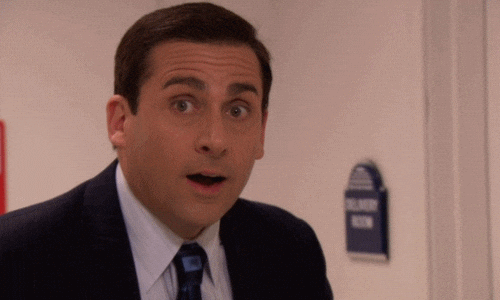 Walterscheid, Owens and Brailford are all pretty cemented as rotation guys as a 1-2-3 punch off the edge, but beyond them, there's an opening to fill playing time vacated by the aforementioned Webber and Leveni. Scott could be that guy as a first year player since he was plenty productive at Trinity Valley C.C.