A Look Back at the Five Straight Games Oklahoma State Has Won at Texas
Enjoy these as you prep for OSU-Texas this weekend.
Not sure if you knew this, but Oklahoma State hasn't lost at Texas since 2008. If you've been on this site, listened to our podcast or even opened Twitter, you're likely very aware of these facts. But I thought it would be fun to take a dive into the shallow end of each of those five OSU victories ahead of (hopefully) a sixth on Saturday.
2010: OSU 33 | Texas 16 — That UT team was lousy, and this was never really a game. OSU was up 33-3 going into the fourth quarter on the back of 409 yards from Brandon Weeden and a 9-145-1 line from Justin Blackmon. The string of losses dating back to before the Eisenhower Administration was snapped, with ease.
2011: OSU 38 | Texas 26 — This Texas team was a bit better, but it was in Week 2 of a two-week stretch of losing to top-10 teams from Oklahoma a combined 93-43. Not ideal. Jeremy Smith had seven for 140 including a 74-yard semi-dagger late in the third. This was also the Justin Gilbert-Fozzy Whittaker game where they combined for 200 yards of kick returns and two TDs in the first 24 seconds of the second half.
2013: OSU 38 | Texas 13 — SPEAKING OF JUSTIN GILBERT!
2015: OSU 30 | Texas 27 — This was part of the second-longest win streak in OSU history when the Cowboys touched off the 2014 season with Ws over OU (😎) and that Washington team that had 13 first round picks before reeling in 10 straight to start 2015. They trailed 27-24 going into the fourth of this game (shout out to small-hands Mason) but got a pair of 40+ yarders from Ben Grogan late in the fourth to win.
Texas fans do not remember this one fondly.
Who could ever forget this sequence? pic.twitter.com/GoTcP3mcxl

— Brad Kellner (@BradKellner) September 19, 2019
Nor this memory of Texas punter Michael Dickson.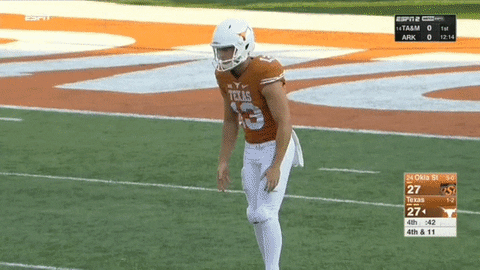 2017: OSU 13 | Texas 10 — Maybe the worst game I've watched in person, but the ending was incredible. Texas rushed it 33 times for 42 yards, and there was exactly one score every quarter but no TDs for the final 45:59 of the game.
This was the game where UT brought a safety over the top to shadow James Washington, and OSU was somehow unable to run the ball with their All-American tailback against a three-man front. Also the one where Rudolph threw the dime of his life to Jalen McCleskey, who would still be running if he'd caught it. Also the one where I hit Carson in the sternum as the ending unfolded.
In honor of #OKstate-Texas week, here's the GIF of @KylePorterCBS (top left) slapping me in disbelief during Ramon Richards game-winning INT 😂😂😂 pic.twitter.com/A64SHBxvC6

— Carson Cunningham (@KOCOCarson) September 18, 2019