Five Offensive Coordinators Mike Gundy Could Find on Google in 2019
You could do worse than these small school signal callers.
It is nearly impossible to identify both coaching candidates at a given school when Mike Gundy is involved. We've all heard (and reported on) the same names when it comes to Oklahoma State's new offensive coordinator position, but we're talking about a man who willingly sports a mullet and says he Googled the last guy he hired (who went on to produce an NFL QB and stay for six seasons).
So why don't we do the same?
I came up with five off-the-radar picks at OC based on trajectory, numbers and how much fun they would be manning the controls from the press box at Boone Pickens Stadium. I'm under no illusions that any of these guys will get a call, but if Gundy's going to Google his future employees, then you could do worse than these five.
Let's take a look.
1. Andy Kotelnicki (Buffalo OC): Buffalo finished one slot ahead of the Pokes in 2018 in points per drive, and have improved each of the last two years under Kotelnicki. But that's not what stands out. What stands out is this line from his bio which could send Mike Gundy into a tizzy.
Prior to Whitewater, Kotelnicki served as offensive coordinator at the University of Mary, an NCAA Division II institution in Bismarck, N.D., for two seasons.
Gundy after he sees that ⤵️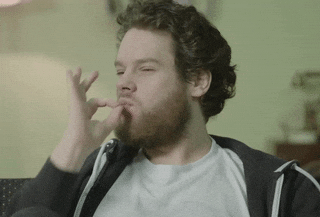 2. Kalen DeBoer (Fresno OC): I'm all about coordinator #traj, and DeBoer has plenty of it. Fresno was 120th in the nation in offense in 2016 before he was brought on in 2017. They improved to 76th in 2017 and to 23rd in 2018. He too has small school bona fides, having gone 67-3 as the head coach at the University of Sioux Falls.
3. Rich Skrosky (OC at FIU): More #traj! Skrosky was hired in 2017 and took Florida International from No. 102 in points per drive to No. 58 to No. 14 last year. He might want Bama! He also knows what high-flying offense is all about having done the MACtion thing for several years. Here's a nice nugget from his bio.
Skrosky was the offensive coordinator at Ball State for three seasons (2011-2013). Twice Skrosky was a nominee for the Broyles Award that is presented to the nation's top assistant coach.
4. Jesse Correll (Shippensburg OC): Go back to the well! Raid that Shippensburg cupboard again! The Raiders finished ninth in D2 in passing yards per game under Correll in 2018. They went 6-5 overall, but their offense was strong under Correll's leadership. If it works out as well as it did before, it's a steal (I'm guessing he'll take the job for less than $800,000, too!)
Top five offenses in the country in points per drive over the last three years.

1. OU (avg. rank: 1)
2. Memphis (avg. rank: 11)
3. #okstate (avg. rank: 12)
4. Ohio St. (avg. rank: 13)
5. Bama (avg. rank: 15)

Fire Yurcich!

— Pistols Firing (@pistolsguys) January 10, 2019
5. Russ Callaway (Samford OC): He graduated in 2010 ? which means there's a less than zero percent chance Gundy would ever hire him, but the former Valdosta State QB has authored top-five FCS passing offenses in each of the last three years. They averaged almost four hundy a game through the air in 2018, and their QB won all of the awards.
? CONGRATULATIONS ?@SamfordFootball Devlin Hodges Wins 2018 STATS FCS Walter Payton Award! pic.twitter.com/nDYwfc9KIV

— FCS Football (@NCAA_FCS) January 5, 2019