Five Questions for OSU's Defense During Spring Football
A new-look DL, and who will be THE guy?
It will be an absolutely huge year for Oklahoma State's defense and its CEO Jim Knowles.
I laid out my concerns and curiousities for OSU's offense as spring practice kicks off, now let's turn to the defense and five questions for Knowles' group that have been bouncing around my head this offseason.
1. Can Calvin Bundage be THE GUY in 2019?
The Cowboys' energetic, sometimes enigmatic linebacker is somehow heading into his final year. Bundage has been one of my favorite players to watch during his tenure, but, at times, he's been one of the more frustrating.
The installation of Jim Knowles' aggressive 4-2-5 scheme was supposed to unleash the human torpedo on the Big 12's QBs. Instead, inconsistency, injury and continued propensity to draw flags resulted in a step back. With OSU having to replace its leading tackler for a fourth-straight year (now Justin Phillips), can Bundage take a step forward and be THE GUY for its defense in 2019?
2. Which young corner(s) take the biggest step forward this spring?
True freshman Thomas Harper is the only newcomer among cover men on OSU's spring roster, but there is plenty of unproven depth in this group.
Behind perennial starters A.J. Green and Rodarius Williams and returning rotation player Kimeh Siverand, there is a whole bunch of this: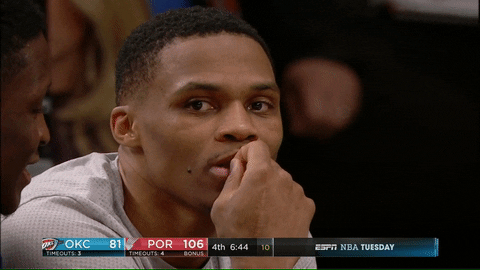 When either Green or Williams had to leave the field last season, OSU's defense felt it. If it wants to improve in 2019, a couple of guys are going to need to take that next step and be effective when needed. There are some intriguing candidates to plug those crucial holes in the depth chart including JayVeon Cardwell, Gabe Lemons and Lamarcus Morton.
3. Can OSU generate a pass rush, and with whom?
We know Jim Knowles' defenses are predicated on getting after the quarterback and he accomplishes this with a variety of looks and blitzes. But how will he scheme around losing his sack leader to the NFL?
The Cowboys lost A LOT of production in their pass rush from 2018. Jordan Brailford and Jarrell Owens accounted for 15 sacks between the two of them and, all-in-all, Knowles will be without 24 of his Big 12-leading 39 sacks from a year ago.
Look for it to be "paper or plastic?" by committee. Mike Scott and Brock Martin could each be in line for a big year. Again, Bundage will be looking to rebound from last year, but his potential is through the roof. Also look for Devin Harper, Jarrick Bernard and Amen Ogbongbemiga to follow up decent 2018 sack campaigns.
4. How does OSU reload in the trenches?
Hopefully quickly.
The Cowboys don't return as single starter from last year's defensive line which makes this spring all the more important in establishing a rotation up front. Aside from the aforementioned Scott and Martin, only Tyler Lacy and Braden Cassity are slotted as defensive ends on the spring roster. That's not exactly confidence-inspiring depth.
There are more bodies along the interior of the Cowboys' D-line, but even less experience. And that's coming from unit that ranked dead last in the Big 12 in rushing defense in 2018. Look for junior college transfer Sione Asi to be in the mix this spring, as well as incoming Colorado transfer Israel Antwine.
5. What has Jim Knowles learned in 12 months at OSU?
Call me crazy, but I actually like coach speak. Most coaches (or people for that matter) will tell you something even if they are trying to tell you nothing. But Knowles is well-spoken and has been refreshingly insightful so far when put in front of a microphone.
So what will he have to say about his defense with all of its moving parts and increased expectations in Year 2?
There's no question that OSU's second-year DC knows his stuff. The Ivy League product and three-decade vet has been a professional college coach since before I started kindergarten. But he was walking into a brand new situation at this time last year.
Not only was he acclimating himself to a new school, staff and roster for the first time in eight years, he was doing so while facing the type of Big 12 offenses that you simply don't face in the ACC. So what did learn during his first year?
We're all eager to see how he channels that experience on the field come fall, but I'm intrigued to hear what he has to say now. Someone will surely ask him some form of that question at his first media availability, and I'm all ears.