PFB Roundtable: Cade Cunningham's Commitment, What it Means for OSU
Picking up the pieces after Tuesday night's bombshell announcement.
In case you've just emerged from under a rock or were out fishing on Mike Gundy's pond, Oklahoma State secured a monumental commitment from five-star 2020 guard Cade Cunningham on Tuesday night.
As of Wednesday morning — just hours after the bombshell was dropped on Twitter — PFB staffers were still disoriented and trying to find our bearings. Here's a glimpse of what that looks like.
Kyle Cox: How do we start? A barrage of GIFs?
Kyle Porter: I think we just hit caps lock and go
Cox: OMG OSU IS GOING TO THE FINAL FOUR NEXT YEAR!!!!!!!
Porter: But really, how stunned were you guys?
Marshall Scott: My yell story from the parking lot of Boone Pickens Stadium has been well documented at this point. It wasn't like a "Let's go" yell, but more like when someone jumps out from behind something and scares you. And given what we'd heard, I expected him to commit to OSU. It's just the 15-minute heads up made it loony.
Cox: I thought the countdown was going to be something like A Countdown to the announcement of my commitment date. When the CAPSLOCKS started going I was still dubious. Which made me fall over stiff when that tweet hit Slack.
Scott: It's something I feel like we've prepped for for months, and it was still surprising.
Porter: Haha I know. I would have bet our revenue this year that he was announcing his commitment date. I was reeling for a few hours. I think I might actually still be reeling.
Kyle Boone: Wasn't stunned necessarily since we had a good feel that this was coming, but it's still pretty surprising if you really sit and think about it. Arguably the best basketball prospect in the country is choosing to play his college career in Stillwater, where the program hasn't made it to an NCAA Tournament since 2017.
Porter: *Doesn't have a Tournament win since Cade was in kindergarten.
Porter: Does it change things for Bryce at all?
Cox: From the outside lookin in, I have to say it does. I mean he literally said it did in his tweet.
Boone: I think it changes things for Bryce, but probably not in the way people might think. Hard to see OSU taking three guards in one class. Probably means he's going to wind up landing elsewhere, which might have been the case anyway.
Cox: #MakeRoomForBryce
Porter: I think he's headed elsewhere, too. I'm fine with it. I mean, I would rather him come to Stillwater. But if I have to choose …
Scott: Bryce likes to play the game (as we all would), so I'm not sure what happens from here. He's been the hardest to read for a while now.
Cox: Yeah, Boynton has his guy. He will have no trouble building around Cade.
Boone: Unless you're telling Ice or Avery Anderson or Rondel to kick rocks (which you're definitely not), it wouldn't make a ton of sense to try and fit 38 guards onto one roster for next season.
Scott: Basketball is becoming more and more positional-less, though. I still think it's a slim chance, but I'm not sure how much positions will play a factor in it.
Porter: Marsh, can you walk me through your emotions during Cade's IG video? Like, did you know off the top that it was a commitment vid? Did you freak out like I did when he said "everybody thought OSU hiring my brother meant my decision had been made …" I should have paid an OSU staffer to go out to your car to film you.
I imagine it going something like this …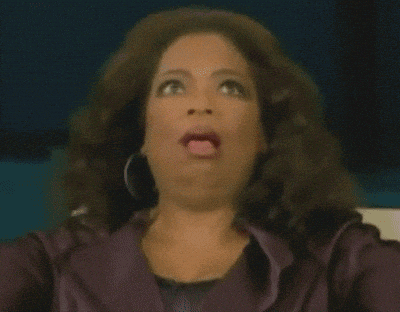 Cox: OMG, lol
Scott: Alright so here's the scene: I sit in my car after talking to Mike Gundy about watching his kids play football for about 10 minutes. I check my phone, see the count down and lose all feeling in my body. I alerted the PFB Slack then got my laptop out connected it to the BPS media wifi (which I was like a mile away from). I was constantly refreshing his Instagram on my phone while watching his Twitter feed on tweetdeck. Then is happened. I yelped.
Porter: A mile away from BPS wifi is amazing
Porter: Fill in the blank here. A roster of the following is __________.Cade
Ice
Yor
Thor
Anderson
Hidde
Rondel
Boone
Boone
Harris
Watson (?)
Boone: Going to Make GIA Great Again. (MGIAGA.)
Porter: Man, people would purchase orange MGIAGA hats.
Boone: We need to make MGIAGA hats ASAP.
Porter: I think that's a Big 12-title contender. I think if they get Bryce too, they're a Big 12 title favorite.
Scott: And Big 12 title contender means national contender as well.
Boone: No cap (AS THE KIDS SAY), any team with Cade and Hidde should be considered a Big 12 favorite.
Cox: MBOSAFFA (Make blogging on Saturdays after football fun again)
Porter: Man, this whole thing has been amazing. So much fun to cover. So much fun to consume. I can't imagine what it's like to cover recruiting like this all the time across multiple sports.
MBOSFFA for sure
Cox: Print the mouse pad. I'll take one.
How much of a difference does a get like Cade make for the program moving forward?
Scott: I think a lot of it depends on what he and OSU are able to do while he is here. It's obvious this is a one-year thing. If OSU is able to make a run at things, then this shows other top-end recruits that OSU is a viable option.
Boone: OSU needs him to be good in college, and good in the NBA, but it's a big deal. If he's a one-hit wonder like Ben Simmons, it might be a dud. But no one around Cade believes he's that type of player and most believe he's far more transcendent (which is saying something). If all goes well, it could significantly alter the state of the program and help Boynton continue to reel in five-star level recruits in coming years.
Cox: So, dream scenario for Boynton is for OSU to be a top 20ish program with some four-star guys that maybe stick around making it a candidate for a top 15ish guy to rent a locker for one year. (I'm all-in for that).
Boone: Nah, dream scenario is Cade becoming a superstar, other five-star prospects taking note of how he is used, and then those five-star prospects deciding they want to follow that path.
The John Calipari path. Once he had John Wall and DeMarcus Cousins early, it was game over.
Cox: Yeah, I guess if you're talking "dream scenario" you just make OSU the blueblood.
This is so crazy to even talk about.
Boone: It really is. Kentucky path is unlikely, but you've significantly boosted your program's ceiling, no question.
Cox: Each time he signs a five-star, Boynton's deal should roll over like Gundy's.
And increase
Scott: There are obviously a lot of ways this can go but it's really exciting for OSU (duh), and the future of OSU hoops is in a much better spot now than it was just two days ago (again duh).
Cox: The TwitterMad Kentucky fans scoffing at OSU hiring Cannen is hilarious btw.
Boone: Lmao yes