Some thoughts on the NFL Draft
I "watched" the NFL Draft on my phone in my car this year. My wife and I were driving back from Houston (she was driving) and it's probably how I would have chosen to "watch" it anyway, even if I was close to a TV.
It's too much fun to watch the part of the Internet I chase trying to bend its collective will into Jerry Jones' soul to make this happen: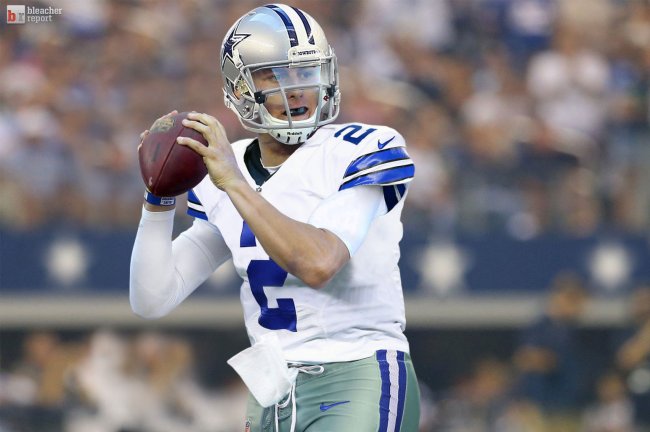 Much more fun than watching most of the folks on most of the networks bloviate, anyway.
Speaking of those folks, I must say the greatest part about any draft is how quickly the thousands of mock drafts living on the Internet are set on fire. Usually by the second pick.
Definitely by the eighth.
Justin Gilbert to the Browns, eh? I thought we were free from those shackles after Brandon Weeden was released and signed with the Cowboys. Alas, that No. 21 jersey is going to look pretty slick on (probably) the best cornerback we've ever had at OSU (your apology card is in the mail, RW).
Joe Haden and Gilbert on separate islands (very small, minuscule islands) is immense for Cleveland, so terrific, in fact, I'm afraid their fans won't fully appreciate it. Or they'll be so busy housing Johnny Apple Juice they won't even notice.
One story that feels like it's getting underplayed a bit is how mature it was for Gilbert to come back for his senior year while in the middle of a tumultuous junior year. What I mean by that is that I think sometimes when you're in the midst of a bad situation — weather that's self-inflicted (as it was in Gilbert's case) or not — the natural reaction is to look for a way out.
Gilbert instead looked at the landscape, saw a way out after his junior year (the draft) and said "no," I need to grind out another 12 months. That's a mature thing for a 30-year-old, much less a 20-year-old.
Cleveland is perfect for him for two reasons, by the way. First (and I'm not the first to say this by any means) Johnny QB will overshadow any shortcomings Gilbert has. Usually the eighth pick, especially at a sexy position like CB, is picked apart like the carcass of a un-retrieved quail on Boone's hunting grounds.
Not this year, not with 21. Not with Johnny Universe's gravitational pull.
The other good part is that Gilbert is going to an established defense that is just adding pieces. He'll struggle probably but he's an auto-upgrade from this bro and the other corner position is one of the few Cleveland is shallow at.
Other than the Browns being prominently involved, this was a perfect ending to Justin Gilbert's college career.
More thoughts:
• Josh Stewart going undrafted isn't that big of a deal. I think he still made the right decision (was he going to get better or move up based on what he did next year with JW throwing to him?) and he was always going to have to earn it.
Did we think he was going to be picked in the top three rounds? No. So whether he was a sixth round pick or an undrafted free agent, it's kind of all the same at that point.
Plus, I think he can make the Titans. Here are the guys he has to beat out (if Jaz makes it and Stewart doesn't….):
• Calvin Barnett going undrafted shocks me. I don't color myself a football expert [laughter from the masses] but isn't he one of the 250 best players exiting college football?
I mean, we aren't talking about Paul Duren here. Barnett was legitimately one of the best players on one of the best defenses in one of the best conferences in the country. He would have been great anywhere — Ole Miss, Oregon, Michigan, wherever.
There has to be more to that story.
• Blake Jackson signed with Cleveland. So did Barnett. Why us, Cleveland? Why us?
• Caleb Lavey is trying out for a free agent contract with the Cowboys. He could be Sean Lee's little brother, no?
• If Tracy Moore and Jeremy Smith make it in the NFL…….
• I think Daytawion Lowe has a real shot to stick with the Eagles. Maybe that's a homer pick by me but if all the undrafted free agents, him and Stewart are the the ones I'd say hang on.