Dru Brown Looked Pretty Good in His OSU Debut, Could Factor Into OSU's Season
OSU might have a couple of QBs.
Losing out in a tightly-contested quarterback battle isn't any easy pill to swallow. Especially one that runs all the way up to week before the season opener and especially when you are a senior who transferred in a year ago to earn the job.
But if Dru Brown's debut as a Cowboy is any indication, he has remained 100 percent locked in.
Taking over for Spencer Sanders early in the third quarter of Oklahoma State's 56-14 victory, Brown quickly showed that he too has some arm talent — and some wheels.
Brown completed his first four pass attempts and Nos. 3 and 4 went for 59 and 69 yards, respectively. Both were touchdowns. For reference, Oklahoma State completed four total passing plays of 50 yards or more all of last season. Sanders and Brown split that total on Saturday night.
Yes, it was an FCS opponent (OSU played one of those last year, too) and, yes, you can credit some of that yardage to the speed of Tylan Wallace, C.J. Moore and Braydon Johnson. But Brown picked up right where Sanders left off, putting 21 points on the board while he was taking snaps.
Here's Brown hooking up with Moore on his first TD.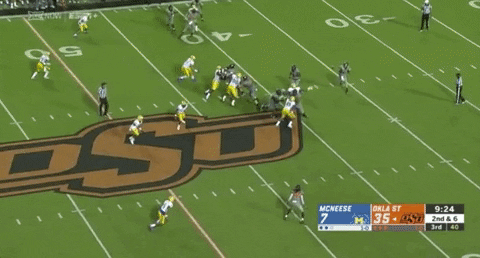 Side note: C.J. is gonna be a dude.
And check out this throw to Braydon Johnson.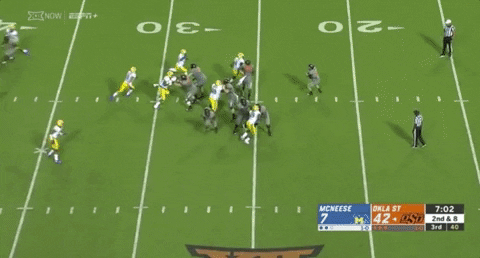 Brown also took off for a 7-yard run, showing he's got at least serviceable feet. He finished the night 7-of-10 for 142 yards and two scores with a passer rating of 255.3. It's a small sample size, but I liked what I saw from the seasoned passer.
And so did his head coach.
"When he was out there with guys that had played some, he was pretty effective," said Mike Gundy. "Gets a little rough for him when there's new guys out there that haven't really worked together."
Dru Brown's play through a quarter and some change at least proved that Oklahoma State is in good shape depth-wise at the most important position on the field.
Let's face it, Spencer Sanders has taken a couple too many hits for my liking through two weeks of play, and it's somewhat rare for a starting QB to navigate a 12-plus game season unscathed. Excuse me while I got frantically knock on every piece of wooden furniture in my house.
The point is that there is a long season ahead of us, and if the Cowboys have to rely on Dru Brown for a series or a quarter or a game, it looks like they are in good hands.