How Chad Henne and Mario Manningham Kept OSU from Playing for a National Title
No, no, no.
I love me a great what-if, and I stumbled across an unbelievable one today that aroused an anger buried within me that is normally reserved for Marcus Smart 25-footers and fade routes inside the 5-yard line.
The genesis of this what-if was a brilliant question by the good people of SB Nation about which TD they would change if they could change one historic CFB TD. Alex Kirshner said he would take away Michigan's late TD in 2005 in the Big House against Penn State when Chad Henne found Mario Manningham for six of their 17 fourth-quarter points.
His reasoning was fascinating, as this was Penn State's only loss on the 2005 season.
The Nittany Lions [finished] 10-1 and third in the BCS standings behind the wire-to-wire 1 and 2, USC and Texas. I'm not here to argue that without Manningham's catch, Vince Young's second night at the Rose Bowl never would've happened.

But I am here to argue that, with too many undefeated power-conference teams for a second year in a row, the hollering for a playoff would've grown so incessant, there's a chance college football would've had a system before it actually did.

The 2003 season had been a mess for the BCS, with LSU winning the title game and USC the AP title. That caused the BCS to de-emphasize its computer calculations and lean more on the human polls.

With the arrival of the 2004 season, there was a different mess, with unbeaten Auburn getting relegated to the Sugar Bowl against two-loss Virginia Tech (plus undefeated Utah and Boise State teams having no shot). The AP embarrassed the BCS by telling it to stop using the poll. Even worse, OU was uncompetitive against USC in the championship.

Big East commissioner Mike Tranghese acknowledged the '04 situation was "like crack" for playoff proponents. I don't think university presidents would've withstood the public-relations whoopass if Penn State had then stayed unbeaten in '05.

The BCS had a TV deal with Fox that ran through 2010 for the non-Rose bowls. I believe we'd have had a playoff in 2011, not 2014, if Penn State hadn't lost to Michigan. We could've forced Bama to earn a rematch against LSU in '11, but in 2013, we'd have been required to watch Michigan State in yet another playoff. So it's probably for the best that Manningham caught it. [SB Nation]
Me.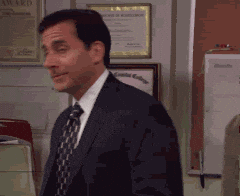 Here's the play — it was Manningham's second TD in the last 10 minutes of the game.
The flip side of this argument is that, if burdened with the weight of an undefeated season, Penn State would have lost later on anyway. We're not exactly talking about 2000 Miami here. PSU had beaten then-unranked Northwestern early in the year by four and then-unranked Michigan State late in the season by nine. It was a strong but not dominant team.
But still, it's an unbelievable what-if because of what it could have meant had USC, Texas and Penn State all gone undefeated in that season and sent a quake into an already-cracking BCS foundation. While Oklahoma State was battling to their only losing campaign under Mike Gundy (to date) — they lost to Texas A&M by 39 on the day of this Michigan-Penn State game — the future of their program was (maybe) being shaped by a single play with 0:00 on the clock at Michigan.
Instead of BCS anarchy for a third year in a row, though, the Nittany Lions won by three over Florida State in the Orange Bowl, USC and Texas played an all-timer in Pasadena and Oklahoma State was left to do the dirty work of overthrowing the BCS six years later.
Here's a look at the final 2005 AP Poll.