How OSU Can Throw a Wrench in the Big 12 Title Race
There is still a lot to be decided in the Big 12. Here's how OSU factors in.
Heading into a retooling year (which has turned out more like a rebuild), Oklahoma State wasn't tabbed by many as threat to challenge for a conference title. Now with a 2-4 start to league play and some heavy hitters left in the lineup, the Pokes are relegated to playing would-be spoiler to another team's championship campaign.
There are four Big 12 teams that have a chance to make the title game as of November 6, and two of them are still upcoming on Oklahoma State's schedule. Let's take a look at all four of these title contenders and how OSU factors into each path to Arlington.
1. Oklahoma (5-1) | Plays OSU Nov. 10
The Sooners, despite suffering a Red River ruin, are one of two teams in the driver's seat to the Big 12 title game. Oklahoma has a remaining schedule that includes home games against Oklahoma State and Kansas — the Sooners will be heavy favorites in both games — and then a trip to Morgantown to face a tough West Virginia squad.
A Bedlam upset by Oklahoma State would give the Sooners two conference Ls and could open things up for Iowa State or Texas if either team wins out. You could be looking at a three-way tie atop the Big 12. We'll get into tiebreakers below.
2. West Virginia (5-1) | Plays at OSU Nov. 10
The Mountaineers also control their own destiny. Win out and their reservation is confirmed at AT&T Stadium on December 1. Dana's squad welcomes TCU this weekend before heading to Stillwater and then their season finale against OU in Morgantown.
Being considered a trap game at home is a hard pill for OSU to swallow, but that's kind of where we are. The Pokes are 3-5 in conference home games over the last two years and have done little to show that they can slow down an offense like the Mountaineers.
But if the Cowboys can provide a stumbling block, West Virginia would likely then have to beat Oklahoma in Week 13 for a chance at the title.
3. Iowa State (4-2) | Defeated OSU 48-42 on Oct. 6
The Cyclones have been white hot as of late, winning four consecutive conference contests (starting with that win over OSU), and have a chance to finish strong with home games against Baylor and Kansas State that bookend a trip to Austin to face the Longhorns.
Iowa State probably has to win all three to have a chance to make the title game (although that would mean cancelling its make-up game with Incarnate Word ?). The most straightforward scenario involves OU and ISU winning out, which puts them both in the title game.
But Oklahoma State could aid the Cyclones by beating either Oklahoma or West Virginia during the next two weeks. An OSU upset of either makes the OU-WVU game in Morgantown a probable play-in game to face a potential 7-2 ISU team for the conference championship.
4. Texas (4-2) | Lose to OSU on Oct. 27
The Longhorns, losers of two straight games by a combined 4 points, need a little help to get to Arlington. UT heads to Lubbock for a night game this Saturday before welcoming the Cyclones, and then heads to Lawrence where David Beaty will try to extend his home winning streak against the 'Horns on his way out the door.
If Texas can bounce back and win the next three, they would like to see a streaking West Virginia team beat OU in three weeks. In that scenario, the Red River dual would come back to bite the Sooners as UT would own the head-to-head tiebreaker, knocking Oklahoma out of the title game.
A Lot of Football Left
Since Oklahoma still plays West Virginia and Iowa State still plays Texas, a lot will be decided on the field, but there are several wacky scenarios that could play out. One includes a Bedlam upset this Saturday.
As stated above, if both the Cyclones and the Sooners win out then that is your title card. Iowa State owns the head-to-head over West Virginia should both teams end 7-2 in league play. If West Virginia wins out and OU finishes 7-2, then the Cyclones are edged out by way of a tie-breaker loss to the Boomers. If Texas wins out, they would need Oklahoma to end with two losses since they own the tie-breaker over the Sooners but not the Mountaineers.
So … if OSU beats OU or WVU, and either team wins its other two games, you could have a tie between Oklahoma, West Virginia and either Iowa State or Texas. Texas would own the tie-breaker over the Sooners but not the Mountaineers. Or Iowa State would own the tie-breaker over West Virginia but not Oklahoma. ???
At that point, you move to conference records of those three teams against the rest of the league, then scoring differential, then someone literally draws names out of a hat "container." Part of me roots for the latter.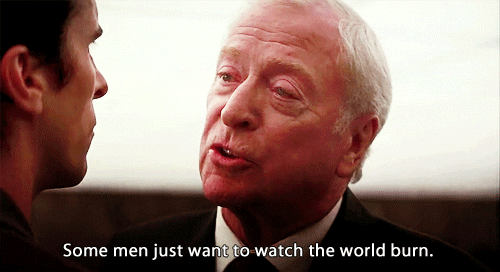 It's a convoluted mess and it's the result of cramming a title-game peg into a round-robin, division-less hole.
"It's a big motivation to us because we're out of the playoff," said Tyron Johnson on Tuesday. "There's no way we can go to the playoff. We're probably out of the Big 12 Championship. So it's our motivation to knock other teams off. You gotta come with us."
Oklahoma State will have to wait at least another year before it can get a shot at the title on the big stage, but it can really throw a wrench in the works for either of the league's top two teams over the next two weeks.