It's Happening: Footage of Dax, Justice Hill Race to Be Released in Late August
The Hill brothers will have their race vid released just before the season begins.
Ever since Dax Hill posted (and abruptly deleted) a photo of he and his older brother, Justice, racing, OSU fans have been clamoring to learn the result of what appeared to be a real-life race between two of the more talented football players in the state.
It appears we'll soon know the answer to the hypothetical we've all been debating.
Matt Shyers, who has a popular YouTube channel that has, at one time or another, featured both talented football stars on his channel, posted Sunday a race teaser announcing that footage of an actual race that really took place between the two will be released on Aug. 24.
Cue the only appropriate gif for this fantastic bit of news.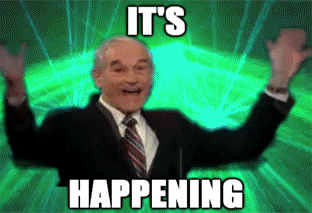 Justice was asked Saturday at OSU's media day by Guerin Emig on who won the race, and the OSU star confidently proclaimed himself the victor. Every time. Which would be absolutely absurd (but not totally surprising), given the fact that Dax has been lasered at a 4.3 40-yard dash.
I asked Justice Hill about racing his brother, Dax, recently.
"Yeah, I won that. There's a video. I just haven't released it. I will one day."
How many times you two go?
"Two or three."
Distance?
"Just 40."
And you won 'em all?
"Yeah, it was close. But I got all of 'em"#OKState

— Guerin Emig (@GuerinEmig) August 5, 2018
Until Aug. 24, all we can do is debate the actual winner. I'm giving Justice the slight edge, and given his confident answer to Emig over the weekend, I'm rolling with it. But until D-Day, the only thing I'm confident in is that I'll be on pins and needles anxiously awaiting the footage of this thing … and whether or not it's simply a race video, or *ducks* a commitment video for the five-star Tulsa product.
???
Who you got?
Like for Dax….Retweet for Justice#Whosfaster #40 pic.twitter.com/dL2AYTnOAG

— Matt Shyers (@MattShyers) August 5, 2018