McNeese Debriefing: Former Walk-On Gets a Helmet Sticker for Big Outing
Handing out helmet stickers after a blowout of McNeese.
Oklahoma State won its home opener against McNeese on Saturday and moved to 2-0. As far as blowouts of FCS opponents go, this one was rather informative. Or maybe it just seems that way since we still have so much to learn about this team.
Let's debrief.
The Short Story
For a change, OSU's defense started off with a bang while it was the offense that couldn't get out of its own way early. Several huge plays put the home team far out of reach from the visitors, but you had the feeling, at least early, that that type of start just wouldn't fly against a Power 5 team.
The defense was solid-to-good throughout, even standing strong for back-to-back goal-line stands late with second- and third-string defenders.
That being said, I can't call it a great defensive performance based solely on the level of opponent and I can't call it a terrible offensive outing when seven TDs were scored.
Who Gets a Brand Sticker?
Offense: Tylan Wallace
Tylan showed off his ability to take a first-down play and turn into six points.
TYLAN WALLACE SAYS GOODBYE. pic.twitter.com/POuCDgRW7v

— Pistols Firing (@pistolsguys) September 7, 2019
On just five catches, Tylan racked up 180 yards. His 36-yard per-catch average and three receiving TDs were both career highs. His second-half opening catch, a 75-yard touchdown, is also the longest of his career to this point.
Defense: Phillip Redwine-Bryant
The defense on the whole played well and a handful of guys deserve stickers, but I'll give it to the former walk-on who finished third in tackles in a reserve role and then grabbed the third quarter interception that set up walk-on Micah Cooper's first career score.
Questions for Tulsa
Which OSU offense will get we get the start? The one that was firing on all cylinders from the kickoff at Oregon State, or the one that started sluggish and looked a bit discombobulated against McNeese?
On the other side, can Oklahoma State's defense put forth the type of end-to-end effort it displayed against McNeese in back-to-back outings. Any bugs that needed to be worked out should be by the Week 3, so a clean, disciplined showing on both sides of the ball against Tulsa would be a nice sign that OSU is ready for conference play.
Play of the Game
There were a lot of big plays made by the Cowboys. OSU matched its total of 50-plus yard passing plays for all of last year on Saturday night. But I'll go with two.
First off, I have to include this circus catch by Tylan.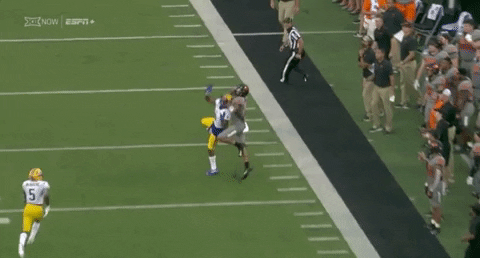 That was a no-brainer just based on of the degree of difficulty both in securing the ball off the defender's facemask and out of his grasp and his ability to turn and gather his feet and get down in bounds.
I'll also added A.J. Green's game-opening pick-6 because, well, it's a pick-6.