Five Thoughts on Oklahoma State's 84-80 OT Loss to Texas Tech
On the one that got away and what it actually meant for OSU's season.
As the cliché goes, there is no such thing as a moral victory. But a shorthanded and out-gunned Oklahoma State team got about as close as you can to one on Wednesday night in Lubbock.
Texas Tech 84, Oklahoma State 80.
The Cowboys spent most of the night down double digits to a team they were supposed to lose to, by double digits. But Thomas Dziagwa's hot 3-point shooting kept them alive until a late bout of Lindy Waters playing out of his freaking mind made this thing not only interesting, but pushed the Cowboys to overtime with a chance at the upset.
I have five thoughts, let's jump into them.
1. OSU Overcame A LOT Just to Get It to Extra Innings
The visiting Cowboys were handily handled in just about every facet of the game from a statistical standpoint (except one which we'll get to later). They lost the turnover battle (11-7), the battle of the boards (34-44), offensive rebounds (6-12 *mostly on one possession), and points in the paint (8-36) — as our resident PFB points-in-the-paint truther Dustin Ragusa kept us all abreast of.
And then there were the fouls. Oklahoma State is running extra thin on bodies, which is a problem when the whistle seems to blow only one way. Now, overall I didn't think it was a horribly called game, until I looked at these two numbers.
Foul discrepancy 27-16
Free-throw discrepancy 13-32
That's Phog Allen territory.
The Cowboys did have a couple of calls go their way late, but the ability to even be in this game with a chance to do what they did is more than noteworthy. Insert the context of a team four days removed from being a walk-on's shot away from tying its worst loss in program history, and this game was impressive.
2. OSU Stayed in It with the Deep Ball
Live by the 3, die by the 3. In such a tumultuous season, Mike Boynton is not ashamed of this being his team's motto — and it almost worked in Lubbock.
With four minutes left in the first half, Oklahoma State was 6-of-11 from 3 (Thomas Dziagwa was 3-for-5 and Lindy Waters was 2-for-3), but was only 1-of-10 from 2. See Ragusa's above-mentioned gripe. This is by no means sustainable when you subscribe to conventional basketball wisdom and common sense, but both went out the window in mid January.
Dziagwa's deep ball kept the Cowboys afloat for most of the night, connecting on 6-of-9 from deep. Dizzy has made at least six 3-pointers in three of the last four games, but he didn't lead the Cowboys in made 3s on hump day.
Which leads us to…
3. Lindy Waters Chitwood Returns
In one of the more underrated sequels in cinematic history, Hoosiers 2: Just This Close was released on Wednesday night and starred Lindy Waters as the former Milan High School superstar Jimmy Chitwood, reincarnate.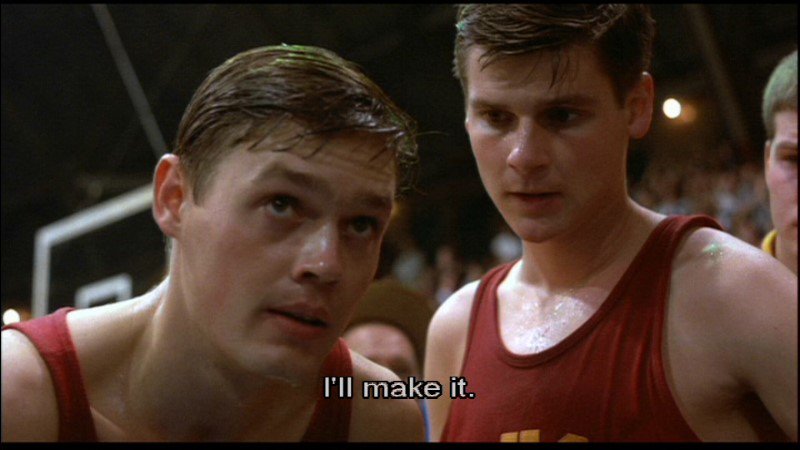 Waters — owner of OSU's wettest jumper — has been on a cool streak as of late averaging just 7 points per game over the last three (and scoring just 5 at Texas and a season-low 2 in Saturday's blowout loss to Kansas State). But something happened late in the second half against the Red Raiders.
From the 55-second mark to the 1-second mark, Waters made four-straight 3s to single-handedly will the Cowboys into overtime.
His crescendo:
---
Then in overtime, he had another dramatic equalizer that, unfortunately, would not stick. But it was still plenty dramatic.
---
All in all, Waters took and made a career high of 3-pointers (7-of-10), and it almost made the difference for OSU.
4. Where is Cam McGriff?
It's too late to wake up someone in our Slack chat to make a bad Photoshop of the Crime Dog on a milk carton, but I think you get the picture.
McGriff did take a charge with four minutes left with OSU down 2, and has made his normal share of hustle plays throughout, but someone needs to put out a missing persons report on OSU's best offensive player.
Oklahoma State's most dynamic player has been relegated to bystander for the last four games. Where Waters turned in games of 5, 12 and 2 points, McGriff has matched those with outings of 5, 4, 2 and now 8 points on 2-of-11 shooting.
Mike Boynton has alluded to the fact that his leading scorer is not 100 percent health-wise, but this isn't a matter of assigning blame. The fact is that without McGriff being a force on offense, this OSU team ain't winning many more games. Or any.
5. A Juxtaposition That Becomes a Dichotomy
Nearing the end of Year 2, Mike Boynton is now 31-33 (or .484 in win percentage during his short career) and is going to miss the NCAA Tournament for consecutive years. Across the scorer's table on Wednesday was another head coach who is 68-29 (.701) at his current school in just his third season.
Chris Beard's team went to the Elite 8 in his second year, losing to the eventual national champ Villanova, and it is currently solidifying its case for a top-3 seed in the Big Dance. With this win over OSU, Tech stepped into a tie for the No. 1 spot in college basketball's deepest league.
Why do I bring this up? The two coaches are in vastly different situations. Half of OSU's diminished depth chart probably wouldn't make Tech's practice squad. Boynton had to hold open tryouts just to get a practice squad. 
But college basketball, like most sports, is a results-driven business, and at some point, fair or not, you need to produce, well, results.
All signs point to Boynton absolutely winning on the recruiting trail and this resilient effort was admirable, but the remaining possibility of finishing with its lowest win total in 32 years breeds more apathy than discontent for OSU's once-storied basketball program, and I think the former is much worse.