Oklahoma State 'Expects' Tylan Wallace to Make Plays, and He Delivers
Tylan Wallace needed just 31 minutes of football on Saturday against McNeese to post one of the best games of his career. He had 180 yards on five catches — three of them ending in TDs — and scored from 69 yards, 4 yards and 75 yards away. It was a show. According to Mike Gundy, it's what's expected from one of the best to do it at that spot in the Gundy era.
"(Tylan Wallace is) a good player, right?," said Gundy. "He's arguably the best player in the country at that position, and he continues to play well and make plays. We expect him to make plays for us.
"If they're gonna put one guy out there on him, then we have to use him. Last week we didn't have that luxury; they were playing a guy over the top. It's a little different every week, but we expect him to make plays. He works hard and should be productive each game."
He was certainly productive on Saturday, as he put up the eighth 100-yard game of his career on just five receptions.
| Year | Opponent | Yards | TD |
| --- | --- | --- | --- |
| 2018 | Texas | 222 | 2 |
| 2018 | OU | 220 | 2 |
| 2019 | McNeese | 180 | 3 |
| 2018 | S. Alabama | 166 | 1 |
| 2018 | Texas Tech | 123 | 0 |
| 2018 | Baylor | 122 | 1 |
| 2018 | Boise St. | 105 | 0 |
| 2018 | Kansas | 104 | 1 |
On Saturday — and so far this season — it's been less about him going over the top for the home run catch, and more about him just housing guys on short routes. That's on purpose, said offensive coordinator Sean Gleeson on Saturday.
"During the week, we talked about getting the ball to him under 10 yards, these hitch and shorter throws," said Gleeson. "At one point, I told him, 'You know we are going to throw it to you and you are going to catch it. But that's not the end of it, you are going to have to break a tackle.'
"It was great to see him do that and he is just making plays for us. And that's what we need him to do for us, to be successful. Guys like him, Chuba Hubbard and other guys who've made plays the last two weeks, we need them to keep doing that and keep getting better."
His two long TDs were on relatively short throws. See it, catch it, peace.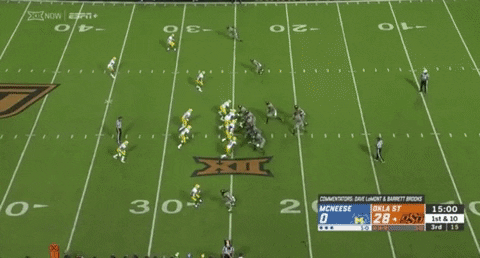 TYLAN WALLACE SAYS GOODBYE. pic.twitter.com/POuCDgRW7v

— Pistols Firing (@pistolsguys) September 7, 2019
"I'm just trying not to get caught," said Wallace on what he's thinking when he catches a short pass and tries to turn it upfield. "Make sure I get in the endzone. If I get caught I'm going to hear it from all the guys and coach Dunn. Just make sure I don't get caught."
After putting up 86 catches for 1,491 yards and 12 TDs in 2018, Wallace somehow looks even more dominant through two games this year. It's early, and OSU hasn't played anyone notable yet, but he's on pace for 60 receptions, over 1,600 yards and 30 TDs in the regular season alone. And … it honestly doesn't even feel like he's done much yet. It's the quietest five-TD start to a season in OSU history.
Those scoring numbers are not likely sustainable, but Wallace has elevated himself into the Dez/Blackmon/Washington conversation in terms of dominance (if he wasn't already there) and with other big boy weapons at wideout, I think he can maintain the yardage. There are no answers for what he does. Kasey Dunn told me a month ago that Tylan is a better route-runner than James Washington and also maybe the most physical, nasty receiver he's ever had (including Justin Blackmon!). That's a tough combo for opponents to stare at.
So while the numbers — 5 TDs on 10 catches and 27 yards a reception thus far — pop on paper, don't expect them to change a whole lot over the course of the rest of the season. This might just be what we get (remember he put up 442 combined against Texas and OU last season so it's not just him thriving on lowly competition).
Through two games in 2019, I'm not totally sure what we know about this team yet, but one thing seems rather obvious. Tylan Wallace — maybe the best wideout in the nation a year ago — has somehow gotten even better.