Oklahoma State Football: 10 Questions for Mike Gundy in 2019
On the safeties, the corners and all those monsters at Cowboy Back.
It's officially the offseason, and Oklahoma State has entered it with, if not momentum, then at least something resembling momentum as the Spencer Sanders (or Dru Brown) era dawns.
And while it's easy to hop on the Liberty Bowl-shaped wave OSU and its fans are riding (I admit I was doing two-deep ruminations in my brain at the post-Mizzou presser), many questions still remain for Mike Gundy and Co.
And 2019 is a big year. If not for the shape of Oklahoma State football then at least for Mike Gundy. He's never truly had two bad years in a row, and the last one he had was followed by a 10-2 regular season, flirtation with the CFP and a Sugar Bowl appearance.
Maybe that's in the cards for these Pokes at the end of another 12 (or 13) games but probably not. What's more likely, more reasonable and even still, fairly optimistic, is that they labor to eight or nine wins and fight for an Alamo Bowl spot. But who knows. Entire team cultures can shift faster than it takes Chuba to run the 400, and so many holes have yet to be filled.
With that, 10 questions I have about the upcoming calendar year in OSU football.
1. What Does the Defensive Line Look Like?
I feel like I've been beating this drum into a black hole, but Oklahoma State is losing all six of its players who started a game on the defensive line in 2018. That's staggering! And while the replacements — Michael Scott, Brock Martin and others — certainly intrigue, I'm concerned that what has become a nice, surprising strength for the Pokes in recent years could regress quite a bit.
2. Is There Enough RB Depth?
LD Brown made one cutback move at the Liberty Bowl that made me raise an eyebrow, but Chuba-LD-Jahmyl doesn't have the same ring to it as Justice-JD-Chuba. We've been spoiled here, of course, because OSU may have had two NFL players in its three-deep last season, but over the course of a Big 12 season you need some guys. If OSU does in fact land Deondrick Glass, he might get some freshman year playing time, not necessarily because he's good enough (though maybe he is) but simply because OSU will have to fill a spot.
3. Spencer's the Guy, but How Good Will He Be?
Me if Spencer isn't good. ⤵️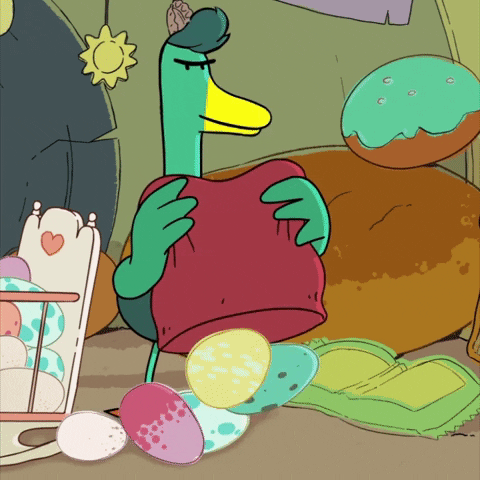 It's a unique situation, too. I can't remember the last time somebody was the guy for an entire season in his redshirt freshman season. Even with the opportunity to explore options (without burning redshirts!) in 2018, Gundy chose to put his future in a Spencer Sanders-shaped box in 2019, sight unseen. More eggs in that basket than I have in mine! I hope it works. I think it will work. But … it might not work.
4. How Good Can the Safeties Be?
As dubious as I am about the defensive line, I'm equally excited about OSU at safety. The baptism Kolby Peel and Jarrick Bernard went through in 2018 was tough at times, but it means OSU is loaded with young studs in 2019, including those two, Malcolm Rodriguez, Kanion Williams and a just-moved-over Tanner McCalister. One of the dirty secrets of a down year is that it gives you an opportunity to openly develop guys you might not otherwise trust (it doesn't mean you'll take it — see No. 3 — but at least the opportunity is there).
5. A Finally Settled Offensive Line?
OSU loses two starters in Larry Williams and Deionte Noel, but their depth is out of the "wait, how many offensive linemen are on the roster exactly" zone and back to normal. Yeah, they were lousy at times, especially early, in 2018, but they got better as the season went on, and next year marks the first true season of a full meshing of Spencer's guys with a good veteran front.
6. What Will an OC Change Mean for the Offense?
This is actually among the least of my worries. I don't think that it doesn't matter at all, but it's one of the positions that has seemed to matter the least in the Mike Gundy era. Maybe that will be proven wrong in 2019, but I don't think OSU is going to be running the wishbone or the triple option this season even if Gundy brings Barry Switzer on to be an offensive analyst.
7. How Will Jelani, Jake Ross and Grayson Boomer Be Used?
Not only is OSU loaded at wide receiver — like loaded loaded — they're also full to the brim at Cowboy Back. They have a nice three-man look in Jelani Woods, Jake Ross and Grayson Boomer that they can deploy however they want.
The interesting part about all of this is that OSU's strength right now at receiver is going to force the Pokes to throw with a redshirt freshman probably more than Gundy is comfortable with. If he had it his way, the backfield would be full, the playbook would be weighted and OSU would run it 65 times a game until Sanders hit his 15th game.
8. Special Teams Makeover?
OSU is losing both punters — Matt Hockett and Zach Sinor — and might lose its best kick returner, too, in Chuba depending on how much stress Gundy wants to put on him as the featured back. In comes Australian sensation, Tom Hutton — and possibly the return goods of a secret trade between the U.S. and Australia via Oklahoma State with Mason Cox being the export — and you know what this transition would be a nice time for: A dedicated special teams coach. Here are my 2019 New Year's resolutions.
Read 35 books
Run 400 miles
Write "OSU needs to hire a special teams coach" in every single blog post I write until it actually happens.
9. Will Redshirts Provide Depth at Corner?
It's a miracle that Rodarius Williams and A.J. Green have stayed as healthy as they have over the last two years, and I'd like to see some real depth developed with JayVeon Cardwell and Gabe Lemons. We saw what happened when the corners and safeties started getting booted from the Liberty Bowl, and it involved Drew Lock and a Playstation controller. Related: Next year is A.J.'s final year in Stillwater, and OSU needs to have a transition plan for 2020 unless they plan to start playing seven safeties (which I suppose is possible).
10. Is Calvin Bundage Playable?
I'm kidding, of course he's playable. But I couldn't help but think that every time Gundy referenced discipline, leadership and maturity in one of his pressers this year that he was doing so with one eye on No. 1. His knack for getting 15-yarders (or even lesser flags) at inopportune times has gone from "haha this will be fun to joke about on pistols firing blog dot com" to "wait, should we just go with the guy behind him who's 85 percent as good but isn't going to hurt us?"
Maybe that's harsh — it probably is — but it's something that plagued OSU all season, and not just with Bundage. Gundy and Co. have to figure out how to tighten up their discipline in 2019 because the margins remain thin as ever. And as we saw in 2018, without consistent, elite QB play, that's a recipe that's not going to go all that well in Big 12 play.