OSU Football's Toughest Road Games in 2019, Ranked
A look at all six road games for OSU and how challenging each is.
Every game on the schedule for Oklahoma State in 2019 presents its own, unique challenge. Oct. 26 at Ames presents a psychological hurdle OSU fans must overcome (thanks, 2011). Oct. 5 at Lubbock presents, well, flying tortillas. Nov. 16 vs. Kansas presents … an extra practice. But you get my point: no game is exactly the same as another.
The same is true of OSU's road games. Some environments are easier than others, some teams are simply better than others. So with that in mind, let's take a look at the toughest road games OSU faces this season — sorted in order from most to least challenging.
---
1. at Iowa State (Oct. 26)
Look, I know this isn't a wonky Friday night game. And I know OSU won't be 10-0 led by a Heisman contender still vying for a natty (OSU could be 7-0 by this time, though!). But Ames still to this day makes my palms sweat a bit, no matter how good a team ISU fields. The fact that ISU figures to be a darkhorse Big 12 contender makes this No. 1 on the list.
2. at West Virginia (Nov. 23)
Most people operate under the assumption that Morgantown, West Virginia is one gigantic slop-fest on games.
Most people are correct!
If this winds up being a night game, I'm expecting just about anything. Dana Holgorsen ditches his head coaching duties at Houston for a game to call plays for WVU? Tavon Austin suiting up — and subsequently torching OSU — under the guise of "Le'Veon Boston?" This game is already off the chain and we're still months away.
3. at Texas (Sep. 21)
*looks at Mike Gundy's record in Big 12 openers*
*quadruple checks the 2-5 Big 12-opening record since 2012*
Wellp!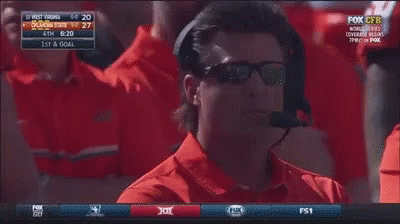 4. at Texas Tech (Oct. 5)
Lubbock doesn't give me the same heebie jeebies that Ames does, but I always feel like Lubbock at night is the equivalent of Pac-12 after dark where literally anything can happen and nothing goes right for the visitor. That makes me nervous. The fact this game also falls before the bye week also throws out some strong got caught looking ahead vibes.
5. at Tulsa (Sep. 14)
This is probably going to be a split OSU/TU crowd despite the Tulsa-area venue. Regardless, I expect lots of OSU points and far fewer TU points.
6. at Oregon State (Aug. 30)
Selfishly, I am hoping this game is over by halftime. That 9:30 kick is straight up rude. Unselfishly and objectively, though, this game will be over by halftime. I feel like there's a real chance OSU scores in the 70s and the lesser OSU is held to single digits. Beavers are real bad!