Quarterback to Back: Kyler Murray Is Putting Together an Historically Good Year
Mike Gundy talks about the challenges Murray presents, "He's really good."
It's the Bedlam edition of our weekly quarterback juxtaposition, and this one is NSFW. We're looking at fifth-year senior in Taylor Cornelius who has been everything from good, to not good, to not great, and comparing him to the captain of an elite offense who's on pace to shatter a few records — even a couple set by his predecessor.
First off, let's look at some of the two QBs' numbers through nine games.
| QB2B | Cornelius | Murray |
| --- | --- | --- |
| Att | 302 | 218 |
| Comp. | 181 | 154 |
| Pct. | 59.9% | 70.6% (5th) |
| Yds | 2622 | 2689 |
| Yds/Att | 8.7 | 12.3 (1st) |
| TD | 20 | 31 |
| INT | 8 | 5 |
| Rating | 149.4 | 216.6 |
| QBR | 75.2 (26th) | 96.8 (2nd) |
| Rushing TDs | 7 | 7 |
In 2016, Baker Mayfield set a record for passer-efficiency at 196.4. A year later, he beat his own record with a 198.9 finish. Through 75 percent of the season, Murray is set to blow that number out of the water.
Murray and Alabama's Tua Tagovailoa occupy the top two spots in both passer-rating and total QBR. Murray's 12.3 yards per attempt not only leads the nation, but it would set a Big 12 record (also beating out Baker) if it holds up. Murray is averaging 3.4 passing touchdowns and 4.2 TDs responsible for this season, on pace to tie Sam Bradford's Sooner record (55).
"He's really good. We all know that," Mike Gundy said in the most Mike Gundy oversimplification. "I could stand up here and talk about what he's done."
I think our readers will agree that I've done that enough for all of us, Mike. I get it. 
But that's the point. The baseball player who already cashed his first professional check has turned out to be even better than most Sooner fans hoped.
Credit Lincoln Riley's offense, credit a massive and talented O-Line, credit the star-studded cast of skill players around him… credit some soul-dealing arrangement Gundy made in Norman back in the mid-80s. The point is that Oklahoma has the best offense in the country from an efficiency standpoint and ranks behind only Alabama's in points per drive, and Kyle Murray is the catalyst for that.
So how do you try to slow down him down? There's no stopping him. How do try to curtail him? He won't be contained.
It's fairly simple according to Mike Gundy, but that doesn't make it the slightest bit easy.
"The basis of defensive football is that everybody has a gap responsibility, everybody has a zone coverage or man coverage," said Gundy. "The one player you can't, and or have a hard time accounting for, is the quarterback. The difference between what he presents and what they've had the last few years is that it is not a potential 8- or 10-yard run. He might go 60 yards.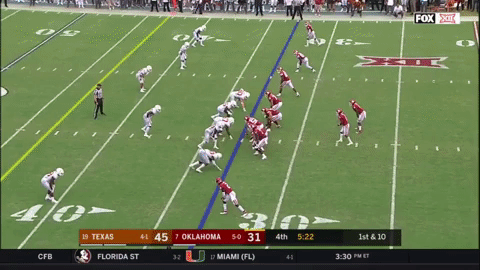 "He's been really good — a really good player. You can talk about it all day, but that's what he gives you. You're going to have to try and rally to defend everything, and then you're going to have to try and take care of him [in the] secondary. When you are trying to defend a player that is that active, it's not always easy. Which has been evident if you've watched their games this year."
Cowboy senior defensive tackle Enoch Smith talked about Murray and the challenges he presents.
"[I have to] focus on my responsibility and not do anything supernatural or out of the ordinary because it's a football game," Smith said.
Actually, let's put a pin in that "supernatural" thing you mentioned if it's an option. 
"You don't want to get out the box and try to do stuff that you are not accustomed to doing because you will create a crease and he will find it and try to exploit it."
An obvious idea might be to assign a "spy" defender to account for Murray and his ability to beat you with his wheels.
"I'm not saying that it's not a good plan to do it, and I'm not saying people haven't tried it – I haven't seen it work very good for them," Gundy said. "If you were to spy him, it would have to be someone who is very fast because he runs pretty well. There have been attempts and have been some times that it has been successful, but if you spy him, you're giving up something somewhere else."
Dustin Ragusa discussed this earlier in the week.
We've seen teams struggle trying to use a spy on passing downs, and I don't know if the Pokes have the guys to be able to do this… I don't really know if anyone does. The problem with committing so much to stopping Murray on the ground is… he can beat you almost as easily through the air. [PFB]
"You have to really have a good plan and a good reason for it would be my guess," Gundy continued. "I meet with all of those guys in the afternoon and would know a lot more then, but I would just say that it would be a choice based on your concept and the opportunity at that particular time."
There's a lot that makes this season feel like OSU's 2014 up-and-down campaign, not the least of which is a trip to Norman as double-digit dogs to try to earn a bowl bid. But as Kyle Boone pointed out, this is not the same one-dimensional OU offense that Glenn Spencer knew wasn't going to throw the ball late. Both QBs also played on the Sooner baseball team, but unfortunately the similarities start and end there. Cody Thomas ain't walking through that door, I'm sorry to say. 
Crazy things can happen when you're dealing with the most unpredictable, volatile team sport in America, much less a rivalry game. But at the most important position on the field, OSU is dealing with the steepest mismatch it will face all year. The scariest part for the Cowboys is that the current Sooner QB may be more dangerous than the one that owned them each of the last three years.