Week 10 in the NFL: Dez does London
Dallas bounced back and Perrish Cox literally bounced off the turf in New Orleans. A look at Pokes in the NFL this week.
Bryant, Cowboys are back
It took a trip overseas for Dez Bryant to find himself, but he did it. The Cowboys traveled to London for a game with Jacksonville in which Bryant did things to the Jaguars defense that are not suitable for small children. He completely demolished them.
Dez Bryant's 158 yards in the 2nd quarter wasn't just a franchise record for yards in a quarter… it was a Cowboys record for a 1st half…

— Pat Doney (@PatDoneyNBC5) November 10, 2014
Bryant ended the game with six receptions for 158 yards and two touchdowns. Here's the crazy thing though: all of it came in the second quarter. He shed tacklers like a snake sheds skin en route to a 68-yard score and again on a 35-yard TD.
No questions asked, Bryant is the best receiver in the league this season.
Bryant's buddy from OSU, Joseph Randle, also ran over several Jaguars on his way to a 40-yard touchdown run. It was the first touchdown run this season for the Cowboys by someone other than DeMarco Murray.
https://vine.co/v/Oi7OOzpYHWm
Randle ended with 56 yards rushing on seven attempts and the TD.
Elsewhere on the Cowboys, after a hot start, Dan Bailey has cooled considerably. For the second week in a row, Bailey went just 1-for-2 on field goal attempts, missing on a 48-yarder in the third quarter. Hopefully this is a slump that Bailey will snap out of soon, because watching him in his super-accurate robot-form is a lot more fun.
Brandon Weeden played in some garbage time today after the game had been decided, and passed for eight yards on one attempt.
Tyler Patmon played but left in the second quarter after sustaining a knee injury. It is now known that Patmon suffered an MCL sprain, and his status for week 12 (the Cowboys have a bye in week 11) is yet to be determined.
Give Perrish Cox an Oscar
Perrish Cox kept up his solid play for San Francisco today, ending with six tackles. Cox even got an opportunity to return a punt, and got forward seven yards before being tackled.
Still, what he gained the most attention for was his Marcus Smart-esque flop on a crucial play in the fourth quarter.
https://vine.co/v/Oi705Pb9FiP
Jimmy Graham was called for offensive pass interference on the play, and the TD was taken back. The 49ers ended up winning in overtime.[1. Ed. note: I prefer this version.]
Cox clearly embellished the contact, but it was there. It looked like Graham pushed off, and the call was made based on that. Whatever you've got to do to get the win, Cox later said on Twitter.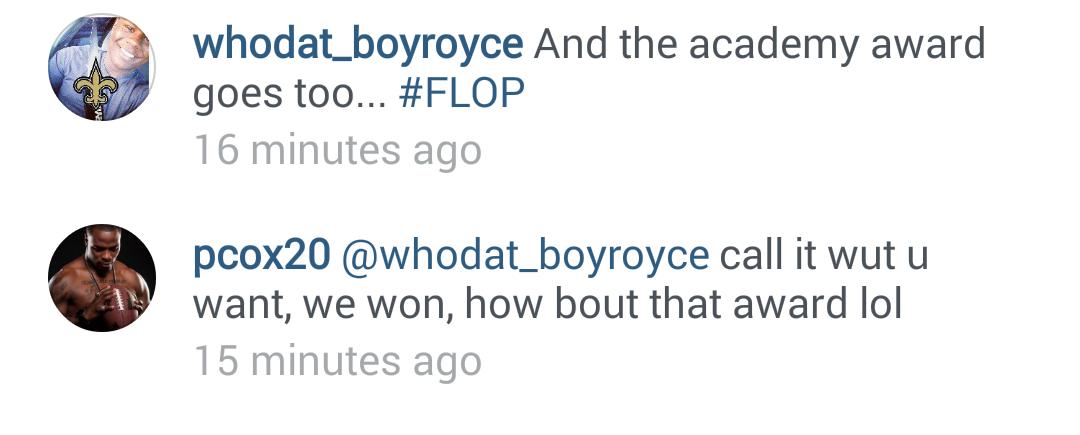 Okung lives offensive lineman's dream
Russell Okung and the Seattle offensive line are worthy of praise, as they paved the way for a huge rushing day. The Seahawks totaled 350 yards and all five of their touchdowns on the ground.
Seattle OT Russell Okung on the teams 350 yard rushing: That's the kind of game every offensive lineman dreams about,"

— Terry Blount (@TBlountSports) November 10, 2014
Here's what the rest of the former Pokes in the pros did this week.
| | | |
| --- | --- | --- |
| Player | Team | Week 10 performance |
| Orie Lemon | Tampa Bay Bucs | Played at LB |
| Charlie Johnson | Minnesota Vikings | Bye |
| Corey Hilliard | Detroit Lions | DNP — Injured |
| Antonio Smith | Oakland Raiders | Played at DT |
| Kendall Hunter | San Francisco 49ers | DNP — Injured |
| Brandon Pettigrew | Detroit Lions | Played at TE |
| Justin Blackmon | Jacksonville Jags | DNP — Suspended |
| Justin Gilbert | Cleveland Browns | Played at CB |
| Kevin Williams | Seattle Seahawks | Played at DT |
| Lane Taylor | Green Bay Packers | Played at G |
Totally Tickets is your source for Oklahoma State football tickets.