Week 15 in the NFL: Dez lights Philly on fire
Dez went big, Perrish disappeared and Okung shoved a trainer (?)
Another week means another TD (or three) for No. 88. Here's what former Pokes did in the League in Week 14.
Bryant Smokes Philly
Dez Bryant vowed for a better showing in the second matchup between the Dallas Cowboys and Philadelphia Eagles.
After having little impact in a 31-10 loss, Bryant torched the Eagles Sunday for six receptions, 114 yards, and a career-high 3 TDs.
For most of the game, it seemed Philadelphia balked at the mere idea of defending him. Bryant was way too open.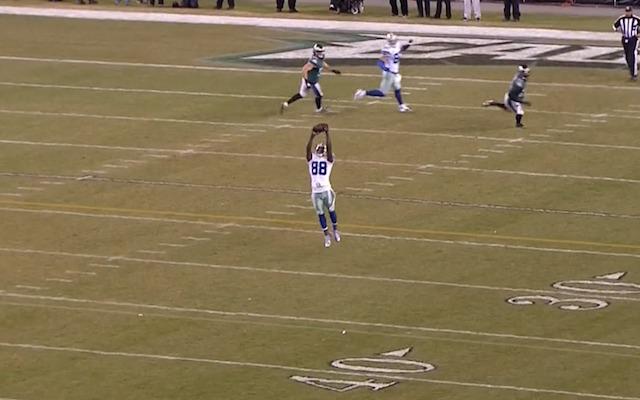 Bradley Fletcher was helpless, as Bryant left him in the dust a few times on the evening. Fletcher's being a half-step behind led to a couple of easy scores.
Despite Bryant's monster game, the Eagles were still only a touchdown and a two point conversion away in the 4th quarter.
Enter Dan Bailey, who nailed a 49-yarder with aplomb late in the quarter to give Dallas a 38-27 lead and effectively seal the game.
Joseph Randle had just two carries for 13 yards in the win, but could see increase action next week, as DeMarco Murray suffered a hand injury in the game.
Dan Bailey's 49-yd FG makes him 22-of-25 this season and puts Dallas up 38-27 with 4:37 left in the 4th quarter. @BlueStarBlog

— Pat Doney (@PatDoneyNBC5) December 15, 2014
Williams big part of Seahawks' defensive effort
A clash between the San Francisco 49ers and the Seattle Seahawks featured a few former Oklahoma State players: Kevin Williams (Seahawks), Russell Okung (Seahawks), and Perrish Cox (49ers).
Williams had arguably his best game of the season. The defensive tackle had one sack and four tackles, two of which caused a loss of yardage. Williams did an admirable job filling the void left by Brandon Mebane this week.
Carroll on Kevin Williams & @J_HILL_47 filling in for @Mebane92: "We have a way to tailor the play to the nature of the player."

— Seattle Seahawks (@Seahawks) December 10, 2014
Okung left in the first quarter with a chest injury, and did not return. He apparently coughed up some blood, and got into this heated exchange with his trainer.
On the other side, Perrish Cox has continued to struggle as of late.
Cox had five tackles on Sunday, but his defense has been questionable as of late. It's a far cry from his early season form that helped him to secure a starting spot.
Since week nine, Cox has allowed 31 receptions for 443 yards on just 45 targets. It has some fans wondering what happened to him.
Remember when Perrish Cox was playing at an All-Pro level? Seems like that was years ago.

— Bay Area Sports Guy (@BASportsGuy) December 14, 2014
Lemon still performing
There's not much that Tampa Bay fans can be happy about, but the signing of Orie Lemon is one of them.
Lemon continues to show improvement each week. This week, he forced a fumble, though the Buccaneers couldn't recover. He also recorded four tackles, two of which were for a loss.
LB @OrieLemon punches the ball loose from Stewart, who has it fall right back into his arms for the recovery. 2nd down, Carolina. #TBvsCAR

— Tampa Bay Buccaneers (@Buccaneers) December 14, 2014
Here's what the rest of the former OSU Cowboys did in the NFL this week.
| | | |
| --- | --- | --- |
| Player | Team | Week 15 performance |
| Justin Blackmon | Jacksonville Jags | DNP — Suspended |
| Charlie Johnson | Minnesota Vikings | DNP — Injured |
| Corey Hilliard | Detroit Lions | DNP — Injured |
| Lane Taylor | Green Bay Packers | Played at G |
| Brandon Pettigrew | Detroit Lions | Played at TE |
| Kendall Hunter | San Francisco 49ers | DNP — Injured |
| Justin Gilbert | Cleveland Browns | 1 tackle |
| Tyler Patmon | Dallas Cowboys | DNP — Injured |
| Brandon Weeden | Dallas Cowboys | DNP |
| Antonio Smith | Oakland Raiders | Started at DT |
Totally Tickets is your source for Oklahoma State football tickets.