Week 3 of Pokes in the NFL
Dez throws up more Xs, Bailey throws up more points.
Bryant torches Rams and Bailey makes history
Dez Bryant will likely highlight many of these lists in future weeks.
Bryant is one of the most explosive receivers in the game and falling asleep on coverage of him can lead to detrimental consequences.
On Sunday, the St. Louis Rams had to learn this the hard way. Not only did the Rams blow a 21 point lead on Sunday, they also blew coverage of Bryant on this play.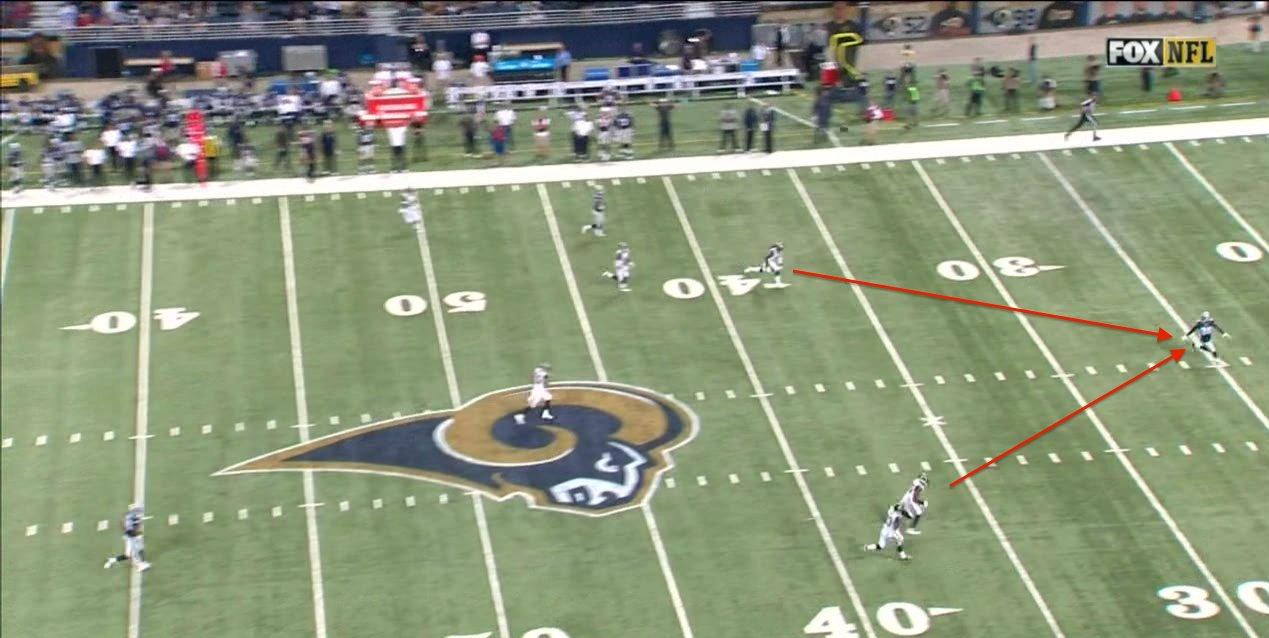 That play led to a 68-yard connection and six points for the Cowboys. It was especially sweet for Bryant. Not only did it come in the middle of a Dallas run in which they scored 20 unanswered points to pull within one of the Rams, but it provided a chance for payback.
Rams cornerback Janoris Jenkins mocked Bryant by imitating his trademark X after returning an interception for a touchdown. Jenkins also spent most of the game covering Bryant, and the blame for the 68-yard TD falls on his shoulders.
Bryant said after the game, "had to get him back."
Overall, Bryant finished with six receptions for 89 yards and a TD.
Bryant wasn't the only Cowboy with a big day Sunday, however. His teammate, Dan Bailey, also contributed two field goals to the Dallas run.
Bailey's name will also now forever be inscribed in the annals of the Dallas Cowboys franchise. With his second field goal, Bailey broke the franchise record for consecutive field goals made, with 28.
Dan Bailey breaks the team record for most consecutive FG's in team history. #DALvsSTL

— Dallas Cowboys (@dallascowboys) September 21, 2014
And he still hasn't missed.
It will be interesting to keep track of Bailey's field goals as the season progresses, and see just how much space he can make between himself and the previous record holder.
Perrish Cox making a name for himself
Perrish Cox of the San Francisco 49ers also represented Oklahoma State well on Sunday.
Cox was lauded as being one of the best defenders on the team by fans on twitter, and showed it was warranted by his play. Cox had two solo tackles and also defended two passes.
Cox's shining moment, however, came late early in the fourth quarter. With his team down 20-14 and their backs to their own end zone, Cox showed alertness by falling on the ball after it was jarred out by Michael Wilhoite, thwarting the Cardinals attempt to increase their lead.
Fumble recovery by @pcox16! Huge. #SFvsAZ

— San Francisco 49ers (@49ers) September 21, 2014
Though the 49ers still lost, Cox has shown over the last two weeks that he is a capable player and will hopefully continue to receive playing time even after Tramaine Brock returns.
Kevin Williams disturbs Denver backfield
A couple of Cowboys were representing the defending champion Seattle Seahawks on Sunday in a Super Bowl rematch, and delivered admirable performances.
Kevin Williams was a disruption to the Denver backfield, leading the Seahawks in tackles for loss, with two. Williams and the rest of the defense held the Broncos to just 36 yards on the ground.
Russell Okung started at offensive tackle for the Seahawks, but left the game with a shoulder injury. Okung later returned to the game.
Russell Okung has a shoulder injury and his return is questionable.

— Seattle Seahawks (@Seahawks) September 21, 2014
A number of other Cowboys were on NFL rosters in week two, and here they are:
| | | |
| --- | --- | --- |
| Player | Team | Week 3 performance |
| Joe Randle | Dallas Cowboys | 2 carries, 9 yards |
| Tyler Patmon | Dallas Cowboys | DNP |
| Brandon Weeden | Dallas Cowboys | DNP |
| Charlie Johnson | Minnesota Vikings | Started at Guard |
| Justin Blackmon | Jacksonville Jaguars | DNP — Suspended |
| Corey Hilliard | Detroit Lions | DNP |
| Brandon Pettigrew | Detroit Lions | Started at TE |
| Antonio Smith | Oakland Raiders | Started at DT, 2 tackles, 1 QB hit |
| Lane Taylor | Green Bay Packers | Played at Guard |
Totally Tickets is your source for Oklahoma State football tickets.