10 Thoughts on Oklahoma State's 56-14 Victory Over McNeese
Tylan Wallace has a monster night as the Cowboys put up 50+ for the second straight time.
Oklahoma State scored 56 points in the first 39 minutes against McNeese and eventually went on to win 56-14 in their 2019 home opener. The Cowboys opened up the game with an A.J. Green pick-six and were on pace to score 560 points early in the first quarter before reality took over and they settled for 1/10 of that.
Not all 42-point wins are created equal, though, and this one left a lot to be desired, especially in the first half. OSU's offense sputtered early before hitting its stride in the middle of the game when they reeled off TDs on six consecutive drives in the second and third quarters.
Spencer Sanders was 12/18 for 250 yards and 3 TDs while Tylan Wallace was the star of the night with five catches, 180 yards (his third-highest single-game yardage total ever) and three TDs (he could legit have seven TDs through two games).
In addition to Green's pick and score on defense, Phillip Redwine-Bryant tossed in a pick of his own, which led to the first TD of Micah Cooper's career.
Nearly everyone on OSU's roster played — I think I saw Gabe Lindsay out there at one point in the fourth quarter — and OSU has now put up 50+ in its first two games for the second straight season.
We'll get to my 10 thoughts on the festivities, but first, a big thanks to our sponsor Thrive Landscape and Irrigation. Give them a call if you live in the Stillwater area!
On to the 10 thoughts.
1. Tylan the One?
It doesn't matter — except that this is a sports blog and so it does — but I've changed my mind on who OSU's best player is about 193 times this season alone. On Saturday it was definitively Tylan. I said this after Oregon State but he just looks physically more intimidating than he did before. Like, I get the Rob Glass thing, but did he grow a few inches? Did he triple up on Dr. Scholl's? Did he lose weight? Something is different about him that's making him look less like Tracin and more like Blackmon.
The game looks so easy for him right now. The way 81 used to make it look. The way I make it look with my 5-year-old and 2-year-old at the rec center playground. I guess the most noticeable difference thus far from the last two seasons — other than his faux growth spurt — is his immediate acceleration on the edge. Hubbard in space is still the most exciting thing that can happen in BPS, but Tylan in space is closing fast.
Also, I've watched this catch 29 times, and it still feels impossible.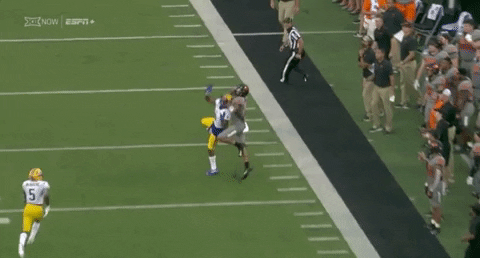 2. Field Position
Talking about field position against McNeese is like taking stock of your knife collection ahead of a nuclear war, but it still warrants mentioning. On six first-half drives excluding A.J. Green's pick six, OSU started on average on its own 12 yard line. On the last three drives it started on its own nine each time.
The difference between starting on your own 12 and, say, your own 30 is about 0.5 points per drive, which means you're giving up three points in field position when you start on your own 12 on average for six drives instead of your own 30. Related (albeit somewhat tangentially): HIRE A SPECIAL TEAMS COACH INSTEAD OF TWO DEFENSIVE LINE COACHES!
3. Dru Brown Will Matter
Here's the Dru Brown angle that actually counts … if Sanders keeps running it 12 times a half, Brown is going to see the field in a real, meaningful game at some point this season. Maybe several.
After he started 4/4 for 133 yards, a pair of TDs and a QB rating higher than the national debt, it became obvious that Gundy wasn't bluffing when he said he had an actual competition on his hands this fall. Brown was impressive. The toss to Braydon Johnson was a jewel.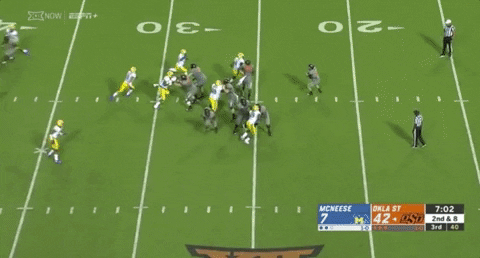 I think there's probably a gear that Sanders has that Brown doesn't — both with his arm and (maybe more importantly) in the open field. I was told the latter point specifically is why Sanders won the gig. But regardless, there's room for genuine excitement that OSU has a QB2 that seems good enough to be a QB1 at many FBS locales. Imagine if Kansas had a Dru Brown. They'd build a mini statue next to wherever Bill Self's is eventually going to go!
4. Trace Ford = OSU's Jabrill Peppers?
I don't know what position-less football looks like or if that's even a thing like it is in basketball, but Trace Ford was (literally) all over the field for OSU on Saturday. They dropped him into coverage, had him coming off the edge and anything else you can dream up for a mega-talented true freshman.
His final tally was four tackles, a sack, a TFL and this pass break-up on the line of scrimmage in the second half. I don't want to overreact to Oregon State and McNeese (OK, I do want to overreact, but I shouldn't), but he looks like he's going to be a special piece for OSU's defense for the next four (three?) years.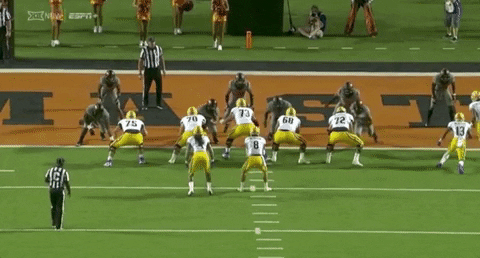 5. OL Step Back?
It turns out that dubbing an offensive line the greatest in the history of the university after 60 minutes against a team that has won three games in the last 32 months may have been not a great idea.
As elite as they looked against Oregon State last weekend, there was none of the same dominance in this game. Maybe the most eyebrow-raising number of the game was OSU's 4.3 yards per carry in the first half on Saturday. It's not a terrible number, but when you're going 23 times with Chuba and Sanders against McNeese, you'd like to at least break the 100-yard mark (they didn't).
Not all of that is on the OL of course, but coming into Saturday I would have thought they would decimate McNeese up front and Chuba would have time to eat at least half of a coconut-crusted chicken breast from Thai Cafe in the backfield every time he ran it. That wasn't exactly the case.
6. Players that Popped (Week 2 Edition)
Jayden Jernigan: True freshman!
Trace Ford: TRUE FRESHMAN!
Tre Sterling: I'm simply here for the blue mouthpiece (which my kids call a paci).
Jordan McCray: Always in the right place at the right time, will undoubtedly have a monster catch in a big game.
Malcolm Rodriguez: What is the record for tackles in a season?*
Amen Ogbongbemiga: I couldn't make out his number at one point and thought, "I didn't know Bundage was back!" In a good way.
Kolby Harvell-Peel: A dude. Maybe the dude.
C.J. Moore: Uh, yes.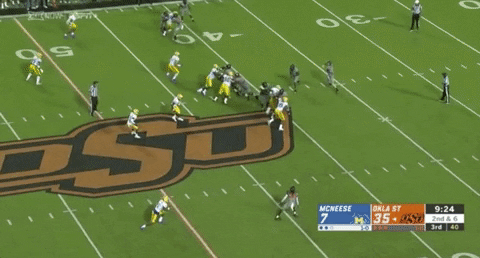 *It's 183 by Mike Green in 1982. Feels untouchable.
7. Turnovers!
After only creating four turnovers in their last eight games dating back to last year, OSU nabbed two against the other Cowboys on Saturday. This was just the fourth game (of 15) in which a Jim Knowles-coached defense has created multiple turnovers in a game, and two of those have been against FCS teams. I'll keep yelling this from the rooftop, but it's a problem when a defense as leaky as OSU's is also not flipping the field for its offense. Hopefully (hopefully!) tonight was movement in the right direction.
8. Spencer Sanders, Part II
I don't know that I have any strong Spencer Sanders takes to distribute to you this evening. He was good, not great. Certainly not as sharp as he was in Corvallis a week ago. There's an electricity about him though — that gear I noted that he seems to possess — that's going to buck its head in a monster moment against a great team and make you go, "Oh …. ok, I get it." He ran it a lot on Saturday for how little he played, which is fine when you're doing this and not taking hits.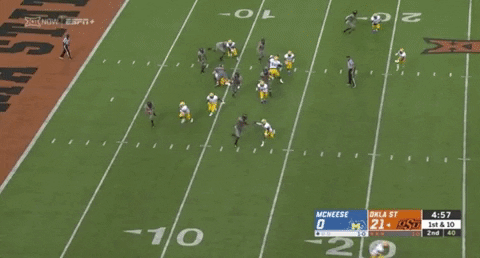 It's more problematic when they get him into the middle of the field and he starts taking shots. The other thing about him is that it seems as if he takes a bit to rev up. We saw that at Oregon State, and it was apparent again on Saturday. Like he needs to get hit a few times or get a few throws out before he gets locked in. I hope that's not a point I'm revisiting two or five or eight weeks from now.
9. Penalty Improvement
Not committing penalties is like running a good sound system at a concert. Nobody notices until you screw it up. Howevah, OSU averaged just over 70 yards in penalties per game last season, which was No. 115 in the country. This year, through two games, they're at 42 a game. That would have ranked in the top 20 nationally in 2018. Surely that number will shoot up as Big 12 play approaches, but it's at least encouraging two games in, especially when they were averaging 83.5 through two games last season.
10. What Do We Learn?
Is there anything to glean from games like this one? I have no idea. It's fun to zoom in on specific things that happened, but when you zoom out, does any of the bigger picture become more clear than it was five hours ago? Probably not.
The lingering thing that bothers me, though, is how loose (in a bad way) OSU seemed for the first 20 minutes. Last week, they played like it was the middle of October. This week, they played like it was their first game in eight months.
The mark of last year's team that eventually sunk it was inconsistency. I'm not saying the same is true of this year's, but I wasn't encouraged at the TD-punt-fumble-TD-punt start. This offense, and especially its ground game, should overwhelm the McNeeses of the world. Instead, it felt like they were trying to bide their time like they would against a Texas or an Iowa State.
Just like we shouldn't draw too much from OSU hanging 100 on a team like this, though, we also probably shouldn't do so when they don't look as sharp as they should. The Pokes get one more low-stakes crack next week at getting themselves right before going to Austin and giving the Horns their second loss in three weeks at DKR.