A Week 14 college football gambling guide
Tons of fun this weekend in rivalry week and we get to sit back and enjoy it all stress-free.
Happy day after Thanksgiving everyone!
I enjoy the bye week falling on Thanksgiving weekend. It's a great weekend for football, especially with all the rivalry games. Who will take home Paul Bunyan's Axe? Upset in the Civil War?
I'm a believer that Harvard-Yale is truly "The Game" but we have the Ohio State – Michigan version this week. Before we get into rivalries, a summary of last week's picks:
| | | |
| --- | --- | --- |
| Contributor | Last week | Season |
| Carson Cunningham | 3-2 | 26-18 |
| Kyle Porter | 3-2 | 22-22 |
| Aaron Schnautz | 1-4 | 21-23 |
| Guest (Sheets) | 2-3 | 21-23 |
| OKC Dave | 4-1 | 21-23 |
| Matt Amilian | 2-3 | 18-26 |
| Justin Southwell | 2-3 | 16-28 |
*We all picked Baylor +28
Rivalry Week
There are some great rivalry game names out there, as well as some bizarre ones. Let's pick a bunch of them this week and you can decide if you want to take these to the bookie or not (I recommend not).
The Civil War
Oregon (-20) at Oregon State
Pick: Beaver Fever
The Game (Part Deux)
Michigan (+21) at Ohio State
Pick: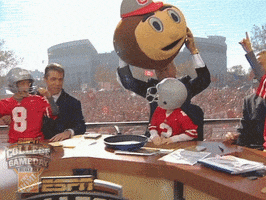 Territorial Cup
Arizona (-4.5) at Arizona State
Pick: Zona
Clean, Ole Fashioned Hate
Georgia Tech (+12.5) at Georgia
Pick: Tech (p.s. I love this rivalry game name)
Sunshine Showdown
Florida (+7.5) at Florida State
Pick: Noles
Commonwealth Cup
Virginia (-1) at Virginia Tech
Pick: Cavaliers
Governor's Cup
Kentucky (+12.5) at Louisville
Pick: Ville
Governor's Cup…again
Kansas (+28.5) at Kansas State
Pick: Snydercats
Apple Cup
Washington (-3.5) at Washington State
Pick:
Paul Bunyan's Axe
Minnesota (+14) at Wisconsin
Pick: Melvin Gordon
Egg Bowl
Mississippi State (-3) at Ole Miss
Pick: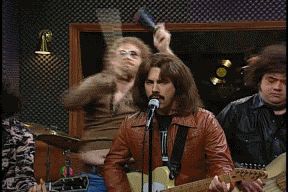 Jeweled Shillelagh
Notre Dame (+7) at USC
Pick: Trojans
Iron Bowl
Auburn (+9.5) at Alabama
Pick: War Eagle
PFB Picks ATS
PFB vs CRFF this week as Robert Whetsell joins us for some picking. There are 6 of us and 1 of him.
I'll take our average vs his record to prove once and for all that Pistols Firing > Cowboys Ride For Free. (but seriously there is no us vs them)
Florida (+7.5) at Florida State
Southwell: Florida State
Cunningham: Florida
Schnautz: Florida State
OKC Dave: Florida
Pistolsguy: Florida State
Whetsell: Florida
Amilian: Florida State
"I'm getting Ron Zook flashbacks. If they show Chris Rix on the sideline I'll be really worried." – Carson, your die-hard Noles fan.
Mississippi State (-3) at Ole Miss
Southwell: Mississippi State
Cunningham: Mississippi State
Schnautz: Ole Miss
OKC Dave: Mississippi State
Pistolsguy: Ole Miss
Whetsell: Mississippi State
Amilian: Mississippi State
"Rivalry game…chance to ruin the other guys season. Know how that goes. Based on my experience and the frequency with which that tends to happen, I'll go with Mississippi State to cover easily. That in no way indicates how I feel about Bedlam." – Whetsell
Notre Dame (+7) at USC
Southwell: USC
Cunningham: USC
Schnautz: Notre Dame
OKC Dave: USC
Pistolsguy: Notre Dame
Whetsell: Notre Dame
Amilian: USC
Auburn (+9.5) at Alabama
Southwell: Bama
Cunningham: Auburn
Schnautz: Bama
OKC Dave: Bama
Pistolsguy: Auburn
Whetsell: Bama
Amilian: Auburn
"Dirty little secret the national media doesn't want to admit: Spread offenses with a pulse give Saban fits.." – Carson
Picker's Choice
Southwell: Arizona -4.5 vs Arizona State
Cunningham: UCLA (-5) vs Stanford
Schnautz: UCLA (-4.5) vs Stanford
OKC Dave: TCU (-6.5) at Texas
Pistolsguy: Texas (+7.5) vs TCU
Whetsell: Akron (-6) at Kent State
Amilian: Georgia Tech (+12.5) at Georgia
"This is my 'I've actually got some idea what I'm doing because I analyzed lots of data' (just the schedules and scores, really). Kent State has lost a LOT of games, but has played it close several times against pretty good Div II Schools.
"But wait…transitive properties. Akron beat UMASS by 24, but Kent State lost to UMASS by 23! What the heck, I'm going with the Zips and laying the points!!!" – Whetsell
The only rivalry that matters is next weekend. Again, Happy Thanksgiving everyone. Enjoy the long weekend.