Final Notes and Thoughts from Oklahoma State's 42-Point Win on Saturday
I posted my 10 thoughts here, but it's time to empty out the notes before moving on to the NFL Tulsa and settling in for the season. Here are a few notes, thought, tidbits and nuggets I had in my 📓 on Saturday evening.
• The announcers were talking about A.J. Green as a pro as if this was a surefire thing. I love A.J., but … I don't know that he's a pro. Could be if everything breaks the right way and he lands in a good situation, but it's far from the kind of bet these announcers were making it out to be.
• McNeese on the back of the jersey doesn't have the same effect as Army on the back of the jersey, does it?
• What are the swagger power rankings right now for this OSU team? I think mine after 120 minutes of football look like this.
1. Harvell-Peel
2.
3.
4.
5. Moore
6. Sanders
I can't get enough of KHP. If we want to talk about pros, let's talk about pros. I also can't get enough of C.J. Moore. Feels like we're going to look back on OSU having Moore and Tylan at the same time and think, "Well, I'm not sure we even realized what we had there."
• I'm sorry — I don't hate the grays — but you can't wear gray this early in the season when it's this hot. Every t-shirt wearing human knows you absolutely cannot go light or even medium gray on a tight shirt when it's 90+ unless you want pit circles the size of hula hoops.
• OSU has won 65 straight when holding opponents under 20. Last time they lost was the first game of the 2003 season when Nebraska got 'em 17-7. Can you imagine scoring only 7 points on Nebraska these days?
• I loved this GIF.
• Chuba pausing and dancing in the backfield for 0.5 seconds while reading the line has to give DCs heart attacks. He doesn't do it on every run, but there were a few where he briefly hit the pause button, and it felt like a funny car revving its engine to 945 MPH or whatever they go to. Give me more.
• Redwine-Bryant has to lay out to score on the pick. This is your moment, my man! That stonewall probably hurt at the time, but it's going to hurt a lot more when he watches the film with his buddies and coaches this week.
• McNeese's drive chart is incredible.
• Remember when Deondrick Glass committed to Oklahoma State and followed that up by saying he was going to win the Heisman. I'd like to see him just win the RB3 spot on the depth chart at this point!
• How do I make this my Twitter photo?
• I'll always think Micah Cooper is Desmond Roland.
• I love it when the offense runs everyone opposite of Jelani and Sanders. That's terrifying. There was a play in the first half near the goal line where Chuba and everyone else went left, Sanders and Jelani went right and Tylan was doing Tylan stuff on the edge. Sean Gleeson figuring out the permutations there like …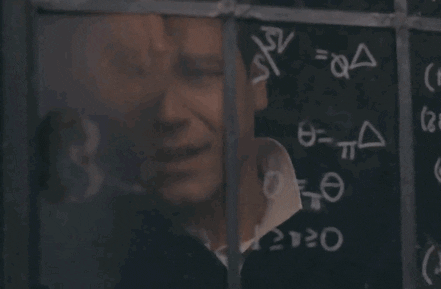 • Mike Gundy is now 15-0 in home openers, and Oklahoma State is 34-5 in its last 39 non-con games.
• Dru Brown shouts Marcus Dove.
• OSU is 9-for-9 in the red zone so far this season.
• OSU had four passes of 50+ yards on Saturday, good enough to lead the nation after two weeks based on that performance alone.