Five Thoughts on OSU Potentially Starting Dru Brown at WVU
With Spencer Sanders (thumb) out, Dru Brown takes center stage.
It's official, Dru Brown is (probably) going to take over for Spencer Sanders in Morgantown this weekend as OSU travels to take on West Virginia. There's been a lot of talk around an injury in practice this week for Brown, too, but it seems as if everything right now is pointing toward No. 6 being behind center at 11 a.m. on Saturday morning.
Here are five thoughts on Brown, Sanders and what this means for OSU as it tries to close out an eight-, nine- or even ten-win season.
1. Bedlam Sanders: How weird is it that Sanders' first Bedlam game in Stillwater will be four years into his college career? OU made Charlie Brewer look like Michael Vick in the first half in Waco last week so it's frustrating for OSU that they don't get to run their Army-like offense featuring two of the 10 most prolific rushers in the Big 12 against Alex Grinch and Co. next Saturday.
It's even more frustrating that just when it seemed like Sanders was starting to figure out where the controls on the aircraft were located and OSU was running downhill into the end of the season, the entire thing was upended. It doesn't sound like this injury will be a long-term issue, but I now wish OSU was playing last year's schedule this year so they could close out with WVU and TCU instead of WVU and Bedlam.
2. Swag city: Listen, if there's any backup QB I want coming in for a two-game close on the year, it's Brown. I don't know that he thinks he's the best QB in the Big 12, but I don't know that he doesn't either. Pending his own possible hiccup in the injury department, I think he kind of has that "do not care who Jalen Hurts is" attitude you need going into these last two. Sanders has it as well, but Brown might have more of it, and it's a rarity in the world of backup quarterbacks. He's like the John Rocker of Stillwater, but minus all the extracurriculars.
I think we're probably overstating 15 passes against McNeese and Kansas, but that's OK because he was really impressive in those 15 passes. So even if we're overstating his performance, there's a world in which Brown is a good-to-really-good Big 12 QB, which — when you have the best back in the nation and you toss in a little swag on QB1 — should be good enough to at least handle WVU and roll a little with the Sooners.
The question — as was posed in The Chamber — is how much OSU's offense will shift and how that will affect them over the last two weeks. My guess is — in order — not as much as we think and more than we think.
3. Load management: I used this joke earlier in a different post, but here's a preview of Gundy looking at Chuba on Saturday.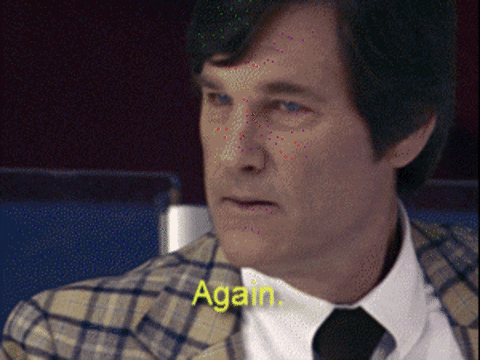 He knows he's gone. Chuba knows that Gundy knows he's gone. And everyone else knows it too. Gundy talked at the beginning of this week about how Chuba's carries would drop if he came back. They would also drop because they would have to drop after you carry it 87 times in the final two games.
I'm kind of kidding but kind of not. Chuba is going to get it as many times as he wants to get it in these last two and that's 1. Good for OSU and 2. Good for his own Heisman ceremony campaign. I'm giddy even now thinking about Gundy taking the first question on Saturday afternoon about why his running back had 51 touches in a 72-play game!
4. Depth matters: I've been shouting this from the mountaintop all season. When you run your QB 137 times — or more than all but two running backs in the Big 12 — then you're exposing yourself to risk. OSU wouldn't have been doing that if they didn't trust six at least a little bit. Remember last year when they didn't trust anybody, and Mike Yurcich talked after every game about how they were worried about running the Corndog?
OSU has had some success in this exact position before, too. In the last decade when they've had a QB take over for good at the end of a year (Walsh in 2015, Rudolph in 2014, Chelf in 2013, Chelf in 2012), they are 11-6 in those games (with many losses to OU). In fact, in half of OSU's Bedlam wins this century, they started a guy who didn't start the season.
Gundy understands the value of having depth at the most important position on the field, and Brown is about as good as it gets when it comes to veteran backups. If you're better, you're somewhere else playing. If you're worse, then OSU is in trouble. The other situation that's appealing with backups is young, future stars (Rudolph in 2015), but as far as vets go, this is about as good as a situation gets.
5. Sweet ending: Brown has said and done everything right (Gundy BINGO card) up until now.
"I've been doing a lot of thinking this year on how I want to be remembered here," Brown told Go Pokes on Saturday. "There has been a lot of push and pull with me wanting to play, but also with me wanting what is best for the team. During the offseason and the summer I've really grown close to all the guys, and I just want to be remembered for being a solid dude and a good leader."
And his head coach has reciprocated.
"We were pleased with Dru," said Gundy on Monday. "He has been a great illustration of the culture at Oklahoma State. I mentioned it after the game, he was a captain in that game because of all of the hard work and effort he has put in, and the commitment he has had to our program. We enjoy seeing him have success, and he came out and played well."
But now he gets a chance to do what he came to OSU to do. Not many guys get a chance to become two-game legends. If Brown beats OU this year with their CFP hopes still alive, he immediately goes in the OSU pantheon since only Weeden and Rudolph have done it in the Gundy era. If he doesn't, then we'll all fall back on the Sanders injury and what could have been.
In a world where everything is lose-lose, this situation is win-win for Brown. Which is exactly how he hopes the end of the season goes for OSU.