Fresh Crop of Big 12 Head Coaches Underlines Mike Gundy's Rare, Successful Tenure
Gundy has historically got the better of first-year conference foes.
The Big 12 lost several big names — and big characters — this offseason. Four head coaches, who couldn't be more different from each other, parted ways with their schools. Two by choice, two by termination.
Kliff Kingsbury, the dapper Don Juan, was relieved of his duties after his Red Raiders followed a 5-2 start with an 0-5 finish. To his credit, frosh phenom Alan Bowman was out injured for the final three and a half games and was dangerously close to making it a game against the Sooners when he went down.
But don't fret for Kliff. He somehow parlayed a .467 win percentage over seven years into an NFL head coaching gig.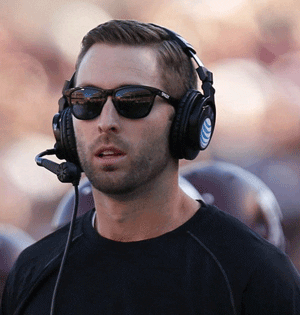 And his replacement Matt Wells may come out smelling of roses having inherited a legit Big 12 QB in Bowman who is now healthy. If he can make more headway on the defensive side of the ball than Kliff was able to, Wells may have himself a formidable squad.
Dana Holgorsen had enough of Morgantown — and probably enough of going 2-12 versus both Oklahoma schools — and saw a golden opportunity to head back to Houston. Taking up the Mountaineer mantle is Neal Brown, a proven winner at Troy, ready to endear himself to the couch-burning crew.
Bill Snyder was the Big 12's longest tenured coach with 20 years in the conference, split up by a brief three-year hiatus from 2006-08, and following seven years in the Big 8. He's been replaced by Chris Klieman, who won four FCS national championships at North Dakota State.
Kansas State said goodbye to a legend in Snyder while Kansas dismissed a footnote in David Beaty. His replacement, Les Miles, boasts one of the biggest resumes in the league and a character to match it.
So that leaves us with a new-look Big 12. Gundy is now the longest tenured coach in the league. Gary Patterson has still been at his school four years longer, but only seven of those were in the Big 12 (seven in the Mountain West and four in Conference USA). That pair makes up the long-toothed in the conference by far.
Elder Statesmen
Mike Gundy, Oklahoma State — 14 Seasons
Gary Patterson, TCU — 18 Seasons (7 in Big 12)
Seasoned Vets
Matt Campbell, Iowa State — 3 Seasons
Matt Rhule, Baylor — 2 Seasons
Lincoln Riley, Oklahoma  — 2 Seasons
Tom Herman, Texas — 2 Seasons
Newcomers
Les Miles, Kansas (4 seasons at OSU)
Chris Klieman, Kansas State
Matt Wells, Texas Tech
Neal Brown, West Virginia
That means the average continuous Big 12 tenure for the list is three years, underlining the rarity of a long tenure like Gundy's. During his nearly decade and a half, the mulleted one has seen plenty of coaching turnover in the Big 12, and it normally translates to wins for his team.
Gundy is 11-4 against first-year coaches in the Big 12 with his only losses to a rookie coming from Ron Prince (Snyder's successor/predecessor at K-State) in 2006, Charlie Strong at Texas in 2014, Jim Grobe in his one season at Baylor in 2016 and, lest we forget, Lincoln Riley in his first Bedlam in 2017.
This loose conglomeration of facts reminds me of just how hard it is to build what Mike Gundy has built in Stillwater. With Snyder's retirement, he is the active leader in wins at a Big 12 school and fourth all-time.
Bob Stoops, Oklahoma — 190-48
Bill Snyder, Kansas State — 169-84
Mack Brown, Texas — 158-48
Mike Gundy, Oklahoma State 121-59
Only Patterson and Iowa's Kirk Ferentz have been at their respective schools longer and it looks like he plans to outlast both of them. If that's the case he's got a shot to usurp Mack Brown on that list of Big 12 elites. Not bad company.
What that means for this fall: If history has taught us anything, Gundy should be able to take advantage of this handful of newbies as he looks to get back to his 10-win ways following a 7-6 slog.