King of the Game: OSU vs. TCU
And we are back for another exciting edition of PFB's competition series!
Before we dive in, let's remind everyone of the rules:
Each week five people will make predictions about the upcoming game. The predictions will vary each week. Plus, each contestant gets the opportunity to earn bonus points by making a wild prop bet. Our contestants will consist of myself, Kyle Cox, Nick Welch, someone from the enemy's side, and an OSU fan contributor.
This week's enemy picks come from Melissa Triebwasser, who also helped us out with a preview of the Horned Frogs.
For the fan vote, this week we welcome Alan Vaughan. I asked for a GIF and he delivered.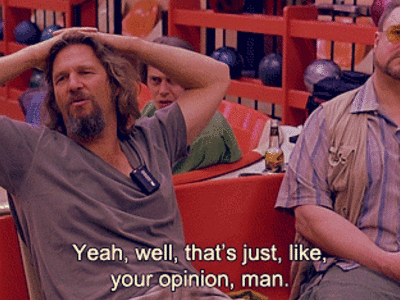 You can never go wrong with The Big Lebowski.
Here are this week's bets:
• Bet Against the Spread: OSU (-11)
OSU has easily surpassed Vegas' spread lines through the first three games of the season. Can they do it against a ranked opponent?
• More Turnovers Forced: OSU or TCU
Through three games, Oklahoma State has forced six turnovers (3 INTs, 3 fumble recoveries) while TCU has forced five (3 INTs, 2 fumble recoveries). Who wins the turnover battle this week?
• Over/Under: +45% TCU 3rd-down efficiency
It was a major concern after week one when Tulsa converted 65.1 percent of their third-down attempts. Since then? USA converted 10 percent while Pitt converted 33 percent. TCU is averaging 65.8 percent on third downs. Can OSU hold them under 45 percent?
• King of the Game: Running Back (OSU or TCU)
Which running back, for either team, finishes with the biggest impact? Remember, it's Highlander rules (There can be only one!)
• Prop Bet: Hit me with your best shot!
So, without further adieu…
---
Phillip Slavin
Bet Against the Spread: OSU
I bet against OSU last week. I won't make the same mistake again. I don't think the Cowboys win by 30, but asking them to win by two touchdowns doesn't seem like a lot.
More Turnovers Forced: OSU
I'm going to say OSU because I think it's more likely Kenny Trill throws a pick or two than it is Mason Rudolph throws one. Fingers crossed we don't have another special teams snafu.
Over/Under: Under
Drinking the Kool-Aide has helped the fans each week, so I'll take a heavy sip. I'm not entirely confident in this pick, but I think OSU can keep TCU in some 3rd and longs which TCU hasn't faced a lot of this season.
King of the Game: Darius Anderson
TCU's run game dominated Arkansas, so I think they'll get some runs on OSU. With TCU's second-leading rusher Kyle Hicks possibly out for the game, I think Anderson gets a lot of carries, especially early, as TCU tries to control the game and keep OSU's offense off the field.
Prop Bet: Rudolph finishes with more than twice as many passing yards as Kenny Hill.
---
Kyle Cox
Bet Against the Spread: OSU
I'll take OSU to cover again. I don't foresee the Cowboys hanging 60 on Gary Patterson's defense but I think they win by around 20.
More Turnovers Forced: OSU
I'll give OSU the nod here. I think Ramon is due for a pick-6 and takes over for Justin Phillips' streak of two weeks straight.
Over/Under: Over
TCU leads the nation at 65.8 percent so I'll take the over. OSU's defense will win the turnover battle but won't be able to shut out TCU like it nearly did last year.
King of the Game: Justice Hill
With Kyle Hicks's status unknown at the time of this writing, you gotta go with last year's Freshman All-American who already looks like this year's All-American.
Prop Bet: Tyron Johnson leads the team in receiving TDs.
---
Nick Welch
Bet Against the Spread: OSU
I know teams change from season to season, but OSU is undefeated at home against Gary Patterson and his Horned Frogs since they joined the Big 12 in 2012. They are also winning by an average of about 20 points in the four wins. I think the streak continues in Stillwater Saturday.
More Turnovers Forced: OSU
Although Kenny Hill had a really good game last week, I'm still not sold on his ball security and decision making. I think it's very possible he turns the ball over more than once against a surging OSU defense. Mason just reeled off 216 straight throws without a pick. I trust our guys/Mason over Kenny Trill this week.
Over/Under: Under
I'll take the under. I think TCU will come close. As of Tuesday, Hicks will be a game-time decision which isn't great news to have for your first conference road game against a top-10 opponent. I honestly am unsure how much different TCU's offense is from last year's unit that only managed 6 points on us in Fort Worth.
King of the Game: Darius Anderson
I picked against OSU last week in the rushing pick. I won't make that mistake this week. TCU will probably be giving increased workload to sophomore Darius Anderson who actually has rushed for more yards than Justice while sharing a relatively even workload with Hicks. Although TCU is giving up only 92.3 rushing yards per game thus far to OSU's 129.3, OSU just has too many weapons to focus on just one part of Yurcich's offensive assault.
Prop Bet: I mentioned this up top, but I have zero trust in Kenny "Trill". I think he turns the ball over himself at least twice, maybe three times.
---
Enemy: Melissa Triebwasser
Bet Against the Spread: TCU
Give me TCU to cover here, but it's going to be close. A late touchdown by the Frogs cuts it to single digits after OSU takes a two score lead in the fourth.
More Turnovers Forced: TCU
The Frogs have been ball hawks this season, with pick sixes in both home games so far this fall. OSU doesn't make a lot of mistakes on offense, while the Frogs fumbled three times Saturday. I think it's two turnovers for TCU, one for the Pokes.
Over/Under: Over
Over. TCU has done a great job of staying in third and manageable behind a exceptional running game. They will try to stick with what has been working unless they fall behind by double digits, meaning a lot of third and five or less. That's a recipe for third down conversion success.
King of the Game: Darius Anderson
Be prepared to get a heavy dose of Darius Anderson Saturday. With Kyle Hicks expected to miss the game due to injury, Anderson becomes the go-to guy out of the backfield. The Frogs' best chance to get a W is by leaning on their stable of backs, and DA should pop for over 100, even against a really good OSU defensive line.
Prop Bet: Kenny Hill gets more than 50 rushing yards I think Hill's feet could be a difference maker for TCU's offensive game plan.
---
Fan: Alan Vaughan
Bet Against the Spread: OSU
The offense is explosive and Gundy seems to have given Yurcich full unbridled control.  This year reminds me of Holgy and Monken; an all-out ability to score at will.
More Turnovers Forced: OSU
Rudolph has only thrown one INT this season; no reason to think he comes unhinged against TCU.  OSU ball security has been pretty good so far.
Over/Under: Over
TCU is 66% for the year. OSU's defense will get its stops when needed, but I don't see a total shutdown of TCU's offense.
King of the Game: Justice Hill
While it's sounding like he might be back, TCU's Hicks is still questionable for this game, leaving them short handed. OSU has gotten solid play from JD King, but Justice prevails.
Prop Bet: Justice Hill goes for over 200 yards.