Looking Back at Barry Sanders' Historic 1988 Season: Game 2 Against Texas A&M
Jackie Sherrill had some choice words.
One win (if we're calling it that?) on the content side of things during this pandemic has been that I've been diving into the history books more than I normally would. There's more time, and it's more necessary if we're going to keep churning out interesting things. One thing I've been wanting to do is walk back through all of Barry Sanders' games from the 1988 season and write about the individually. That's what this series is about. Old articles, quotes, stats and tidbits you may have missed or didn't know about. Game 1 vs. Miami (Ohio).
Game 2: Texas A&M (Sept. 24, 1988)
Barry ran it 20 times for just 157 (just 157) in this game, but he had three touchdowns, including a 61-yard punt return score (more on that below). OSU scored on its first six possessions and absolutely torched the Aggies as the second half was mostly a run-the-clock festival. OSU led 38-7 at the half.
Sanders played sparingly late, but he did more than enough early to bury A&M and push OSU to a 2-0 start in its new all-orange uniforms.  His first score came 72 seconds into the game on a 58-yard scamper for six. He also scored on a 4-yard TD in the second quarter and this punt return as time expired in the third.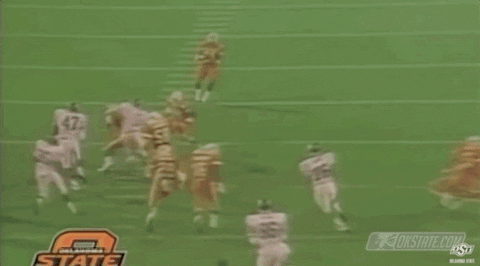 It wasn't his greatest performance of 1988, but it was still an absolute show. Here's a clip from an ESPN article a few years ago of A&M coach Jackie Sherrill discussing just how good No. 21 actually was.
But it wasn't until the following game against two-time defending Southwestern Conference champion Texas A&M that the word began to get out on Oklahoma State's new starting running back.

"Before that game, I don't think anyone knew about Barry Sanders, other than the players and coaches at Oklahoma State," said the coach of those Aggies, Jackie Sherrill. "We felt confident. We had a very good team. Almost every player we had out there on defense would play in the NFL."

But 72 seconds into the game, Sherrill realized his star-studded defense was in trouble.

"It was third-and-long on their 42-yard line, and they run a draw, and Barry hits the seam and takes off," Sherrill recalled. "We looked like a bunch of junior high kids out there trying to catch him. I remember in my mind when I saw him burst through the line. … I knew we were in for a long day."
"We really did not know anything about Barry," Sherrill said in a different interview. "But it was a shock playing him. Matter of fact, I think it was like third-and-10 the first time he ran a draw play, and you can't put in the paper what I said."
Sanders would score a touchdown on that draw and finish with 157 yards rushing. At the end of the third quarter, he returned a punt return for his third touchdown of the night before Jones pulled him for the rest of the game. The Cowboys smoked Texas A&M 52-15. And the buzz surrounding Sanders had begun.

"We were in mud," Sherrill said. "He was on concrete." [ESPN]
OSU coach Pat Jones agreed years later.
"That one probably as much as anything got people's attention that, 'Hey, something real special is going on down here from a national scene,'" Jones said in 2010.
Jones also noted that OSU was "sensitive about running up the score" on Sherrill and the Ags which is all the ???.
"They came in that year with the No. 1 defense in the country and they went on to win the Southwest Conference," said Gundy in 2010. (ed. note: They didn't, but they had won it the year before and defeated Notre Dame in the Cotton Bowl back when that was mega-impressive. A&M was good.). "I remember us beating them by 40 points was pretty impressive," added Gundy.
As for that night tilt in Stillwater, Gundy was even better talking about the game as a QB in 1988 than he was in 2010 remembering back on it.
"It was a surprise maybe that we won by so much, but we've got a good offensive football team," Gundy told the Oklahoman on Sept. 24, 1988. "In the future we could be the best team to ever play here. Put it this way, we have the capability of winning 12 games. We can beat anybody we play, if we play well. We have that talent. The last few years I don't think we had that chance. Now we've got a chance to win every game we play."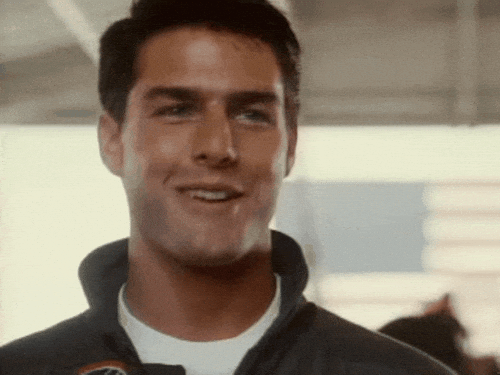 I'll let Gundy's teammate, Hart Lee Dykes give you the goods on Barry's 157-yard, 3-TD performance.
"He doesn't cease to amaze me, he does something different every week," Dykes told the Oklahoman in 1988. It's gotten tot he point where I start comparing him other guys I see on TV every week, and there's no comparison."
No doubt about that. Next up: The Tulsa game (it's a monstrosity).