Looking Back at Barry's Historic 1988 Season: Game 1 Against Miami (Ohio)
The day Barry couldn't crack 200.
One win (if we're calling it that?) on the content side of things during this pandemic has been that I've been diving into the history books more than I normally would. There's more time, and it's more necessary if we're going to keep churning out interesting things. One thing I've been wanting to do is walk back through all of Barry Sanders' games from the 1988 season and write about the individually. That's what this series is about. Old articles, quotes, stats and tidbits you may have missed or didn't know about. Let's jump in.
Game 1: Miami Ohio (Sept. 10, 1988)
Oklahoma State, coming off a 10-2 season and ranked No. 23 in the AP Poll, walloped Miami (Ohio) 52-10 in Stillwater. Sanders ran for just 178 yards on 18 carries, but he had a 100-yard kick return TD to start the game, and also tallied an 89-yard rushing TD, which stands as one of the 10 longest rushing plays from scrimmage in school history (it was fourth at the time).
So he entered the top 10 all-time in two categories (longest kick return and longest rushing play) in 60 minutes against Miami. A decent start. Miami actually took a 3-0 lead before kicking to 21 in the first quarter. He took it a little over 100 yards to the house, but the books count it as 100.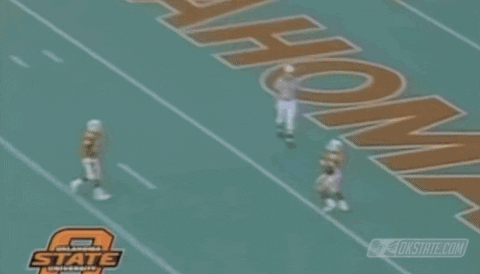 "I went back to the sideline and said to everybody, 'This can't be real,'" Sanders told the Oklahoman after the game. "It really opened up quickly. I probably could have gone left or right and scored, so I just went right. I got some wonderful blocks."
Miami didn't kick to him the rest of the game.
Somehow Pat Jones didn't know the return was a 100-yarder.
"This one was 100 yards, too?" he said, referencing the fact that Sanders had done the same thing in the 1987 season opener against Tulsa. "Oh mercy! That's unbelievable! Then he does the same thing from scrimmage. But he fumbled one at an inopportune time to give them a chance to get back in it."
In case you were wondering where Mike Gundy learned to critique Mason Rudolph's 400-yard performances on the regular.
For his efforts, Sanders' picture appeared on the front page of the Oklahoman's Sunday sports section (the paper marketed itself as read by 1 million people on Sundays). It was the first of many photos that looked like this one, even though there was no jumbotron for Sanders to watch himself running into like Chuba had last year.
There was a great article — also in the Oklahoman after that game (searching newspaper archives is the best) — about how Texas A&M (OSU's next opponent) sent a scout to the game who said, "My first impression is that we might want to go away from him (on kickoffs)."
I'd say that's probably advisable. The 100-yard return was Sanders' third since the start of the 1987 season. Despite the performance, Jones remained low-key after the game about Barry's future.
When Jones was asked about Barry and the Heisman (on week 1!) Jones said, "I agree with coach Osborne that you can't think about things like that. You've just got to go out there and play and let it happen. … But if Barry goes out and does what he did tonight against everybody, he might get one or two votes."
The 178-yard performance would turn out to be his fourth-lowest of the season.
Jones wasn't so low-key in 2010 when he was interviewed for a game-by-game breakdown of Sanders' performance.
"Our stock answer to, 'Well how can you replace Thurman Thomas?' was, 'Well we think we're going to be OK,'" said Jones in 2010.
"It's hard for people who didn't see him to understand exactly how explosive and electrifying he was. Opening kickoff, bang, 105 yards or whatever, and it was like, "Hey, this thing is going to be real fun watching this guy.'"
He was right on that assessment. It was real fun. All kinds of fun. The most fun maybe anyone has ever had watching a college athlete. And we'll roll through every game of his wild 1988 year in the weeks to come as we look back on the greatest season there's ever been.
*Credit to the Oklahoman on the photos