Looking Back: Byron Eaton's Wild Shot Highlighted Second Half Start
Part 3 of an all-time game in GIA.
We looked earlier this week at the first half of that famous 2007 OSU-Texas basketball game. I'd forgotten just how good those teams were leading into that game and also how stupendous JamesOn Curry was during his time in Stillwater.
Let's pick it up with some notes from the second half as OSU takes a 38-36 lead into the last 20 minutes (fine, last 35 minutes).
• Would be fun to look back at where D.J. Augustin ranks among the pantheon of Big 12 point guards. He was really good. A cursory look tells me only Kirk Hinrich and Chauncey Billups (who was a PG-ish) will have had more years in the NBA among former Big 12 PGs than Augustin at the end of his current contract with the Magic (through 2020).
• OSU hasn't scored in the second half yet. We're approaching the first timeout. Not good.
• The Eaton 3-pointer just happened. It was honestly the worst possession I've ever seen and Eaton fumbled it when he tried to one-hand catch it  — so it won't be featured in a James Naismith video anytime soon — but it was the first harbinger that this game was going to be special.
• I forgot that was OSU's first made shot of the second half. It always felt like it happened later on. Hunziker called it a "chuck and duck, heave and hope" shot. Hunziker is the goat.
• Of course two possessions later Boggan missed a bunny with nobody on him from 1 foot away. Basketball.
• This comment from my first post on the game is why the comments section was created: "BYRON EATON IS YOUR SECOND LEAST FAVORITE COWBOY OF ALL TIME?!? You try to go eat fast food everyday and still produce at the D1 level."
• We just got the full Eaton experience in 10 seconds. Cookies on the defensive end, takes off, gets the outlet, behind the back pass to Boggan for a jam and then turns his ankle while running out of the cheerleader section. The whole gamut.
• Durant hasn't started losing it yet … I feel emotionally prepared. Maybe.
• Tom Dirato says: "It's a NBA-looking stroke" from KD. Followed it up by saying he was hoping 35 had declared before the draft before this game.
• This will likely be a thing that's available in the future, but I wish there was a way to sync stats with watching this game. That is, it feels like Durant is like 3/21 from the field, but he might actually be 10/14. I have no idea because I haven't been counting every shot. Also, maybe people who aren't psychopaths don't watch 12-year-old games on YouTube on Fridays in the summer.
• KD just took Monds off the dribble and hit a pull-up on him. I laughed out loud at how easy it looked. He has 14 … which means he has 23 to go ..
• At the 11-minute mark in the second half, it's tied at 49. Still over 100 points yet to be scored in this game. We're not even halfway there!
• Curry just hit Monds on a fast break dunk. OSU takes a narrow lead going into the final 10 minutes of the game. I'm juiced!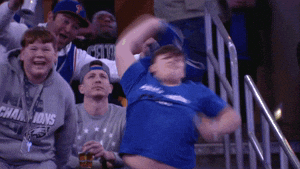 • Connor Atchley just missed a 1-footer so my day has been made.
• Curry just hit an absolute bomb. I'm yelling my shed. Tyler Hatch and his cutoff shirt are pumped. By the way, if we're ranking the aesthetics of 3-point shots, JamesOn has to be near the top all-time of college shooters, right? Ray Allen? Steph? JamesOn? Am I a homer or the biggest homer?
• Hunziker just said KD is 6 for 17. There's my synced-up stats.
• It's 57-53 Pokes with 8 minutes left.
• Eaton just took a charge that Eddie would have talked about for five years. Augustin's fourth, and it came in transition.
• The flaming OSU flag is making a lap around the 300 level. I'm glad I never have to see that thing again. Still love the 8-minute mark lap though.
• Is there anything better or more gratifying in sports than an elite college football or basketball game? I think both schedules are perfect for creating really memorable events. In the NBA, there's almost always tomorrow. The NFL is pretty good at this too but it doesn't seem to happen as often as it does in college.
• Marcus Dove just fouled out while guarding KD. Not good! It's 57-56 OSU.
• Eaton had 11 points in this game, and it feels like he has 29 right now. I have no idea how this is possible. It's 59-56 with 6 minutes left.
• Curry just pumped left, went right and nailed another 3-pointer. I'm just blown away at how good he looks in this game. Best player on the floor so far with one of the 12 best basketball players ever on the floor!
• Texas was 12/33 from 3-point range in this game.
• Eaton just abused a couple of Texas players off the dribble for a sick lay-in, but in the ensuing possession picked up his fifth on a weird screen bust through. Hunziker and Dirato are catatonic! Might have been an awful call!
• It's 64-63 OSU but Harris turned it over in the backcourt, JamesOn stuffs Augustin and OSU gets a quick bucket from Boggan going the other way to make it 66-63. Things are moving quickly.
• Boggan makes it 68-63 by hitting both free throws. Texas looks dead with 90 seconds left!
• KD takes on two guys through the lane to make it 68-65. If I would have told you there would still be 70 points scored in this game in the 39th minute, I'm guessing you wouldn't have believed me.
• Hatch misses a 3-pointer (!), but Monds get a put-back dunk. OSU is up 70-65 with 50 seconds left! Sean's back is spasming, he's all over the place. Dirato: "I'm not a doctor." How did Texas get this to OT?!
• KD hits a 24-footer. I'm weak.
• JamesOn gets bailed at midcourt. He got his cookies swiped, and they blew a whistle on it. He makes the first but misses the second. Would turn out to be a big one.
• Augustin hits a three to make it 71-71. JamesOn misses a shot from the free throw line at the buzzer, but kudos to Sean for not calling TO!
Back tomorrow with the OTs.