It's time for Big 12 media days and there will be some changes to this year's event. For starters, it's been moved to The Star, the $1.5-billion team headquarters and practice facility for the Dallas Cowboys. I hope to see Dez in full OSU garb, chirping in Mike Gundy's ear while he acts annoyed and tries to avoid any Bob Stoops questions.
Draymond is Dez. Durant is Gundy.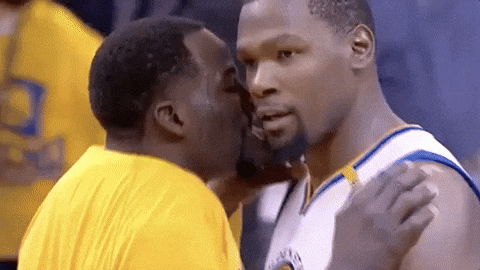 There will be several new faces in the form of three first-year head coaches. And our own Kyle Porter and Hayden Barber will also be on hand. So, to help them out — or anyone else that attends — here is a question for each Big 12 coach.
Gary Patterson (TCU): "Are you okay, Coach?" Seriously, this may be the most pressure Patterson has had since his team joined the league in 2012. "Your quarterback had the worst TD-to-interception ratio of any returning Power-5 QB and Doug Meachum left your program to call plays at Kansas? Again, Coach, are you alright?"
David Beaty (Kansas): "Congratulations on the win, coach." Which one? "The conference win. That ONE."
Kliff Kingsbury (Texas Tech): "How are enjoying your las … eh the latest Big 12 media days?"
Matt Campbell (Iowa State): "How much did Mike Holder offer you to reschedule this year's game in Ames to any other date than 11/11? Has he offered you any wide receivers for that?"
Mike Gundy (Oklahoma State): "What's your COOP of choice? Can you confirm whether or not you're a 'vator man'?"
Tom Herman (Texas): "Welcome to the Big 12, Coach. Can you confirm that Texas is back? Okay, a litmus test. Would you rather have a great time at a 4 p.m. dinner with Bill Snyder or an awkward night of clubbing with Kliff Kingsbury?"
Dana Holgorsen (West Virginia): "If the buzz is legitimate about Will Grier, you might have your best quarterback since Brandon Weeden. Is your … um, are you just going to sit there with that crazy smile plastered on your face? You're creeping me out. How many Red Bulls have you had?"
Matt Rhule (Baylor): "And who are you here with?"
Bill Snyder (Kansas State): "Did you think you would outlast Bob Stoops?" No joke here. It's just hard to believe.
Lincoln Riley (Oklahoma): "Has Mike Gundy invited you to his place yet? How many rattlesnake hunts has he invited you to? And how well do you wrastle?"