Roundtable: Could you beat Tyreek starting from the 50?
Who is the OSU fan's biggest enemy? Would you trade Daxx and Yurcich for Batman and Knight?
Welcome back to the weekly Roundtable. I think this week's version might be my favorite of any we've ever done.
Hope you enjoy.
1. In 2015 Mike Yurcich will be receiving his paychecks from ______________.
Porter: Jenks or Union
Dave: Stansbury University
Amilian:  Jørgen Vig Knudstorp
Nolo: Southern Miss
Ames: Barack Obama
Southwell: Indiana
Cunningham: Oklahoma State
Shepherd: Going to echo Carson and say Oklahoma State. I think he gets another year, deservedly so or not.
Boone: Who else?
2. Was Kansas an anomaly or is this thing going the wrong way?
Porter: I think Kansas was an anomaly. Gundy's teams have a history of playing to the level of their opposition. We're going to see great effort on Saturday.
Dave: Kansas is actually decent on defense (No. 47 in F/+), but I think we're headed the wrong way. I anticipate a rough landing in the last half of the season.
Amilian:  OSU fans are going to be throwing fits during the 2nd half of the season
Nolo: If anything, FSU was an anomaly.  A win is a win, I just don't see a lot of them left on the schedule.
Ames: I don't think that offense is THAT bad, although Dave is right. I could easily see us going 1-5 the rest of the way, but I hope I'm very wrong.
Southwell: Kansas is trying so hard to avenge their 70-28 loss in 2011. They played us close in Lawrence in 2012 and 2014, so I imagine this is their "shock the world" game every year. OSU needs to respect them in the future because that was too close.
Cunningham:
Shepherd: Anomaly. I think we're set in our "play to the level of the competition" ways. Things will look better on Saturday.
Boone: Anomaly. I think we right the ship Saturday. Our offense has nowhere to go but up. Right?
3. Who is OSU's MVP at the halfway point of the season?
Porter: I want to say The Freek but Yurcich is icing him out like this is the 1985 NBA All-Star game. I'll say Josh Furman.
Dave: The guy at the Big 12 office who makes the schedule. Or James Washington.
Amilian:  Tyreek based on him saving OSU from a disastrous loss to Kansas. Confirms my answer to No. 2 when a player is your MVP for what he prevented rather than contributing to what we've accomplished.
Nolo: It's gotta be Tyreek for me. He's been great when put in the correct situations.
Ames: I agree with Nolan, it's Tyreek. This question would be a whole lot simpler if Yurcich utilized his full potential.
Southwell: Tyreek. I'm thinking Yurich looked at the schedule and thought, "We better save his legs so he's fresh for the last half of the season." So I'm expecting to see him used a lot more in the upcoming weeks.
Cunningham: I can't give it to anyone on offense. I'll go with Emmanuel Ogbah: Second in the Big 12 in sacks (5) and tackles for loss (9.5).
Shepherd: I know he's been less than spectacular, but I'm going with Daxx. Things can always go horrifically wrong with your backup QB, yet we've somehow managed to stay afloat so far.
Boone: Josh Furman. Tyreek gave us the lead, but Furman put the nail in the coffin at KU. 5 sacks on the year and a crucial INT last week.
4. Would you trade Daxx and Yurcich for Trevor Knight and Batman Heupel right now?
Porter: Nah…maybe…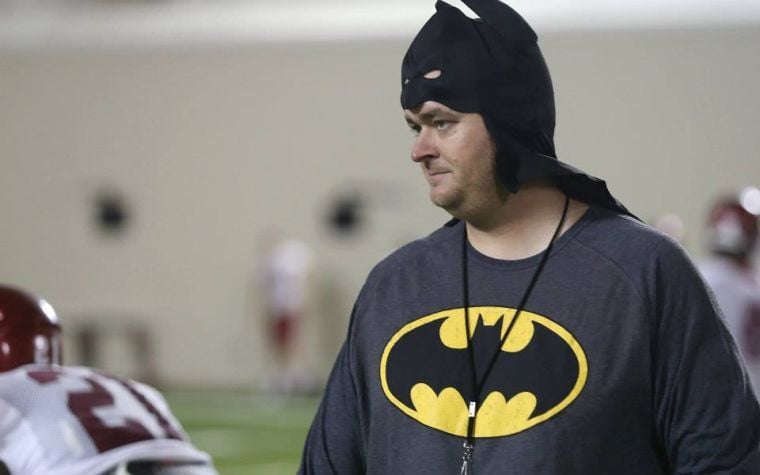 Dave: No, but every individual in the trade might say yes. Daxx would instantly become a Heisman candidate (in the mind of his new fan base). Yurcich would get to call plays again. Knight would have more than one receiver to throw to. Heupel would have ready access to cheese fries.
Amilian:  This would be like trading baseball cards that aren't good enough to be listed in Beckett. But no I'll hold onto what we've got.
Ames: No, I think Daxx has more upside than Knight. I think Yurcich for Heupel would be a wash because Heupel isn't utilizing Knight the right way either.
Nolo:
Southwell: No chance. OU fans hate Heupel more than OSU fans hate Yurcich based on what I've seen on twitter. I'm not so sure that was Knight playing against Bama in the Sugar Bowl:
Cunningham: Are Katy Perry and Trevor Knight a package deal?
Shepherd: I'm afraid I'd spontaneously combust if I saw Josh Heupel walking our sidelines. Can't make that trade.
Boone: No chance.
5. Over/under 10.5 combined Big 12 wins for OSU hoops and football from today until the end of the school year?
Porter: Over. Travis Ford hasn't completely disparaged the magic still lingering in the white maple…yet.
Dave: Under. It's going to be a long winter.
Amilian:  OSU will have to win three more football games and match their conference basketball wins from last year.  I don't see both happening.  Assuming the Spring Game (or whatever it's called) doesn't count, under.
Nolo: Over! The basketball team has some Ewing Theory potential. Even though we lost Mason Cox (and a couple other guys),  I think the remaining squad has some potential.
Ames: I'll take the over. I think football squeezes out two more (Texas and WVU), and the Big 12 basketball race looks to be wide open (outside of Kansas, maybe).
Southwell: Barely over, thanks to an upset by the football team.
Cunningham:
Shepherd: Over. Maybe I'm a glutton for punishment, but I believe there are some surprises in store. (Also +10 to Nolo for use of the Ewing Theory.)
Boone: Over. I think football will finish better than most think, and basketball will be better than expected.
6. Is there an opposing non-OU football player you've sports hated more over the years than Sonny Cumbie?
Porter: Most of my sports hate is on the basketball side. But not all of it.
Dave: This guy.
Nolo: No Question.
Ames: We couldn't ever tackle him…ever.
Southwell: It's hard not to respect everyone out there. (Also I don't really get the RG3 hate since he's never beaten OSU). But if I had to choose someone, it'd be this guy:
Cunningham: Anyone who went to OSU in the mid-2000s has one choice.
Shepherd: I really felt like he was my mortal enemy.
Boone: This guy. Every single time.
7. Which scenario do you choose today?
1. Exactly an 8-win season with a guaranteed win over OU
2. A 10-1 record going into Bedlam but leave the outcome of that game up to chance
Porter: I choose to have written a different question after reading the answers.
Dave: 10-1, because if we don't lose a game before bedlam it means we're really good. Also…a chance at the Final Four? Who doesn't choose this?
Amilian:  Shouldn't even be in question. Option 2.
Nolo: Option 2. You play your arch rival every year, but you rarely have a shot at a title.
Ames: Option 2, no doubt. Bedlam is always a toss up, so I'll take those odds.
Southwell: Option 2. It's more respectable and there's still a chance to beat OU. If we won 8 games and beat OU, it would be considered a fluke by many.
Shepherd: Option 2 without a doubt. 2011 was too much fun to not want to experience it again.
Boone: Option 1. That would be better than most people projected us to be this year, and pretty solid chance we would be spoiling OU's natty hopes.
8. Tyreek starts at the goal line, you start at the 50, who gets to the other goal line first?
Porter: I'm pretty sure I win. I think you could move me back to the 30 before it would get interesting.
Dave: At his world record pace Usain Bolt would run 100 yards in 8.75 seconds, which is terrifying. But I could run 50 yards in 8.75 seconds easy, so I would easily beat Bolt & Tyreek. I would celebrate thusly:
Amilian:  I wouldn't have imagined I'd be truthfully typing these words in a Roundtable response:  I would smoke Tyreek.
Nolo: I would win. I'm trying to decide what yard line I would have to start at for there to be a photo finish. I'm thinking about the 25 or so.
Ames: The fastest 40 I ever ran in high school was a 4.8. In the greater scheme of things, there isn't that big of a difference between a 4.8 (me) and a 4.3 (Tyreek). So, I'm basically as fast as Tyreek. If you want a fair race, start us both at the goal line.
Southwell: I'm fast but not Tyreek fast. I'd win that unfair race easily. I think a better question would be, "Tyreek starts at the 50, Bullet starts at the goal line, who gets to the other goal line first?"
Cunningham: Me at the 10 yard line…
Shepherd: Everyone else is pretty confident they'd win, but Tyreek is fast and I eat donuts on a regular basis. So..
Boone: Depends on if I miss a tackle or not. That's my only hope.