Roundtable Friday: Could PFB contributors gain 51 yards against TCU?
Nolo claims to have "more hops than an IPA which is why we could gain 51 yards against TCU.
1. Is there anyone you want to sue this week?
Porter: Whoever owns the Twitter handle @pistolsfiring and hasn't tweeted since June 19, 2008. JUST GIVE IT UP!
Shepherd: I'd like to sue my friend Trevor. He looked at me before kickoff last weekend and said "I really think we're going to win, man."
Amilian:  My unborn son: My wife hasn't been…normal  (kidding, she's been great, most of the time)
Carson: Mr. Coffee. My coffee maker isn't working this week and it's making me very grumpy in the morning.
Ames: I'd like to sue Zach Mettenberger for excess of awesomeness. I'm actually just looking for a way to promote this 'stache.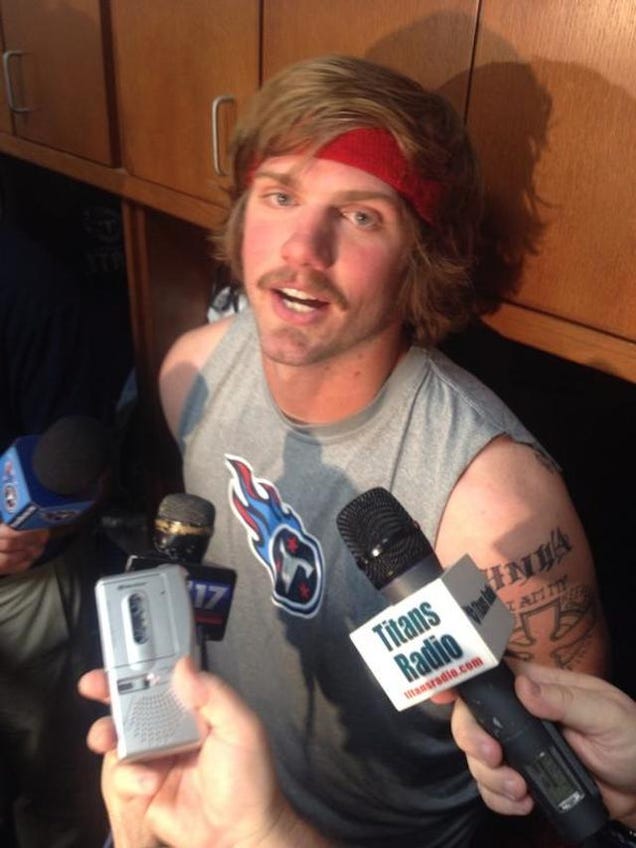 Southwell: I can't think of anyone… Everyone is being sued.
Dave: I'd like to sue myself for thinking it was a good idea to go down to Fort Worth last week.
Nolo: The university of Wyoming.
Boone: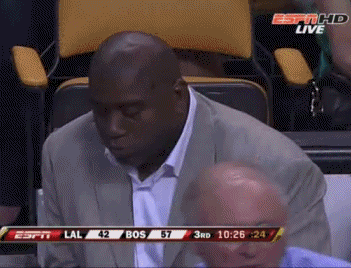 2. What is your favorite Dana memory (you better have a good one, Southwell)?
Porter: I'm only bummed that I can't find video of the flea flicker against Baylor in 2010. it was his Picasso.
Shepherd: The Red Bull. Allll of that Red Bull. So wonderful.
Amilian:  The 4th quarter flea flicker against Baylor in 2010…up 30+
Carson: When he put up 725 yards on Baylor. The skullet was on fire. Which was on par with his greatest blackjack heater, probably.
Ames: He had some beautiful windsuits, which is the most Dana-esque outfit.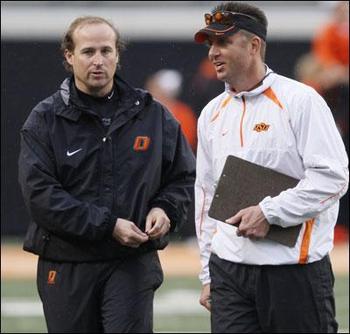 Southwell: Hearing the word "skullet" for the first time was pretty awesome. But there was a time when Chelf threw a corner to me and I went all out, dove, caught it, and flipped from all the momentum; Coach Holgorsen was giving me praise for my effort using several expletives.
Dave: This excerpt from a Berry Tramel column: "Maybe in Oklahoma, Holgorsen dabbled in the kind of behavior he exhibited in West Virginia — removed, intoxicated, by peace officers from a casino at 3 a.m. — but there's no record of it. He directed Brandon Weeden and Justin Blackmon on how to score a ton of touchdowns, and an OSU season billed as rebuilding instead became historic, with 11 victories."
Nolo: I heard a rumor from someone in the athletic department that the janitor found empty fifths of vodka randomly hidden around his office after he left. RBV's and film. All. Night. Long.
Boone: The creation of Weeden2Blackmon was something special.
3. As of right now who starts at QB for this team in 2015?
Porter: Patton.
Shepherd: I'm really hoping for Mason Rudolph. Not sure how that works with Walsh back in the mix, though.
Amilian:  I'd like to see Rudolph but I think Walsh is most likely.
Carson: J.W. Patton
Ames: Rudolph, while utilizing JW in a package that best suits his skillset (like at the end of the 2012-2013 season).
Southwell: J.W.
Dave: Walsh, who will somehow find a way to be involved in every QB race for the rest of the decade.
Nolo: Has to be Walsh. Yes he limits the offense but with our inexperienced offensive line, we have to have somebody who is mobile.
Boone: Rudolph. He has all the skills J.W. possesses just better arm strength.
4. Would you trade Tyreek Hill for Juwan Staten straight up?
Porter: You get 19 more games of the Freek or 30+ of Staten. I think I'll keep the Freek if only because there's hope that OSU could bring somebody in for 2015 who could introduce him to space.
Shepherd: Nope. I'd like to trade for a game plan built around Tyreek, though.
Amilian:  Nah. Ford wouldn't use Staten any better than Yurcich uses Tyreek.
Carson: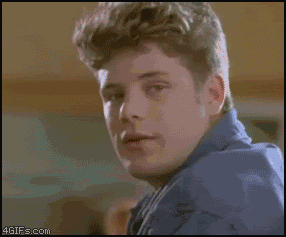 Ames: I would say yes due to the fact that Yurcich doesn't utilize Tyreek the way he should, but I'll say no because I don't think PG will be our weak spot this year.
Southwell: Tyreek can beat everyone in football and in track. More dynamic than a basketball player. I'll stick with the Freek.
Dave: Toss in Huggins and I'm listening.
Nolo: I'm a basketball homer so I'm sticking with Staten.
Boone: If this was a year ago, maybe. I'm all in on the Freek.
5. NOW, has your opinion on which team wins the Big 12 changed?
Porter: It's changed back to the team I never should have left. Love you, Bill.
Shepherd: Totally. Thought it was Baylor/OU. Now it's one of two teams that wear purple.
Amilian:  There could be a 4-way tie for first.  There's plenty of good games left on the schedule so I'll just stick with my original pick, Baylor.
Carson: I had OU…so, yeah. I'll go with TCU. I like the way their schedule sets up.
Ames: I'm with Carson, on both fronts.
Southwell: I had Kansas State, then doubted them on the road against OU for my gambling picks (what was I thinking?!) The Big 12 will go to a team in purple this year.
Dave: I no longer follow Big 12 football.
Nolo: I like TCU. They're talented enough to beat anyone else in the Big XII at home or on the road.
Boone: Still sticking with Baylor…
6. OSU Homecoming: Overrated/Underrated/Properly rated?
Porter: I think it's a little [ducks steel pipe thrown by AGR house] overrated. But only because I think every other football weekend in Stillwater is underrated. OSU is a sneaky great tailgating spot.
Shepherd: Overrated if you're locked in the basement of a fraternity house pomping all night. In every other aspect, it's properly rated. Just unreal.
Amilian:  I have nothing to compare it to. I love it. I definitely appreciate all the work the students put in pomping. I sure don't see how it could be underrated, so I'll roll with properly rated.
Carson: Properly rated. Everyone (locally and nationally) raves about it. Though I always found a way out of pomping.
Ames: Properly rated, it's an awesome weekend any way you look at it.
Southwell: Properly rated. I think it gets the national attention it deserves, and it lives up to the hype.
Dave: Properly. It's a great event.
Nolo: Properly. To me it's all about the traditions. Midnight Madness, the house decs, the parade, the Greek students leaving at halftime after their house is announced. It's great.
Boone: Properly rated. Gets a lot of well deserved attention.
7. OSU had 51 yards in the second half. If you gave 11 PFB contributors pads and helmets could we have gotten 51 yards against TCU in a half?
Porter: Our line would concern me. Of course our current line concerns me. I'd say yes but if Chucky Hunter so much as touches my uniform I'm going to feign a concussion and somebody else will have to take over behind center.
Shepherd. There are some former athletes on the staff, yes? Best of luck to you guys, 'cause I'm likely concussed after the first drive.
Amilian:  Well Justin Blackmon came on a podcast one time, so if Porter just throws to him every single play, we're bound to connect for a few passes.  So sure, why not (there are actually plenty of reasons why not).
Carson: Yes. I'll throw some fades to Southwell and Nolan and hope for flags. Penalty yards count, yes?
Ames: We might have to get a little funky…..Annexation of Puerto Rico?
Southwell: Yes. I've had enough practice against Perrish Cox, Brodrick Brown, and Justin Gilbert to know I would gain my fair share of yards.
Dave: Is Yurcich calling plays for us?
Nolo: Pistols Boy threw low 90s in college, Southwell is a BCS bowl champion, and I'm 6'6″ with more hops than an IPA. The rest can't be much worse than our current O-line. I think we could complete a few quick hits and jump balls and get more than 51 yards.
Boone: In Southwell I trust.
8. If West Virginia loses this game on a really, really bad call Dana Holgorsen will ______________.
Porter: Say the F-word. Likely more than once.
Shepherd:
Amilian:
Carson: Dana vs. Big 12 Ref
Ames:
Southwell:
Dave: This:
And then this:
Nolo:
Boone:
Totally Tickets is your source for Oklahoma State football tickets.