Big 12 Turned Upside Down With Wild Underdog Saturday
OSU is still … alive?
Four underdogs* on Saturday. Four Big 12 wins. Chaos, honestly.
OU's early tilt with Kansas State ended with a video review about whether a corkscrewing onside kick hit a player before it went 10 yards and whether that player was blocked into the ball or whether he ran into it himself. And that was the second weirdest ending of the day in the conference … in the state of Kansas.
A review.
• Kansas State was a 21.5-point dog at home (won by 7)
• Oklahoma State was a 10.5-point dog on the road (won by 7)
• TCU was a 1.5-point dog at home (won by 10)
• Kansas was a 4-point dog at home (won by 3)
That's 37.5 points piled up on four outright winners. The Sooner tears after getting smoked in the Little Apple — I might add — were tasty.
"There's a lot of parity week to week," said Mike Gundy after his team won for the 10th time as a road underdog since he took over in 2005.
"A lot of times it comes back to those three things we talked about (turnovers, penalties and big plays). That's the one thing that college football has going for it right now is parity week to week. The fans love it, people that come to the games love it, TV networks love it."
This is true. We all do kind of love it. The OSU and TCU wins were fairly straightforward (as far as this nutty conference goes anyway), but K-State was wild, and then Kansas was a fever dream. [whispers] I have no idea how this call was overturned for Kansas State, and I don't really care.
This is how close OU was to recovering an onside kick to potentially force OT or win the game… pic.twitter.com/E8QvwlJYoj

— Bleacher Report (@BleacherReport) October 26, 2019
Watch how Kansas won just their sixth Big 12 game this decade (not a typo, they're really 6-79 since 2010 … of course Tech showed below why they're 29-56).
This is why Kansas just won. Unbelievable mistake by Texas Tech after the blocked kick. Jayhawks kick again and win on 32-yard FG. pic.twitter.com/gI2uYSfanS

— Max Olson (@max_olson) October 27, 2019
Add it all up and somehow Baylor is sitting at home chuckling like Kevin at what transpired on Saturday. The Bears have a 1-3 WVU team coming to Waco on Thursday night, and are two wins over the right teams from locking up a Big 12 title appearance.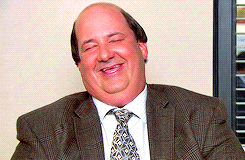 As for the Pokes? Well, it looks more condensed than it did a week ago, but I'm not sure it necessarily looks a lot better. If they take care of TCU next week, that's when it starts to get a little optimistic.
Beat TCU and then you have two of those one-win teams (Kansas and WVU) left plus OU at home. We can start to dream a little bit then, I suppose. Although I don't know if an Alamo Bowl appearance counts as dreaming. The Tech loss hurts. Don't lose to Tech, and all of a sudden you're third in these standings with all the opportunity in the world.
I'm not convinced all is well after OSU's statistical outlier of a game (more defensive INTs than penalties in a single game has only happened one other time in the Gundy era), but as Saturday proved, you get wins however you can get them in the Big 12.
Lastly, I thought this from Carson was good. The Big 12 isn't the best league or the most talented. But it's definitely the fairest, which — ironically? — hurts you when it comes to both national perception and playoff appearances.
Today is a reminder The Big 12 is really hurt by the round robin, 9-game conference schedule. The last team to go undefeated in the regular season? 2009 Texas, before the round robin schedule. Other conferences can avoid playing the best teams in a given year & less conf. games.

— Carson Cunningham (@KOCOCarson) October 27, 2019
The Big 12 cannibalized itself on Saturday as four dogs beat four favorites on one of the weirdest slates in recent memory (and it's not as if there haven't been weird slates!).
The fun part here is that we haven't even reached November yet.
So now it's Baylor …. and then OU … and then everybody else pelting each other with rocks trying to sniff third place with a shot at second down the stretch. I'm thankful for a day of madness because it included Oklahoma State, which is still one of those teams lingering in the middle. After what transpired on Saturday in Ft. Worth, Manhattan, Lawrence and Ames — and given how this season has gone — that's about all anyone could ask for.
*Depending on where you wager on CFB