My 2014 wish list
Gundy swag, Ateman as WR1, and Tyreek Hill anywhere but the backfield.
OKC Dave asked a terrific question in his survey a few weeks ago about who from past OSU teams you would add (outside of Barry Sander) to this year's OSU team.
Brandon Weeden won (as he should have) but I wanted to take the exercise a little farther. I've been keeping a wish list of things I want to see happen — not necessarily outcomes, but more like experiments for this season.
Here's that list:
1. Stay with the same QB all year: I'm all in on JW. I'm actually wearing a combat helmet emblazoned in orange with "JW Patton" right now in his honor:
He was basically Collin Klein in 2012 with less playing time (or so says ESPN's unqualified QBR ratings) — that'll play in Stillwater.
Walsh has the Tiger Woods Effect working against him, though. We compare (and will compare for the next decade) everything to what Brandon Weeden did in 2011 just like we compare 2014 Tiger to 2000 Tiger.
That's unfair to Walsh (not to mention 2014 Tiger) because as we've seen, there's more than one way to win 10 games.
Roll Walsh out there the entire season, let him soak up 950 plays and see what happens. He might get blamed for a bad season but he also won't be buoyed by that elite defense Clint Chelf had behind him at the end of 2013.
2. Use Tyreek in every spot but the backfield: I don't really care how you get a world class track champion the ball but don't let him run it up the middle and get smoked over and over.
You have Thunder and Lightning Part CLXI (or whatever we're up to now) in Roland and Childs, let Tyreek do Tavon stuff and be creative about how you get him his 15 touches.
If you have to build a tunnel out of Legos for him to run under then build a tunnel out of Legos. Just get him in space: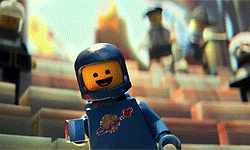 3. Use literally every defensive player you have at linebacker in the Missouri State and UTSA games: I'm probably most concerned about the middle of the field on defense when it comes to the various units OSU deploys.
It's like the 2006 US Ryder Cup team of linebacker units. I mean you've seen the depth chart, yes?
So play everybody — redshirt freshmen, freshmen, see if you can sneak in a high school senior or two and figure out who can give you time in Big 12 games because that defensive line is going to be worn down by the middle of October if the linebackers can't help them out.
4. The emergence of an All-Big 12 defensive end: I don't know (or care) who it would be between Emmanuel Ogbah, Jimmy Bean, Trace Clark, and Sam Wren but the only All-Big 12 first team defensive end OSU has ever had is Jamie Blatnick in 2011 and that season seemed to turn out decently.
5. Swag from Gundy: I want Gundy to have the season equivalent of this during this year:
He's already more than proven himself in the league, won it once, nearly won it twice, and firmly planted his flag as a top 20 coach in the country. So let 'em hang a little bit with a young, inexperienced team.
Show Kliff Kingsbury that not only isn't he the coach with the most legendary hair in the Big 12 but that he's the new Mike Gundy, you aren't the old Kliff Kingsbury.
6. Marcell Ateman to become WR1: I know Jhajuan Seales will likely be WR1 on the depth chart all year but I want Ateman to be WR1 in JW Walsh's head.
When Walsh has to have seven yards to keep a drive alive I want him to want to go to Ateman. I know it doesn't much matter as long as a first down is had and I know Seales looked like a boss last year but Ateman just has that All-Big 12 feel to me.
You watch him and you wonder if it's actually him and not Seales who could be next in line behind the Woods', Dez, Blackmon, and Josh Stewart.
Totally Tickets is your source for Oklahoma State football tickets.