PFB Roundtable: Riffing on Cade Cunningham Signing, Previewing Kansas
What Cade's signing might lead to and how nervous *should* we be about KU.
The Kyles got together to converse on the aftermath of the Cade Cunningham signing and look forward to OSU football's matchup with Kansas. Have a peek inside our Slack chat to see what came out of it.
Kyle Cox: Is this all a dream? Cause I woke up to Cade tweeting about season tickets and I thought it was for a min?
Kyle Boone: Kinda surreal, for sure.
Kyle Porter: I'm flabbergasted. Carson and I talked about this on the pod, but for OSU to have the Boones, Avery Anderson, Ice, Hidde the goat, Rondel Walker, Yor and possibly Marcus Watson next year is a really good, fun contender in the Big 12. Oh yeah and they have maybe the No. 1 pick in the NBA Draft and possibly the best player in the country, too.
Boone: Every time I see wood around the house I am knocking it extremely hard. If everything falls into place, next season they could enter the year preseason top 10?
Porter: Didn't know where you were going with that.
Cox: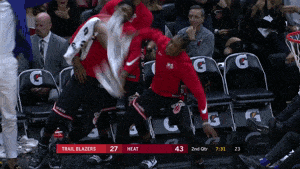 Boone: Hahaha
Porter: That is me! Boone on the right, Carson on the left.
Cox: I'm the guy two rows back on his phone.
… watching Cade highlights
Cox: So who's next to jump into this 2020 superclass?
Porter: Haha … gotta be Thor, right? I guess my question there for @boone is if they don't get Thor, is that then a disappointment?
Boone: I think it's JT Thor, but if they don't get him, I don't think it's the end of the world. He's a great player, but with Cade on board, I feel like the attractiveness of OSU is at a level where Thor-level recruits are realistically on the table — and maybe even expected — now.
Porter: Feed me Greg Brown news.
Boone: I don't know where the Greg Brown smoke is coming from, but if it happens, I will legitimately faint. That dude is real. Brown > Thor by a lot.
Here's his 247Sports evaluation: "Long and freakily athletic. Runs like the wind. Needs to physically fill out. Terrific finisher in transition. Quick straight-line driver in half court. Jump shot progressing and has potential. Shot blocker with defensive versatility. Shaky ballhandler. Has tremendous upside that could place him in lottery at the draft."
Cox: I saw one Twitter reel and I was hooked.
Boone: On a 1-10 scale in athleticism, 247 ranked him a perfect 10. When you watch him dunk he actually becomes a 3D figure.
Cox: Warmup-line dunks have too much effect on my perception. 
Porter: More real: Brown2Stillwater or the hammer falls on KU and Bryce ejects like me at a 3-year-old's birthday party?
Cox: You haven't figured out how to get out of birthday parties yet? 
Boone: Both are reasonably in play. I'll hedge and say B2S is most likely. Make the B word whatever you want it to be.
But keep it PG.
Cox: Banners?
Boone: I mean, sure!
Cox: When Cade said that in the tweet I started getting lightheaded.
Porter: It's kinda the same as when Deondrick said he was going to win the Heisman.
How funny would it have been if Deondrick had said "an OSU running back will win the Heisman next year!"
Cox: I think it's a little more likely.
Like not possible, but more possible.
Boone: Yeah …. the Deondrick thing is a good reminder to not get out over your skis too far as a fan.
Porter: Especially in football.
Porter: Speaking of football … does Kansas worry you guys even an iota?
Cox: A little bit. I'm writing about that now. OSU has not played well against Kansas historically (even in wins) and has not played well when favored at home.
Porter: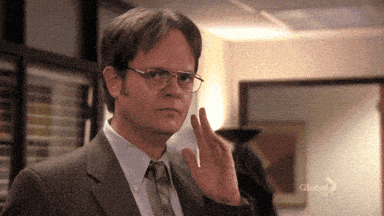 Cox: And this KU team might be better than that last few they've seen.
Boone: It does a bit, just because OSU over the last two seasons has a tendency to play down to competition. I'm not sure it's possible to play all the way down to KU's level, but if OSU starts slow it might start feeling eerily similar to some other recent games in which they've laid out stinkers.
Porter: I fall back on the fact that KU has won six Big 12 games this decade, and Chuba wears orange.
Cox: I don't expect OSU to lose, but I do expect to have a couple Oh crap, they might lose to KU moments on Saturday.
Boone: A tradition unlike any other.
Cox: Feel like it's kinda flown under the radar but how crazy is it that Les Miles is coaching his first game in BPS in 15 years?
Porter: It's so crazy. It feels like it's not the first time. Like, did he coach a game against them when he was at LSU and we just got it all erased from our minds Independence Day-style?
A MOVIE REFERENCE FROM KP!
Cox: Lol. It just makes me feel old, that he is that old.
Porter: I don't know if I did that right.
I'm off the rails with movies this week.
Cox: Yeah, I think the erased memory might be from Men In Black, actually.