Recapping Week 11 in the Big 12: Baylor and TCU reign
Norman burns and K-State licks its wounds all the way back to Manhattan.
Oklahoma vs Baylor
Bryce Petty said he was ready for OU, but I wasn't quite expecting this.
Petty, who ended the day with 387 yards and one touchdown through the air, led the Bears to a win in Norman in dominating fashion.
Oklahoma jumped out to an early 14-3 lead, but Baylor scored the next 45 points in the contest. The Sooner offense, without Sterling Shepard, looked great early as Trevor Knight led them on two drives that both ended with touchdown passes.
However, that was all the Sooners could muster as they ended the day with only 319 total yards and 12 first downs. Petty picked the Mike Stoops-led defense apart all day, with the prime example of this coming in the third quarter.
Petty marched the Bears down the field utilizing short, quick-hitting routes while the Sooner DB's played off. This led a disgruntled crowd to being booing the Sooner defense/Mike Stoops (Sooner born, Sooner bred, right?)
Things only got worse for Oklahoma, as Trevor Knight had to be carted off the field in the fourth quarter with an apparent neck injury.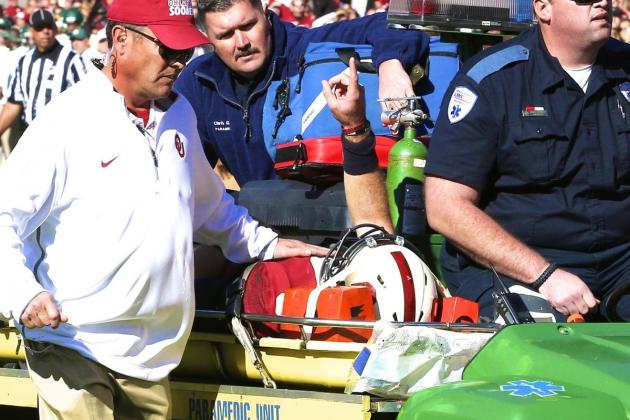 Hopefully Knight is alright because the Sooners can't afford to lose another key player.
Final Result
Baylor – 48
Oklahoma – 14
This Week
Baylor – Bye
Oklahoma – @ Texas Tech
Kansas vs Iowa State
The Kansas Jayhawks picked up only their second Big 12 win in the past four years on Saturday, and the goal posts came down!
Michael Cummings, who I have become a fan of this season, led the way with 278 yards while accounting for two touchdowns. The Cyclone offense, without starting QB Sam Richardson, struggled mightily.
However, the Jayhawk defense deserves a lot of credit as they played inspired football all game long, only giving up 373 total yards and forcing two turnovers. This is a huge load taken off the shoulders of Kansas football, and Mark Mangino would be proud.
Final Result
Kansas – 34
Iowa State – 14
This Week
Kansas – TCU @ home
Iowa State – Bye
Texas vs West Virginia
The Longhorns got a huge win over a ranked West Virginia team, thanks largely to Johnathan Gray's performance on the ground.
Gray ran for 101 yards and three touchdowns, which was key as the rest of the offense struggled to get things going. Tyrone Swoopes threw for 124 yards and one touchdown, and still has yet to establish himself as a consistent QB.
Kevin White set a school record for West Virginia with 16 receptions, but was held without a touchdown by the Longhorn defense. Clint Trickett also had a nice game, throwing for 248 yards, but was also held without a passing touchdown.
They got off to a rocky start, but it finally seems as though the Charlie Strong philosophy is starting to take hold within this Texas team. Next week shapes up to be a hard-fought contest, as both Texas and Oklahoma State look to become bowl eligible.
Final Result
Texas – 33
West Virginia – 16
This Week
Texas – @ Oklahoma State
West Virginia – Bye
TCU vs Kansas State
Bill Snyder couldn't muster up enough wizardry in Fort Worth, as Kansas State left with their first Big 12 loss of the year. Trevone Boykin had a big day, throwing for one touchdown and running for three more. One of his three touchdown runs would have made Sam Bradford awfully proud.
Aaron Green, who was filling in for the injured B.J. Catalon, also ran for 171 yards. Jake Waters also played fairly well for the Wildcats, throwing for 291 yards and two touchdowns.
This result sets TCU up perfectly to sneak into the College Football Playoff, assuming they don't lose the rest of the way.
I know I'll be pulling for them.
Final Result
TCU – 41
Kansas State – 20
This Week
TCU – @ Kansas
Kansas State – Bye
Big 12 standings