Recapping Week 6 in the Big 12
Texas and Baylor got weird, TCU and OU got weirder, and Bill Snyder MUST be a wizard.
The Big 12 now has five teams ranked in the AP Top 25 Poll, so that's pretty cool. Let's take a quick look at what went down around the league this past Saturday.
Oklahoma State vs Iowa State
The Pokes came out of the gate slow, extremely slow, but finally got it rolling in the second half to get the win. The Cowboy defense played fairly well all afternoon long, only giving up 322 total yards to the Cyclones.
Desmond Roland led the way for the Oklahoma State offense, rushing for 95 yards to go along with two touchdowns. He ran hard and finally seemed back to form after returning from the rib injury he suffered against Florida State.
The one thing I've always like about Kip Smith's kickoffs is even though he doesn't usually kick it out of the end zone like Quinn Sharp he always puts air under it, which allows the coverage to get down field.
We saw the ultimate example of this on the kickoff the Cowboys recovered right before the half that led to a Desmond Roland touchdown (sort of).
That, along with Tyreek's kickoff return, really got things rolling for the Pokes. Speaking of which, Tyreek crossing the goal line like a sprinter breaking the tape was the coolest thing I've seen this season.
I feel like we might see that a few more times before it's all said and done. The Cowboys are going to have to start games faster, especially considering they travel to Manhattan, Norman, Waco, and Fort Worth. We'll find out if the Pokes are for real in a couple weeks, because the Horned Frogs sure seem to be.
Final Result
Oklahoma State – 37
Iowa State – 20
This Week
Oklahoma State – @ Kansas
Iowa State – Toledo @ home
TCU vs Oklahoma
Wow, I want what happened in Fort Worth on Saturday to go down every game for the rest of the year. Two very good teams went back and forth like a Miami Heat fan, and I loved every second of it.
Trevor Knight and Trevone Boykin went blow for blow in the first half, but Knight struggled mightily in a second half that included two interceptions. Knight ended the game with 309 yards passing, most of which coming on deep balls to Sterling Shepard.
Shepard had a career day, hauling in seven receptions for 215 yards and one touchdown.
Boykin played very well for the majority of the game, throwing for 318 yards and two touchdowns to go along with 77 rushing yards. As for Knight, I've been saying it all along.
He is a good quarterback, but the expectations surrounding him following his performance in the Sugar Bowl against Alabama were simply unrealistic.
Knight is very capable of having a big game like that, but he is also capable of not being sharp at all like he was in the second half against TCU.
With all of the talent surrounding him, particularly in the backfield, the Sooners don't need him to play like he did against Alabama.
Sure it would be nice, but his focus should be on getting the ball to receivers on time (and accurately, which wasn't the case Saturday) and making the correct read on zone read plays. Also, why did OU go away from the running game in the second half?
You have an NFL-caliber offensive line and two freaks in the backfield, I don't get it (although I haven't watched film or anything, so maybe TCU was loading the box). TCU if for real, but the Sooners are by no means out of the conference and national title hunt.
Final Result
TCU – 37
Oklahoma – 33
This Week
TCU – @ Baylor
Oklahoma – Texas (in Dallas for the Red River Shootout)
Texas vs Baylor
This was a really weird game, for several reasons.
1.) Bryce Petty threw for 111 yards
2.) Tyrone Swoopes threw for 144 yards
3.) Swoopes completed twice as many passes as Petty
4.) The score was 7-0 at halftime
5.) Baylor still won by three touchdowns.
Baylor did not look like the fifth-ranked team (as of Sunday) in the country, but Texas certainly looked like Texas. When a fake punt was the most exciting play of the game, it might tell you something.
Petty obviously wasn't at his best, but the receivers dropping passes all day didn't help his cause either. The Baylor defense did look very stout, however. Texas isn't exactly an offensive juggernaut, but holding them to 334 total yards and forcing three turnovers is impressive nonetheless.
We'll find out a lot about Baylor next week as the Horned Frogs come to Waco. Against what will be the best defense and offense they have seen, Baylor better come to play or that top-five ranking will not last long.
Final Result
Baylor – 28
Texas – 7
This Week
Baylor – TCU @ home
Texas – OU (in Dallas for the Red River Shootout)
West Virginia vs Kansas
I have to apologize to whoever plays Kansas each week, because I will inevitably not spend much time on that game.
The Mountaineers didn't look great, but they did what they needed to do. Clint Trickett threw for 302 yards and one touchdown, 132 of which went to Kevin White. Kansas quarterback, Montell Cozart, did not play at all in the second half as Michael Cummings came in to take over the reins.
However, it was the same old story for the Jayhawk offense, gaining only 176 total yards. Not much to take away from this game, other than Kansas switching things up at quarterback.
Final Result
West Virginia – 33
Kansas – 14
This Week
West Virginia – @ Texas Tech
Kansas – Oklahoma State @ home
Kansas State vs Texas Tech
I think we have seen the true Texas Tech team these past two weeks.
Davis Webb, who played with a sore shoulder, threw a career-high four interceptions and never really looked comfortable. On the other hand, K-State signal-caller, Jake Waters, continues to impress this season.
Waters threw for 290 yards and four touchdowns to go along with 105 yards rushing and another touchdown. With Waters playing like he has been and Tyler Lockett doing his thing, the K-State offense is rolling.
It was also another great outing for the Wildcat defense, only allowing 347 total yards to a high-powered (can we even say that anymore?) Tech offense.
This year's Wildcats have that sort of vibe that they had during the Colin Klein years, at least to me anyway. They know they can play with, and beat, anyone in the country. I know we all know it, but how great of a coach is Bill Snyder?
The man continuously takes players that major programs passed over, and works his magic with them. K-State never has the most talent on the field, often they don't, but what they do with it is more than impressive.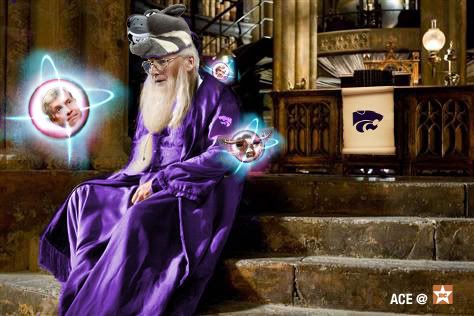 Final Result
Kansas State – 45
Texas Tech – 13
This Week
Kansas State – Bye
Texas Tech – West Virginia @ home
Standings