Recapping Week 7 in the Big 12
Every game was within seven points on Saturday and Baylor danced like they'd just gotten away with one.
Oklahoma State at Kansas
I can finally understand why no students go to the football games. Even when Kansas almost wins a game, it's the most painstakingly boring event in history.
We continue to see the struggles of this Oklahoma State offensive line, who got handled by the Kansas defensive front all day long.
The whole Cowboy offense was bad on Saturday, racking up only 275 total yards.
Daxx threw for 161 yards, which needless to say is not exactly the performance we expected against a subpar KU defense.
If it wasn't for Tyreek Hill doing Tyreek Hill things this Oklahoma State team could easily be 4-2 right now with a loss to Kansas.
Like Kyle said in his 10 Thoughts, KU might have found the answer at quarterback for the next few years. Michael Cummings made some impressive plays against a pretty good Cowboy defense, and I think he's a guy the next head coach can begin to build an offense around.
We might think he's too pessimistic at times but Coach Gundy summed it up well when he said, "we've got a ways to go."
Are the Pokes the 15th-best team in America right now? Probably not, but they're also undefeated in Big 12 play and they control their own destiny.
Final Result
Oklahoma State – 27
Kansas – 20
This Week
Oklahoma State – @ TCU
Kansas – @ Texas Tech
Oklahoma vs Texas
At least OSU wasn't the only team from Oklahoma that struggled offensively Saturday afternoon. The Sooners escaped Dallas with the win, but it wasn't exactly pretty.
The Trevor Knight-led offense only mustered 232 total yards, and only had 29 (!!!) at halftime. The game was similar to the Oklahoma State game in that it was a kickoff return and timely defense that bailed out a putrid offense.
Alex Ross returned a kickoff 91 yards for the score, while Zack Sanchez added a pick-six.
Tyrone Swoopes had a very solid day, throwing for 334 yards and two touchdowns. He battled all day long and kept the Longhorns in the game when they were on the verge of losing it. Samaje Perine had his second average game in a row, but it is somewhat expected considering teams now know he's a freak of nature.
I can see Texas continually getting better as the season progresses, they just aren't quite there yet.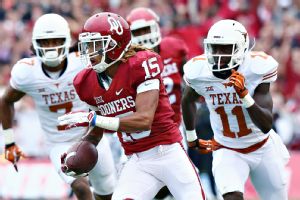 Final Result
Oklahoma – 31
Texas – 26
This Week
Oklahoma – Kansas State @ home
Texas – Iowa State @ home
Texas Tech vs West Virginia
Dana finally talked to Josh Lambert!
The Mountaineers scored seventeen unanswered points and won the game on the Lambert field goal as time expired.
Penalties continue to kill the Red Raiders, as they have been penalized more than any team in the country. The Tech offense looked pretty sharp in the first half, jumping out to a 21-0 lead but they couldn't sustain much of it in the second half.
Davis Webb threw for 348 yards and three touchdowns on the day, while his counterpart, Clint Trickett, threw for 301 yards and two touchdowns. Kevin White had another big day, hauling in 13 receptions for 123 yards.
This Tech team isn't as bad as their record would indicate, but I've never seen a team continually shoot themselves in the foot like they do. In a loaded Big 12 Conference, it will be interesting to see how these two teams finish the year.
Final Result
West Virginia – 37
Texas Tech – 34
This Week
West Virginia – Baylor @ home
Texas Tech – Kansas @ home
Baylor vs TCU
What. A. Game. This reminded me of the Big 12 of old, when Brandon Weeden, Landry Jones, and Colt McCoy were slinging it around.
Bryce Petty played like a true Heisman contender, as he threw for 510 yards and 6 touchdowns while leading the Bears back from 21-point fourth quarter deficit.
TCU looked poised to pull the upset early, and late too I guess, but the Baylor offensive machine never quit.
There wasn't much defense played on either side, with the two teams combining for over 1,200 yards. It is still hard for me to tell if the Bears are national contenders.
Obviously the offense is there, that isn't an issue. I think the question will be whether or not this defense can step up so they offense doesn't have to do what it did on Saturday.
But there isn't really another prolific offense in the Big 12, so I'm not sure if we will find out.
As much as this game showed us about Baylor, I think it showed us a lot about TCU as well. The Horned Frogs are for real, and I think they'll still have something to say about the final Big 12 standings.
Final Result
Baylor – 61
TCU – 58
This Week
Baylor – @ West Virginia
TCU – Oklahoma State @ home
Iowa State vs Toledo
The Cyclones needed a career day from Sam Richardson to get the victory over Toledo.
Richardson, who threw for 351 yards and three touchdowns, led the comeback for Iowa State. The Cyclones offense had trouble finishing drives in the first half, but that all changed in the second half.
I'm a Sam Richardson fan, I'll admit it. He's not the most talented quarterback in the league, but he lays it on the line every week and I can definitely respect that. Not a whole lot to take away here other than the Cyclones getting a win over an average MAC team.
Final Result
Iowa State – 37
Toledo – 30
This Week
Iowa State – @ Texas
Big 12 standings