Roundtable Friday: How many years of payback does ISU deserve?
Also Tyreek reaction GIFs, and your favorite random OSU player ever.
Welcome back to the roundtable — where PFB contributors share their thoughts on the week that was and the game that will be. Let's do the introductions:
Kyle Porter (editor) – I love jump balls, Markel Brown breakways, and Kevin Durant 30-footers. Thank you for reading Pistols Firing.
---
Carson Cunningham (uniform connoisseur) – Carson does uniform drive-bys and actually has a real job covering sports for a real news station in OKC.
---
Justin Southwell (other uniform connoisseur, former WR) – Justin played at OSU as a wide receiver for a few years and is a pretty big uniform critic himself.
Follow @justinsouthwell
---
OKC Dave (statistician) – Unofficial statistician of Pistols Firing. His GPA was likely as high as the rest of ours combined.
---
Tyler Ames (covers the Big 12) – Writes a weekly roundup of the goings on within the Big 12. He'll likely have some fun with Texas this year.
---
Nolan Cox (contributor) – Played 31 more seconds of OSU sports than any of us. Once beat tied Dez Bryant in a slam dunk contest.
---
Kyle Boone (covers recruiting) – Will keep you informed on football and basketball recruiting. Could likely out-recruit Travis Ford.
---
Matt Amilian (contributor) – Desmond lover, softball aficionado, tailgating pro. He's the instigator of most of our former player interviews.
---
Wes Shepherd (covers Big 12 football) – He invented the Big 12 QB fantasy rankings which is pretty terrific.
---
1. Anything less than a _________ -point win this weekend will be a disappointment.
Porter: I think two TDs is probably the right number here though it's hard to imagine being "disappointed" with a 10-point win against a team that looked halfway decent against Baylor.
Carson: 14. Conservative number because OSU is so hit-or-miss on offense. But Iowa State stinks.
Nolo: 17. I wanted to throw a field goal in there because our kicker game has been underwhelming
Shepherd: 21. This seems high, but I approach the Iowa State game every year with a "no mercy" mentality.
Dave: 14. ISU is a feisty bunch.
Amilian: 10. I expect OSU to cover 17 but Iowa State has exceeded my (very low) expectations.
Southwell: 31. No mercy. OSU has been dominant in 11am games it seems (or maybe I'm making that up).
Boone: 35. I want a blowout after a stressful first half last week.
Ames: 18. 11 o'clock games are usually boring, so I don't see the offense getting hot early.
2. Of non-OSU Big 12 schools, where does ISU rank in terms of likeability?
Porter: They're my No. 2 or No. 3 depending on how I feel about Scott Cristopherson at any given moment.
Carson: Right there with K-State. Fans show up no matter what, love their school. Hard not to appreciate that.
Nolo: ISU and K-State are the two most likeable. Likeable coaches in basketball and football and they both have good fan bases.
Shepherd: My least favorite Big 12 opponent. Old wounds.
Dave: My pre-season survey had them as the 3rd-favorite non-OSU Big 12 school behind KSU and UT, but favorite does not equal likeable. I put them 2nd.
Amilian: A close #2 to Kansas State. Go STATES.
Southwell: A few notches above OU. I used to have them up there. I think they have some good fans, they have a good wrestling program… but that 2011 game really makes me dislike them when it comes to football.
Boone: Nothing against ISU fans — but like everyone else, 2011 cut me deep.
Ames: Very likeable after tonight. Three ISU alums bought me and my buddies two pitchers at Joe's.
3. Taking everything into account — quotability, uniform Heismaning, on-field play, etc. — which OSU WR is your favorite?
Porter: No. 3 — not sure why I've always like him. Maybe it's the hoops background, maybe it's the immense athletic giftedness, maybe it's just that I love single-digit-wearing WRs.
Carson: I've always loved the No. 7. Plus, he even raps: Brandon Sheperd
Shepherd: Tyreek. Do you follow this guy on Instagram and Twitter? He's a character.
Dave: Seales, because wearing #81 still gives me great memories of Blackmon catching touchdowns. But Ateman is chipping away…
Amilian: I can't say I have a favorite but I've had a feeling Samples is going to be a stud. I'm probably pulling for him to succeed more than any other WR (for no particular reason).
Southwell: They're all my dudes!
Boone: James Washington. Humble kid and strong work ethic that coaches rave about. Gotta love a kid from a small school.
Ames: I'm gonna go with Ateman. He keeps it very simply, yet sharp with the uniform. Plus, he's quickly emerging as a reliable option.
4. Your reaction to seeing Tyreek turn on the afterburners last Thursday?
Porter:
Carson: He nearly ran into me in the end zone:
Shepherd:
Dave:
Amilian: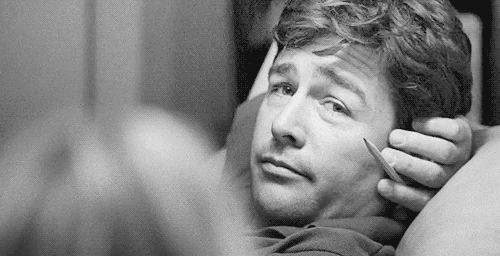 Southwell:
Boone:
Ames:
5. Who is more hated among OSU fans between Mike Yurcich and Kelvin Sampson?
Porter: I think the correct answer is Kevin Bookout.
Carson: Kelvin won't be topped. Ironically he's the nicest guy ever.
Shepherd: Sampson. My parents sent me to OU basketball camp as a kid and I didn't even want my picture taken with that guy.
Dave: I had a friend who attended a Kelvin Sampson camp. He said that Sampson used his the fact that he completed his Degree deodorant commercial in one take as an example of how to do things right the first time. The answer is Kelvin Sampson.
Amilian: Do we actually hate either one? We're not to the hatred level for Yurcich yet and I think we all truthfully like Kelvin, in a rivalry-hatred kind of way. I have no idea if that will make sense outside of my own brain.
Southwell: I'm on the same page as Amilian.
Boone: I'm buying in to Yurcich, especially if he keeps going deep with Tyreek. I don't hate either, but gotta go with Kelvin in a friendly rivalry type hate way.
Ames: I don't actually know any OSU fans that hate Yurcich, besides the perfect offensive coordinator that inevitably sits behind me every Saturday. I'm impartial toward Sampson, I'd say.
6. How many years of payback does ISU deserve from us?
Porter: Until Joe Tessitore passes on into the afterlife.
Carson: After the national debt is resolved.
Shepherd: I'll be conservative and say 150 years.
Dave: They owe us 1 year for every foot of PVC pipe it would take to add to their uprights that would have proven Quinn Sharp's field goal was true.
Amilian: Me in thirty years.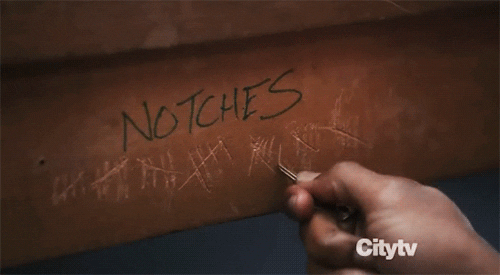 Southwell: 2011 years.
Boone: However many years it takes for us to get to the college football playoff.
Ames: I'm not too worried about it (don't hate me, guys). They came to play and beat an incredibly good team that night.
7. Who is your favorite random, inconsequential player of the Gundy Era at OSU (somebody you loved for whatever reason who rarely played…somebody like Anthony Parks)
Porter: My question was a giveaway. Mine is ol' one-kidney Parks. He caught a tipped ball on a big 4th down in the 2006 Bedlam game that almost ended Nolo's life. One of his four career catches.
Carson: The Punisher, Lucien Antoine. He only lettered one year due to an ACL injury. I was convinced he was Sean Taylor.
Shepherd: Kyle Hale. Had him in class and super nice. Always loved seeing him work his tail off on special teams.
Dave: Lyndell Johnson took a great picture with my son on the turf following the 2011 bedlam win, so I'll go with him.
Amilian: I'll go with my boy Kyle Hale.
Southwell: Mike Roberts (2008-2010) was one of the best running backs in the country. He just happened to be behind Kendall Hunter. Scout team Heisman.
Boone: He's still here just hasn't played (yet) — Mason Rudolph. Followed his high school senior year, my gosh he could be great.
Ames: Wes Lunt. Too soon?
8. What is a tight end and why is OSU playing them?
Porter: I'm still reeling from the fact that OSU lined up with two (!) of them in the same set and then said after the game that it wasn't a busted play or a mistake. What is life?
Carson: Apparently it's a walk-on from small town Oklahoma.
Shepherd: I'm not sure, but I think one caught a touchdown last week. It was weird. Kinda liked it.
Dave: Somebody call Les Miles. Also, best celebration by a tight end…ever?
Amilian: This question is just a reminder that I miss Alonzo Mayes.
Southwell: A bigger but slower receiver often used for blocking and occasionally used for catching passes. OSU is playing them because of Throwback Thursday.
Boone: I didn't even know Blake Jarwin's name until last week, but Daxx to Jarwin was beautiful.
Ames: What? A large, mobile country boy. Why? To infuriate Dana.
Totally Tickets is your source for Oklahoma State football tickets.