A recap of Week 5 in the Big 12
TCU rolled, OU byed, and Baylor is scary once again.
Nothing too shocking went down this week in the Big 12. Daxx threw bombs, Texas underperformed, and Charlie Weis got canned (ok, this one is a little shocking). Let's take a quick look around the league…
Oklahoma State vs Texas Tech
It was a fun night in Stillwater, largely due to these bad boys…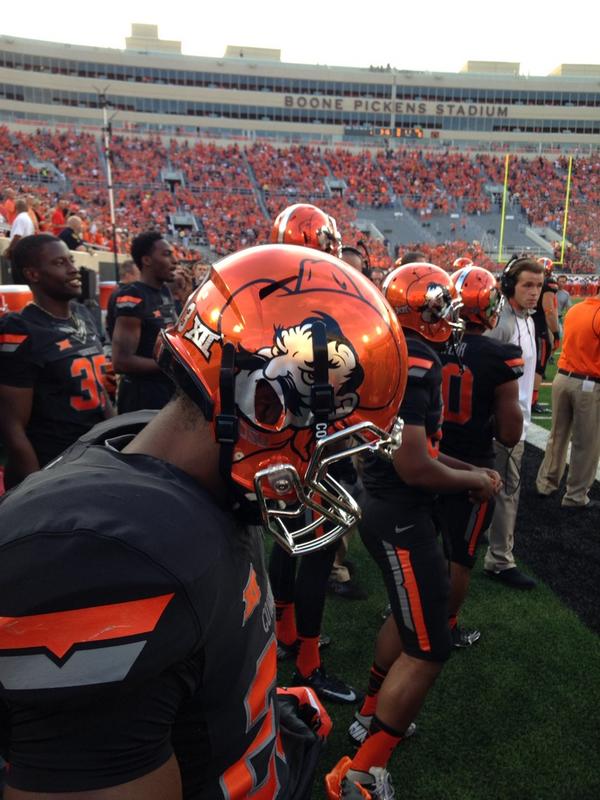 …and Daxx.
Oklahoma State held on Thursday evening over Tech, in what was another offensive shootout between the two teams. The Red Raider offense, under the direction of Davis Webb, moved the ball at will to open the game.
Webb found Reginald Davis for a 21-yard touchdown toss on the initial drive, the first of four Webb touchdown passes in the contest.
Daxx Garman and the Cowboy offense never flinched, as James Washington hauled in a 33-yard touchdown from Garman at the end of the first quarter. The Tech defense couldn't get out of their own way the whole night, with one penalty after another extending Oklahoma State drives.
The Red Raiders also had a first quarter kickoff return for a touchdown called back due to a penalty.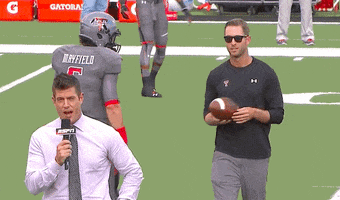 Both defenses gave up over 500 yards, but it was the Cowboy defense that forced three critical turnovers to kill Tech drives. Garman ended the night with 370 yards passing and four touchdowns, while also running for another.
Marcell Ateman finally showed the big-play potential that we've all heard about, hauling in six receptions for 130 yards. True freshman, James Washington, also had a big night for the Pokes, as he finished with three receptions for 87 yards and two impressive touchdowns.
Oh, there was also this Tyreek Hill touchdown.
Final Result
Oklahoma State – 45
Texas Tech – 35
This Week
Oklahoma State – Iowa State @ home
Texas Tech – @ Kansas State
TCU at SMU
Trevone Boykin and the Horned Frogs were far too much for SMU, who remains winless on the year. It wasn't much of a contest in the game known as the "Battle for the Iron Skillet,"[1. Ed. note: For $5 million, I didn't know that.] as TCU looked impressive in what was essentially a tune-up for next week's matchup against Oklahoma.
Boykin and the TCU offense racked up 614 total yards, 349 through the air and 265 on the ground. The Horned Frog defense held SMU to only 245 total yards, while also forcing three turnovers.
It's hard to tell a whole lot from a game like this, but this is exactly what Gary Patterson and his team needed to do going into a huge game next weekend.
Final Result
TCU – 56
SMU – 0
This Week
Oklahoma @ home
Kansas State vs UTEP
In a game that saw the debut of a new Bill Snyder windbreaker,[1. Ed. note: Booooo! Booooo!] the Wildcats routed UTEP in Manhattan.
Charles Jones ran for three touchdowns and Tyler Lockett returned a punt for a touchdown in a game that was never in question. The Wildcat defense held UTEP to only 23 total yards in the first half, while storming out to a 31-0 lead. The K-State run defense in particular, who also stifled the Auburn rushing attack, is a force to be reckoned with.
Jake Waters once again managed things well on the offensive side of the ball, throwing for 200+ yards and one touchdown. The Wildcats look solid heading into their main Big XII slate, and should be right in the thick of things come December.
Final Result
Kansas State – 58
UTEP – 28
This Week
Texas Tech @ home
Kansas vs Texas
In what would be Charlie's last stand in Lawrence (let us take a moment of silence), the Jayhawks lost to Texas for the twelfth straight time.
I said earlier in the season that Montell Cozart would have to maintain his poise and make plays if the Jayhawks are to have any chance of competing in the Big XII this season. The only thing worse than Cozart on Saturday in Lawrence were the KU uniforms.
Cozart went 12-31 and threw four interceptions which, obviously, is not going to get the job done. The Longhorns didn't play all that well, but these are the types of games they'll have to win this year. Tyrone Swoopes threw for two touchdowns and ran for another in his first Big XII start. Maybe this will be a fresh start for Kansas football, we'll just have to wait and see.
Final Result
Texas – 23
Kansas – 0
This Week
Texas – Baylor @ home
Kansas – @ West Virginia
Iowa State vs Baylor
The Cyclones hung around for a little while in Ames, but the Bryce Petty-led Baylor offense was just too much in the end. Petty ended the night with 344 yards passing and one touchdown to go along with two touchdowns on the ground.
Shock Linwood, who many forget is a key component of this offense, added three rushing touchdowns of his own. Baylor seemed to struggle a bit at the outset, which can be attributed to the Bears facing the first Power 5 school on their schedule this year.
The Cyclones did make things somewhat interesting in the third quarter thanks to a gutsy effort from Sam Richardson. Richardson ended the night with 212 yards passing while also rushing for another 99, but I was ultimately impressed with his fortitude throughout the game.
Baylor is looking just as scary as they did last year, but with another year's experience under their belts one would have to consider them a possible playoff team (it's weird saying that in regard to college football).
Final Result
Baylor – 49
Iowa State – 28
This Week
Baylor – @ Texas
Iowa State – @ Oklahoma State
New standings
Totally Tickets is your source for Oklahoma State football tickets.