Dallas Cowboys end season in heartbreaking fashion
The Not-Catch.
If you believe in karma, what else can you attribute the Dallas Cowboys' fate to?
After a late call in the Wildcard round versus Detroit went the way of the Cowboys, Dallas once again found the game in the hands of the zebras. Except this time, the call did not end up in favor of America's team.
On fourth down, Tony Romo heaved a ball to Dez Bryant, who did just what you'd expect Dez Bryant to do in that situation and caught the ball—or so it appeared.
After a challenge by Green Bay's Mike McCarthy, the officials overturned the call, effectively squashing Dallas' chance at a win.
If you've been without internet access for the last 12 hours, here's the play I'm referring to.
https://vine.co/v/ODZ07TYZLLD
Dallas lost 26-21.
To me, if that doesn't qualify as a catch under the current rules, they need to be revised. Though you could say his opinion is a bit biased, I know someone who agrees.
as I went to the ground I rolled over and I tipped the ball to gain better control.. We lost and I accept it but please change that rule

— Dez Bryant (@DezBryant) January 12, 2015
It's hard not to feel for Dez, especially when you know the amount of hard work he has put in to get his team to this point.
It's hard to watch any athlete come within inches of glory only to fall short. I felt for Cam Newton after he threw that game-sealing interception against Seattle on Saturday and was seen crying in the arms of teammates.
In this situation, it's even harder because it seemed like Dez actually caught the ball and the Cowboys should have been in position to score a touchdown.
To see Dez so passionate and adamant in his post-game interviews, asserting that he caught the ball, it's heartbreaking.
ESPN posted pictures of a frame-by-frame look at the catch. In the photos, Bryant appears to have possession of the ball until his body collides with the ground, when the ball pops loose.
But at that point, shouldn't he be down? It's not as if he was struggling for control, he clearly has a firm grip on the ball.
It's fun to speculate, but here's the reality. Would the call not have been reversed, it's not as if the Dallas win was sealed. To assume so would be to drastically underestimate the ability of Aaron Rodgers. The way it was, it didn't even put a Dallas win out of the question. If the defense could have held, a win was still plausible.
However, to deny its impact on the game is asinine. That's why it is going to be talked about to ad nauseam for the next couple of days at least and will stick with Dallas fans for much longer.
Outside of that play, Dez was pretty quiet. He had a meager three catches for 38 yards.
Other former OSU Cowboys who saw playing time were Joseph Randle, Tyler Patmon, and Dan Bailey.
Bailey missed the only field goal he attempted on the afternoon.
Randle had a shining moment where he told Clay Matthews to get off of him, and burst off on a 13-yard run. But Randle was only given one other carry on the day.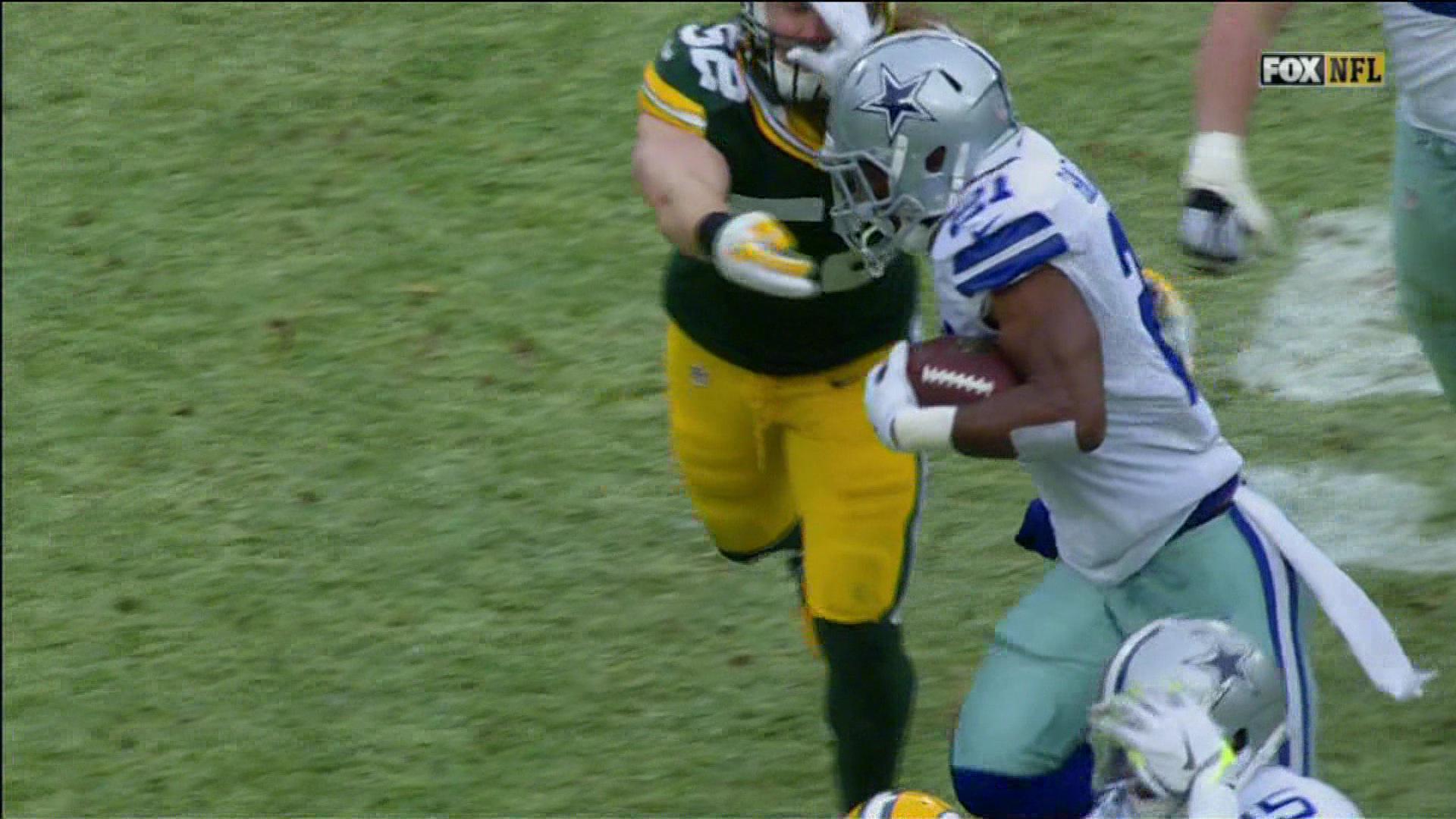 Patmon recorded two tackles.
If anyone were to say that Dallas would have made it this far at the beginning of the year, it would have sounded crazy. Former OSU players were a big part of the Cowboys' success this season.
Bryant played a big role as expected, but Tyler Patmon really shocked a lot of people after going from undrafted to getting big playing time on a playoff team.
At the end of the year, Patmon has 8 tackles, an interception, and a pass defended. If he continues to develop, there's no doubt he'll be a player in this league in a couple years' time.
So ends an exciting season for the Cowboys turned Cowboys. Here's to hoping to next one is just as good, hopefully better.
Totally Tickets is your source for Oklahoma State football tickets.