Four-star OL, Under Armour All-American Set for OSU Official Visit
A huge weekend for a huge visitor is on deck.
A huge weekend in Stillwater is on deck for a huge visitor as four-star offensive line recruit Lucas Simmons, a Class of 2023 tackle prospect and an Under Armour All-American, is planning an official visit to Oklahoma State.
This will be Simmons' first official visit of the recruiting process, which comes roughly a month after he named the Cowboys among 12 schools under his consideration. Filed also under the not insignificant category: He's making the trek all the way from Clearwater, Fla., where he attends high school.
"The reason that I'm getting out there is relationships," he told 247Sports. "I have known Coach [Charlie] Dickey since I saw him at the Mercer camp, and that was last summer. So, I feel good about him. My dad feels good about him, my coaches at [Clearwater Academy International] and my coach, Brandon, at [PPI Recruits] does, too. Every person that has been around me and has talked to Coach Dickey feels the same way, and I think Oklahoma State doesn't get the credit they deserve when it comes to developing players."
Mike Gundy reading that last part like.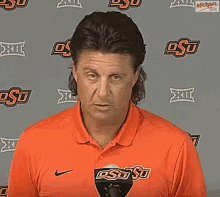 Simmons is no ordinary talent. A top-200 recruit nationally, he's listed at 6-foot-7 and 300 pounds. Nearly three dozen schools have already extended him offers, the likes of which includes USC, Florida State and others. Five-star offer list as a four-star recruit.
Simmons' familiarity with the state of Oklahoma could also potentially play into the Pokes' favor. His father, Able, played at OU in the 1990s — but OU has already been eliminated from his top schools.
OSU already has two commitments along the offensive line in the 2023 class with JaKobe Sanders and Jack Endean, but Simmons would be the headliner not just of that bunch, but of the class. He'd be the highest-rated current commitment in the 2023 cycle for OSU and the highest-rated offensive lineman for the Pokes since Tramonda Moore in 2016.