Little Things the Big Difference for OSU in Liberty Bowl (and Season)
Why Mike Scott could have been the Player of the Game on Monday.
MEMPHIS, Tenn. — I keep coming back to something Enoch Smith said after OSU's 38-33 win over Missouri on Monday in the 2018 Liberty Bowl. He was asked about the defensive stand at the end, but he ended talking about the importance of margins.
OSU's are thin — we saw that this year, didn't we? OSU was like three plays from being 8-4 and about five from being 3-9. On Monday these Pokes thrived where they haven't before. They got a turnover which led to a TD, which sounds like not that a big of a deal until you remember that it's just the fourth turnover they've created in the last seven games and the first that led to an offensive TD since the Baylor game.
"It was very important for us to not focus on what the offense did," said Smith, "because we knew that one play could be the difference in the game. We went out there and stayed focused. Some of us were tired, but we had to put that behind us because Coach Gundy preaches no fear, no frustration, no fatigue.
One play could be the difference in the game.
That fumble-recovery-turned-TD by the Pokes in the third quarter pushed the score to 28-16, and provided a cushion for OSU's late fade.
The other play that made a difference was actually two, and they were both by the same guy. Michael Scott blocked an extra point in the first half and a field goal in the second that would have given Missouri a 36-35 lead with nine minutes left. It would have changed the whole trajectory of the game and the evening.
"Mike came through and tipped one and forced a miss earlier and the got the block later," said Gundy. "Very well could have been the biggest play of the game."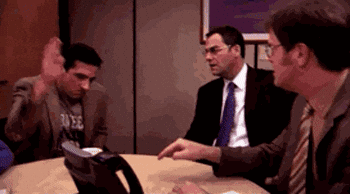 It very well could have, and it's a play — a handful of plays — that OSU wasn't getting earlier in the season. Tiny inflection points — like one tipped FG and one chase-down tackle by a true freshman — can be the difference in going 10-3 and 6-7. I'll go to my grave preaching this, and I'm not sure we've had any more evidence than the 2018 Oklahoma State football season.