Tylan Wallace, Spencer Sanders Share Exact Heisman Trophy Betting Odds
80-1 odds might be worth a flier if you're feeling frisky.
The most up-to-date Heisman Trophy odds for 2019 have two names Oklahoma State fans will find familiar.
Both Spencer Sanders and Tylan Wallace were included in the latest Super Book USA odds released Monday, and at quite the discount too, if I do say so myself. Both are 80-to-1 longshots, pretty far down the pecking order from Tua Tagovailoa, Trevor Lawrence, Jalen Hurts and the rest of the field. But stilll — included!
Opening Heisman odds via @SuperBookUSA

Tagovailoa 5/2
Lawrence 3/1
Hurts, Fields, Martinez 6/1
Taylor 15/1
Jeudy, Herbert 30/1
Bowman, Daniels, Fromm, Dillon, Etienne, Ehlinger 40/1
Dobbins, Mond, Ross, Swift, Moore 50/1
Book, Costello 60/1
Wesley, Wallace, Sanders, Harris 80/1

— Brett McMurphy (@Brett_McMurphy) February 27, 2019
Me when I saw this last night in my living room.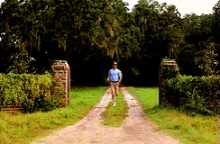 Is Sanders going to start? We don't even know yet! Word out of Stillwater is that he's the heir to Taylor Cornelius' throne, but he'll have to prove he's worthy of taking the crown in the spring and into the summer.
Wallace, however, well you know what you're getting here. He'll enter 2019 as a Biletnikoff Award favorite, and if he stays healthy, should be a lock to grab right around 90 catches and 1,500 yards — again. Probably the more safe bet of the two, but if you're going upside, Sanders being a QB is the one I'd wager money on (if I wagered money). The Heisman is a beauty contest, and unless you're an Alabama running back or a quarterback, you're probably not winning it.
I don't think both Wallace and Sanders being on the Heisman odds list here is some grand thing that secretly underscores just how great OSU is going to be in 2019, but it does prove that OSU's got some dudes on the roster that can whip OSU back into Big 12 title contention after a down year. Pop the needle out, find my vein and inject that directly into my vascular system por favor.