10 Thoughts on Cade Cunningham's Commitment to Oklahoma State
Every angle covered on Cade's commitment, and what it means.
There I was on Tuesday early evening about to flip the lights off in the shed and head into the not shed and see what kind of scarecrows and pumpkins our kids drew for me that afternoon. Then a panic message from our beat writer, Marshall Scott: CADE HAS A COUNTDOWN ON HIS IG LIVE THIS IS NOT A DRILL SIREN EMOJIS.
Not at 5:45 on a Tuesday, right? It's just a pre-college season troll job or an announcement about The Announcement. It's certainly not going to be the news drop we've all been dancing around for the past few months … right?
Not right.
I ran in, grabbed my kids and hollered about some nonsense like, "Biggest 10-minute stretch for OSU basketball in a decade" or something maybe even more ridiculous than that.
Then I hopped on the 50-second Instagram roller coaster, thought four different times John Calipari was going to step out of the background and into the frame and finally ran back into the shed after Cade said, "Go Pokes!"
"Thanks for joining us," said Mrs. Pistols as I left.
He's going to be the No. 1 pick in the 2021 draft, I thought. She does not understand!
Marshall Scott was in his car outside media availability at the Sherman Smith Center. He said he started yelling into the void when Cade said, "Blood is thicker …" He knew.
He knew at that moment that the most important stake of the Mike Boynton era had just been driven into the ground. There was pre-Cade, and now there is post-Cade. He is the fulcrum of the Boynton era and quite possibly the most important recruit in OSU basketball history.
10 thoughts on a monumental day for Boynton and the Pokes.
1. Biggest OSU Sports Commit … Ever?
What's the list? Daton Fix? Johny Hendricks? Jake Rosholt? Maybe AJ Ferrari? Who else? Dez? Bobby Reid?
Reid was the 35th-best prospect in the country, which is a big deal but not as big of a deal as a player who's going to potentially be the No. 1 pick in the 2021 NBA Draft. The previous biggest basketball recruit was Le'Bryan Nash who was No. 8 in the nation. Le'Bryan never felt like this.
As Seth Duckworth pointed out to me, Fix and Ferrari were both No. 1 overall recruits so they can more reasonably lay claim to the throne than Cunningham, but 1. the rankings for this hoops class aren't final and 2. basketball carries so much more weight than wrestling just like football carries so much more weight than basketball.
Shout out to Gerald Green and Matt Holliday, two elite recruits who committed to OSU and both played the same number of minutes as I did for OSU. There's a real case to be made here that in the modern era — since we've been keeping track of these things — Cade Cunningham is the biggest commitment in OSU sports history.
2. 42
That's a dominoes game. Marshall Scott already went deep on this, but if OSU goes — let's just dream a little — Rondel Walker-Cade-Bryce Thompson-J.T. Thor, that's a class that would have ranked fifth nationally in 2019 and 2018 and fourth nationally in 2017. So if that happens for this class, you're looking at adding a top-five group (I'm weak!) to …
• Isaac Likekele
• Keylan Boone
• Kalib Boone
• Avery Anderson
• Chris Harris
• Yor
• Hidde the goat
• Marcus Watson?
That's a Big 12 title contender and top-three or top-four seed in the dance. Again, there are a few pieces still to fall, but a lot fewer than there were this time last season.
3. No. 1 Draft Pick
I REPEAT CADE CUNNINGHAM IS PROJECTED BY THE DRAFT EXPRESS FOLKS WHO KNOW MORE ABOUT THE DRAFT THAN I KNOW ABOUT ANYTHING TO BE THE NO. 1 PICK IN THE 2021 NBA DRAFT.
Cade Cunningham, projected #1 pick in the 2021 NBA Draft, just announced via instagram that he has committed to Oklahoma State. Interesting timing, but huge news nevertheless. 6'7 do it all point guard with a NBA-ready frame and impressive defensive versatility.

— Jonathan Givony (@DraftExpress) November 6, 2019
Here's a confession: the NBA is my guilty pleasure. I love the content. Love the podcasts. Love the NBA Draft. One of the things I keep going back to with all of this is how much guys I follow (mostly Ringer folks) are going to be talking about Cunningham and OSU over the next 18 months. It's going to be incredible how much attention OSU is going to get as a program. He is a tide that lifts so many different boats, including this website.
And if they get Bryce Thompson — another potential lottery pick — forget about it.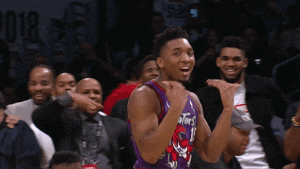 4. Kentucky Tears
They are sweet and I enjoy the taste of them. The links to various Kentucky sites and message boards in our Cade Cunningham thread tonight are astonishing to read and indulge in. Check them out here, and if you can't see them because you're not a PFB+ subscriber, become a PFB+ subscriber! Half off our yearly plan right here using the code HALFOFF. If we get to 700 by midnight tonight we're giving away season tickets to OSU hoops this year. We're eight subs away — let's go!
5. Ride the Coaster ?
Boy, I did. The last 60 days have been a circus. Some of that has been behind the scenes but most of it has been in front. In the Chamber, at the end of last week, Boone dropped a nugget so spicy Wendy's threatened to sue us from a source about something going down with Cade in the next few days. As it turns out … ?
I believed it as much as you can believe anything in recruiting and mostly because I would believe anything this source said and write it as fact. But recruiting is insane, and if you believe what was being written elsewhere, John Calipari was leaving a portion of his will to the Cunningham estate (feels like a recruiting violation).
The thing that really had me reeling is when Evan Daniels and Jerry Meyer both rubber-stamped UK for Cade. Those dudes don't miss on this stuff.
Thankfully this time, they missed.
6. Cannen
I know people are mad about the Cannen link, especially when Cade went with the "blood is thicker than water" line. But this is part of the deal. It's not nefarious. It's not illegal. It's a worthwhile gamble that has to pay off. The risk is really high, which is why the reward sometimes feels unfair to those who don't receive it. That's the nature of high levels of exposure though.
I also think there's a chance Cannen could still be an assistant at OSU when Cade is averaging 21-7-5 for the Pistons in four years. Boynton knows what it means to go from nothing to everything, which is the equivalent of what Cannen did in the assistant coaching world. He'll get a chance to prove himself, and if he does, I think he stays.
7. Butterfly Effect
Mike Boynton is now a guy who gets guys. If Cade does lead to Bryce Thompson which leads to the Boynton floodgates down the road, then who even cares about the single season Cade is in Stillwater. I mean, I care a lot because it's going to be a hell of a thing to cover and enjoy, but the point here is that Cade is a gateway.
Like I said off the top, this is a legitimate stake-in-the-ground moment for Boynton that justifies all the hype and all of the work he put in. Up to this point, the biggest thing Boynton had done is, what, land the twins? Get Avery Anderson? I'm not saying I didn't see the trajectory here because it was there to be seen. But this is a real moment in a way that the other moments have simply pointed to the real moment. It's not the last one of these either.
We are a school that produces lottery picks (or No. 1 picks) is an arrow Boynton is about to be able to add to the recruiting quiver. Which is kind of like giving somebody in the Civil War an airplane to fly. Feels a little unfair.
8. [KG voice] Anything is Possible!
Man, I thought this was just the coolest. I don't mean this to roll on Gundy because Boynton can only hope to accomplish what Gundy has accomplished, but it's refreshing as hell to hear an OSU coach say, "You know what, we can be the best program in the country." You know who else started saying that when it sounded like complete lunacy? This dude.
Mr. Pickens once told me that ANYTHING is possible at Oklahoma State. Thanks again for your vision, sir. ?? #LetsWork #GoPokes https://t.co/tWmJ36xQk2

— Mike Boynton (@thacoachmike) November 6, 2019
(Also I know it was cheesy, but I thought that video was pretty great too).
9. Let's Work?
Recruiting is a long game. Boynton knows this better than anyone, and it's why we saw more photos of his Js in the air than on the ground over the past few years. Recruiting a lights-out program is a lot more than hitting a few dudes with @s on Twitter and whirling the chopper out of the hanger a few times a year.
Boynton has demonstrated in a way I didn't really understand he would demonstrate that he truly understands the work needed to put into building something brick by brick and the willingness to do it even when I'm sure it's not all that fun.
10. Kansas Sliver
This is not an original take. Guerin Emig wrote about it the other day, and I completely agreed with it. Kansas (whose tears I enjoy nearly as much as the Kentucky ones) is slipping. Not a lot. But the stranglehold isn't what it used to be. They lost 10 games last season for just the second time since 2000. They're currently ranked No. 7 in Big 12 recruiting for next year (with multiple recruits). The not-quite-black-but-definitely-gray cloud that's been following them for a few years remains.
It's always dangerous to pronounce a monster like KU dead because they aren't a monster as much as they are a ghost. And no matter how this goes, they'll always maintain a floor higher than I could reasonably hope for in Stillwater. But there's at least a crack in the door. Boynton knows it. Or he's recruiting like he knows it. And he's running right for it, which is a foolish thing to do unless you have the goods to back it all up. That's the thing though. He does. And he will.
You don't want to miss if you come at KU because if you miss, it can go quite badly in a hurry. Thankfully — as he's proven in two and a half years on the job — missing appears to be the one thing Mike Boynton is quite terrible at.