Daily Bullets (Feb. 10): Dickey Introduction, Baseball Stadium Update
Featured image: via Wichita Eagle
Something I keep thinking about from the Mr. Rogers documentary I watched (see bullet at bottom): How do you run perpendicular to cultural norms and still find a wild level of success for your organization and your mission?
---
Bullets Rundown
• OSU falls in Lawrence
• Baseball stadium update
• Pete turns 60
Scores
• WBB: Texas Tech 90 | OSU 78
• MBB: Kansas 84 | OSU 72
• Softball: OSU 3 | SHSU 0
• Softball: OSU 10 | Illinois 6
---
OSU Bullets
• Good point here by Marshall Scott on OSU's season (including Saturday's game at Allen Fieldhouse).
The Cowboys were tied at halftime against Kansas in Lawrence, and they lost to a buzzer-beater Wednesday night.

The Feb. 2 loss to top of the league Kansas State, the Jan. 19 loss against Iowa State after the Cowboys roster was cut down to seven realistic contributors and the Nov. 23 loss to defending national champion Villanova might be the only games the Cowboys were out of all season. [PFB]
I know that's not really a salve, but it is at least a little comforting to know that this isn't a team that's just gotten their brains beaten in all year by other Big 12 squads. Help is coming. Maybe a lot of it.
• Mike Gundy hired himself a new OL coach the day after his old one left. The new man in town? Charlie Dickey.
Dickey comes from Kansas State where he has been on Bill Snyder's staff since 2009, first as O-line coach and then adding run game coordinator to his resume in 2016 and was named co-offensive coordinator in 2018. He coached the Wildcats line throughout. [PFB]
And if this doesn't scream "I'm an offensive line coach and I'm really good at it!" then I don't know what will.
Also, a stat!
Big 12 Offensive Linemen invited to the NFL combine the last 6 years:

Oklahoma – 10
Kansas State – 4
WVU/Baylor/TCU – 3
Texas Tech – 1
Texas – 1
ISU/KU/OSU – 0

— Bill Bedenbaugh (@OU_CoachB) February 9, 2019
• Bill Haisten gives a baseball stadium update and, more importantly, a "Mike Holder as athletic director" update.
So, yeah, the Underwood episode was an unfortunate time in Holder's 13½-year run as the Oklahoma State athletic director, but the Holder's gotta go campaign cooled with time. Maybe some of the critics were reminded since Holder became the athletic director, he raised about $315 million for athletics facilities.

If the 70-year-old Holder had been nudged — or shoved — into retirement, it's highly unlikely the O'Brate Stadium project would be ongoing. [Tulsa World]
• Pete turns 60 and is apparently getting a makeover. Jenni Carlson put together a list of facts here, and this was the one that popped the most.
Pistol Pete will be sporting a new head in the fall. Laser-cut masks made out of fiberglass will debut for the 2019-20 season. [NewsOK]
Pete, your thoughts?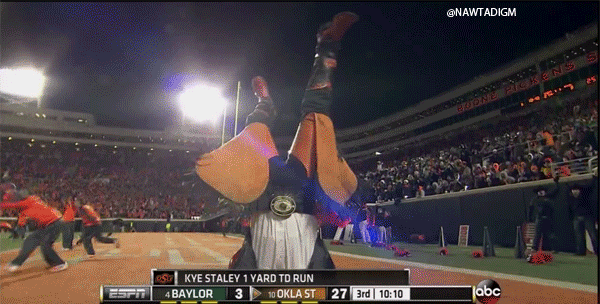 Also, some of these photos are totally insane. I posted a few below, but you can check out the rest right here.
• More Pete content.
As Pistol Pete from 2003-05, Josh Pulver was in East Rutherford, New Jersey, on March 27, 2004. John Lucas III's game-winning 3-pointer to send the Cowboys to the Final Four prompted on-court chaos, and Pulver was the Pete in the middle of it all. "When time ran out, it was mayhem inside that head," Pulver wrote. [NewsOK]
The Oklahoman did a great job putting together so many different stories about former Petes. Good stuff and fun to read.
• I didn't realize Nebraska signed two of the top seven players in the state of Oklahoma. Not great!
• So Penn St. is good at wrestling.
Wolff is an absolute menace. Might be the biggest menace. https://t.co/YaghAyesEl

— No Laying Up (@NoLayingUp) February 10, 2019
---
Non-OSU Bullets
• I'm reading this book on Google right now, and it's very good.
• This is fascinating.
• Thanks to everybody (anybody?) who watched Morning Drive last week. I had a blast doing TV for a few days, but I'm back in the saddle in my shed starting on Monday.
Last day at @GCMorningDrive. Been an awesome week with @Paige_Mackenzie, @damonhackGC, @ChantelMcCabeGC and @RobertDDamron. Check it now on Golf Channel. pic.twitter.com/Lhw5quBhvs

— Kyle Porter (@KylePorterCBS) February 8, 2019
• I watched this documentary on my flight home from Orlando on Friday night, and it was immense.