On Tyreek Hill and the allure of the unknown
Tyreek Hill might be more than we can handle but he also might not be that great. That's why all of this is so fun.
I was at a wedding last weekend — a wedding in Norman that I enjoyed needling OU fans about — and the groom (a family friend) was talking to me after exchanging his vows about the season.
He told me he's stoked to see Tyreek Hill (aren't we all?) and even mentioned the H-word in association with Hill's name.
Now, I'm pretty sure he was kidding but a lot of people aren't — I put together this collection of really, when you think about it, insane quotes for somebody who hasn't played a single down of Division I football yet.
"Fastest player I've ever seen." "Never gets tired." The hyperbole goes on and on.
Jake Trotter of ESPN even predicted he would pick OSU's streak of having a 1,000-yard rusher back up this season.
That's a lot to put on a dude who's never done a single thing under the bright lights of Big 12 football.
But is it too much? Can Hill handle it?
You know what all of this reminds me of? The draft confidential Ryen Russillo put together for Grantland on Dante Exum.
Scout 1: I have no comparisons for him. None.
Scout 2: It's all positives for Exum. We haven't seen much, so we all think he's great. With the other guys, we built them up pre-draft, then spent months picking them apart. Exum avoided all of this.
Sub Hill's name in for Exum's and you have basically the same situation. None of us have ever seen him play in a real football game against real football players the caliber of which he'll see on Saturday night against Florida State.
But isn't that the greatest part of it all? Isn't the best part of all of this that Hill could actually be better than we think?
Desmond Roland has averaged over five yards a touch and threw 16 touchdowns at us last season and you know who's talking about Desmond Roland? Not very many people.
That's because we know Roland is going to plod and push and gnaw his way to 850 yards and another dozen TDs and it'll be sort of boring but necessary for this offense to be elite once again.
Hill?
Could be this:
Could be this: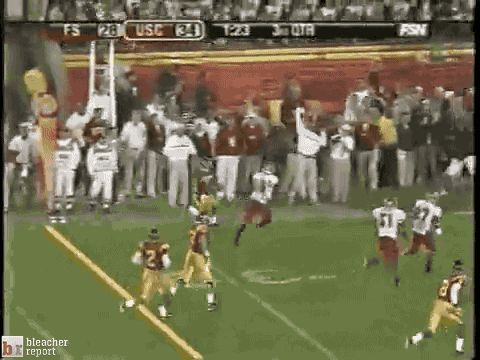 Could be this: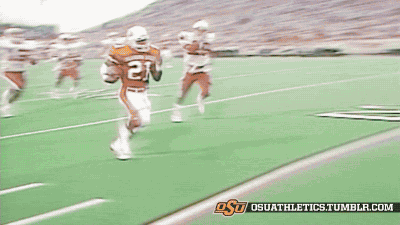 We don't know, I mean we have zero clues, and that's why this whole thing is so intoxicating. Hill can be anything we want him to be in our heads and then on Saturday he could, could come out and paint over those expectations like Big 12 version of Banksy.
This isn't a whistle-blowing to temper our expectations from what to expect from Hill — you, sir, you over there in the "used to be a Kendall Hunter jersey", please delete the YouTube app from your phone, you're using all the juice in AT&T Stadium watching Tyreek Hill videos and none of our journalists can journal — quite the opposite really.
I'm as stoked as you are, though I do identify with one PFB reader who said the other day "I know this is silly but I really wish they hadn't hyped up the Freek so much."
Maybe we shouldn't have but maybe it was impossible when Gundy is pitching "fastest I've ever seen" at us and people are posting videos like the one below.
He might also be Blake Jackson II. That's okay, you know. He's a kid.
But maybe he's The Kid and maybe, just maybe (and this is why sports are the ultimate reality show) June and July and August and all that Googling and YouTubing were just a prelude to what The Kid will do in September, October, and November.
Maybe November is a stretch run rather than a steep climb to a bowl game and maybe No. 24 is at the center of it all. That's unlikely, of course, because all of that is too much to put on top of a junior college transfer.
But just thinking about it is why college football is so dang great.
Photo via Sporting News
Totally Tickets is your source for Oklahoma State football tickets.