Recapping Week 8 in the Big 12: Bill Snyder is king
K-State stole one in Norman, Texas almost blew one in Austin, and Morgantown burned (literally, it did).
The Big 12 experienced another wild weekend that saw its presumed two favorites go down in spectacular fashion.
After eight weeks we still don't know much but we do know that a team in purple is definitely in the driver's seat.
Here's a recap of the week.
Oklahoma State at TCU
I said a few weeks ago that we would find out a lot about this Oklahoma State team when they traveled to Fort Worth. Unfortunately, we did.
I feel like an accurate depiction of how this game went can be encompassed in this picture, except the opposite.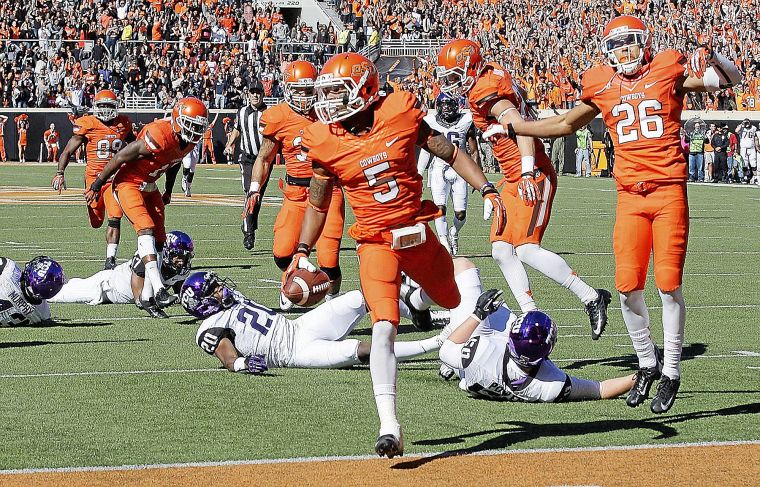 Trevone Boykin had a career day for the Horned Frogs, throwing for 410 yards and three touchdowns. The first quarter saw TCU hang 21 on the Oklahoma State defense, including touchdown receptions by Josh Doctson of 77 and 84 yards.
The Oklahoma State offense, on the other hand, looked absolutely lost for the majority of the day. Daxx Garman threw for 132 yards and two interceptions, while the Pokes only mustered 258 total yards.
The Cowboy defense gave up 676 total yards, and honestly it seemed like TCU eclipsed that mark at halftime. Kyle said it in his 10 Thoughts and I totally agree, Oklahoma State just isn't very good.
Outside of the Florida State game (how did that even happen???), I haven't watched an OSU game and thought, "man, that is a solid football team."
I've said that the Daxx/Apollo 13 offense is not sustainable, and we finally saw that come to fruition against a good defense.
This Oklahoma State team needs to make some serious changes, or it is VERY possible that they won't win another game. I am by no means giving up on the Pokes, but things don't seem to be trending up during a crucial period of the season.
Final Result
TCU – 42
Oklahoma State – 9
This Week
TCU – Texas Tech @ home
Oklahoma State – West Virginia @ home (Homecoming)
Oklahoma vs Kansas State
Bill Snyder continues his wizardly ways. The Wildcats went into Norman and did what few teams have done in the Bob Stoops era.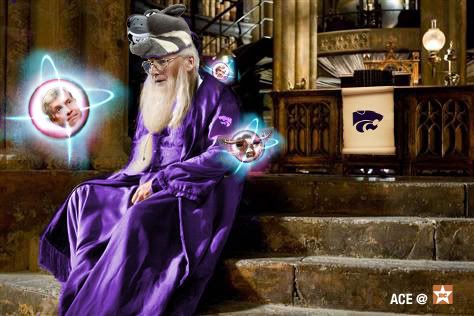 Led by another gutsy performance by Jake Waters, K-State put themselves in the driver's seat in the Big 12 race. Waters ended the day with 225 yards and two touchdowns through the air while also adding another touchdown with his legs.
Trevor Knight had a solid game, the type of game he needs to have for the Sooners to be successful. Despite an early pick-six, Knight managed the game well and made good decisions the rest of the way.
The storyline that emerged from the game was OU kicker, Michael Hunnicut, missing two seemingly easy field goals.
Hunnicut missed a 19-yard chip shot that would have put the Sooners ahead 33-31 with 3:53 left in the contest. However, he pulled it hard left and the Sooner faithful, along with the rest of the nation, were left stunned.
The loss all but eliminates the Sooners from playoff contention, but the way things are going in the Big XII this year a big-time bowl is not out of the question.
Final Result
Kansas State – 31
Oklahoma – 30
This Week
Kansas State – Texas @ home
Oklahoma – Bye
West Virginia vs Baylor
Dana worked his magic, and the Mountaineers sent Baylor home with a loss. Clint Trickett threw two of his three touchdown passes in the fourth quarter, including this beauty to Kevin White.
Trickett ended the contest with 322 yards and three touchdowns, but more importantly he stepped up big late in the game when the Mountaineers needed it.
Kevin White, the nation's leading receiver, hauled in 8 receptions for 132 yards and two touchdowns. The Baylor offense could never get rolling, largely due to an abundance of penalties.
The Bears set a Big 12 record as they were penalized 18 times for 215 yards. They were held to 318 total yards, which is unheard of from a Baylor offense. The Mountaineers are a dangerous team, almost as dangerous as their fanbase after a big win.
Final Result
West Virginia – 41
Baylor – 27
This Week
West Virginia – @ Oklahoma State
Baylor – Bye 
Texas Tech vs Kansas
Kliff Gosling and the Red Raiders finally got a win that they desperately needed.
Davis Webb had a very solid game, throwing for 288 yards and three touchdowns. It looked like he is fully healthy after suffering the shoulder injury against Oklahoma State.
Newly appointed Kansas quarterback, Michael Cummings, continued to play well after taking over the reins last week against Oklahoma State.
Cummings ended the day with 235 yards passing and two touchdowns, but more importantly he kept the Jayhawks competitive which is all one can ask for given the current situation.
Final Result
Texas Tech – 34
Kansas – 21
This Week
Texas Tech – @ TCU
Kansas – Bye
Texas vs Iowa State
Charlie Strong and the Longhorns got a big win against a scrappy Iowa State team in front of the UT faithful.
It seems that the Strong way of thinking is finally paying dividends. Texas, and Tyrone Swoopes in particular, have played really well two weeks in a row now, despite a loss to Oklahoma last week.
Swoopes threw for 321 yards and one touchdown on Saturday, while also adding 95 yards and another touchdown with his legs. Swoopes led the Longhorns on a fourth quarter drive that included dimes like this, and ended in the game-winning field goal by Nick Rose.
Sam Richardson and the Cyclones went blow for blow with the 'Horns, however. Richardson threw for 345 yards and three touchdowns, and added another touchdown on the ground.
This UT team is similar to last year's in that they started slow, but they are getting things figured out as the season progresses. The Longhorns are no longer a guaranteed win on anyone's schedule this season. Alright, alright, alright.
Matthew @McConaughey and @NateBoyer37 Saturday night at DKR (via TexasSports) #HookEm pic.twitter.com/T5hpEf3Lub

— Orangebloods.com (@OBWire) October 20, 2014
Final Result
Texas – 48
Iowa State – 45
This Week
Texas – @ Kansas State
Iowa State – Bye
Standings
Totally Tickets is your source for Oklahoma State football tickets.