Top 10 PFB Comments of the Week: Dax, Adidas, and Taylor Cornelius in the NFL?
It's been a bit since we've done this so here's some things to note:
I've copy and pasted each comment. I solemnly swear there is no tampering with the evidence.
The readers' comments will be in italics, and my commentary will be in plain text.
They're in chronological order (mostly), not an order of significance.
So shout out to you guys, our readers/commenters, who produced some interesting conversations and fun debate this week! #Content
*Warning* Number 1 talks about the team down south (he who shall not be named), so if you can't handle that please go to number 2.
1.  Stacey Wilkins Wears OU Jersey in Featured Image of PFB Article
Chris Saxon: Since you feel the need to pound it through our heads, I'll keep pounding it through yours. We don't like OU dude!!! Quit taking every opportunity to splash their colors across "pistolsfiringblog." Take nine seconds and give your very Orange audience as gooner free a product as possible
It got fun after that. Gallagher? I Hardly Know Her! (Amazing name btw) and Bbjd chimed in and then our man Adam Lunt came in from the top rope and it got even more fun!
Adam Lunt: "What does OU have to do with this post? Literally the only time they're mentioned is when his top schools are listed."
Go check out the whole thread here. It's good and some good observations where raised from top to bottom. The Dax Hill article thread was heated too if you need more drama.
Cowboy Vet Patriot: Taylor will be the 2018 OSU QB and will be very successful also will play in NFL.
Sonny: Would not surprise me in the least. 4 years worth of knowledge with the playbook, and word from his teammates is that he's extremely underrated."
Wouldn't shock me to see Corn Dog roll out as QB1 to start the year, but it would surprise me. I'll be blown away if he plays in the NFL though. We need more of that kind of optimism in this world.
Michael H: Gun to my head I would say Gundy simply because he's got the advantage from a volume perspective."
Chris Putnam: Actually I think Boynton had the numbers advantage. In FB Alabama has signed 5-8 5 stars in one class. Duke BB or any other BB has never signed that many in one class. If Kansas BB signed 4 5 star kids that would be a legendary class."
Darth" Gundy, but only in that Dax could actually sign with us for 2019 and there's no 5-stars remotely likely to sign with BBall before that.
I agree with Darth here. I think we've still got a good shot to land Dax, but if we miss on him then I'm riding shotgun on the Boynton Train.
3. OSU Finalizes Football Schedule: Everyone is NOT Happy
Kenny Bir: I'd be happier if we didn't have to pay someone and sold out a quality matchup. Be lucky if it's half full by half time. All FBS opponents (okay with G5 as there quality opponents out there), but come on… free wins won't get you anywhere today…. unless you're in the SEC."
There was a lot of this. I agree completely. There are plenty of reasons to schedule weak opponents, but there are serious reasons to go the other way too. It comes down to what you prioritize. When you only get 6 home games a year and 2-3 of them are against a crummy FCS opponent it's just not fun for anyone. And losing the biggest home games of the year on top of that yields in a lot of upset fans.
Rudolph being projected to go to the Pats by some "experts".
Big D: Please not the Patriots.
kspokesfan: Yea after all these years I would hate to start liking the Patriots. ?
Kevin Andrew Trissell: Man that was precisely my thought, I would hate to have to start liking the Patriots.??
Alum in AZ: Ditto. But I could do it. Still prefer the Cardinals.
Bbjd: So I used to think the worst thing that could happen to Okstate was a switch to Adidas, but from what I am told (by people who spend much less time posting on message boards) Adidas is the cooler brand now. I still think Nike does a better job with uniforms but might be something the school should look at to stand out now that Oklahoma is Jordan Brand.
Adam Lunt: I'm a Nike snob myself, so i'm biased. But when the NBA was sponsored by Adidas I absolutely hated all of their apparel. With that being said, Adidas has certainly made moves in the last 5 years to up their game.
Bbjd: I personally agree it will be interesting though because if any team gets Yeezy cleats they are getting all the recruit.
Make Yeezy cleats and it's over. All the recruits – gone. Straight to the school rocking them.
Pistol Rick (Another incredible name if you watch Rick and Morty): I would rather us play bare a** naked than to brandish anything associated with the monsters that created these uniforms. "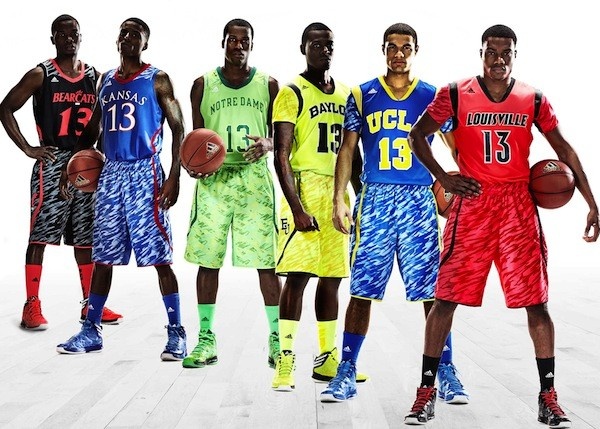 6. Once Again, You're Welcome Kansas
Cowboydroid: Kansas never quite seems to earn it even in their good years, but this year more than others they were handed several games which definitively sealed a conference title. Simply cannot respect that. Someone from outside the conference might think it's impressive, but not someone who follows the conference regularly. As usual, you can tell how much they didn't deserve it by their tournament performance. I don't see them getting far.
Tech stumbling really hurts the conference. Evans needs to get healthy. Beard has earned the COTY, regardless."
T-Bone: B12 tournament champion OSU! OSU goes dancing. COTY goes to Boynton!
Cowboydroid: We can all dream.
We can all dream.
7. Why 'Croots Choose Schools Over Pokes
Brian Cassens: What is more appealing about College Station than Stillwater? And what are they selling these kids at Ohio State??? I seriously don't see the appeal.
OSUgary: ditto again!
KLG0919: Kids at this level are looking for three things in selecting a school:
1) maximum exposure to build their personal brand (early PT, primetime TV, etc.)
2) get their ticket to the NFL punched
3) play for a Natty
Much as I love the Pokes, we're playing from behind in all these areas with the possible exception of early PT. Gundy's PR antics help draw more national exposure but we're not playing on major network TV every weekend like TOSU. Not many schools are."
David: Holders haters don't want to hear logic.
Frank Eaton: I can't stand Holder… but he has the results. Go Pokes!
I think a lot of people would agree with Frank if they sipped on truth serum. Many fans don't like the way Holder goes about his business, but it's worked for the most part.
9. Do "Crootin Rankings Matter As Much As We Think? 
Kevin Keck: Porter, I think you put too much into these recruiting rankings. Are you using Scout, Rivals, ESPN, etc because a lot of these numbers don't appear correct? They are important but Gundy has found and delivered very good talent. Much of OSU losses are strictly on coaching (I would say 80% or more if you throw out the first two years under Gundy). A bend-don't-break defense is a demoralizing scheme and momentum shift for any football player/team. If we ever get a well coached defensive philosophy we are contenders!
While I understand where Kevin is coming from; I recommend you guys check out this article if you need to be sold on recruiting rankings. As a whole, stars matter. Period.
10. Something to Think About
This was in the 46 comment thread of Boone's article saying OU may be a favorite to land Dax Hill.
Bbjd: Everyone take a deep breath. Boone is just keeping us up to date he didn't say this guy is going to OU it is the same approach that he took with the Gunnell article and everyone enjoyed that.
Don't be so sensitive that we love the projections in our favor but anything going the other way is biased. They are all guesses and they are all just interesting tidbits. No need to take sports so seriously, just enjoy them instead of getting angry it is a much better life."